Today's consumers are seeking memorable – and sharable – experiences. They're putting unprecedented value in enhancing their knowledge, skill set, reputation and standing – essentially, their personal brands. Housewares developers and retailers learned more about why and how to help consumers create the type of experiences they crave – even during a global pandemic – during an IHA webinar on the trend.
This was the third in a six-part series featuring the newly created IHA Market Watch report, which examines five key consumer lifestyle trends shaping how, what and where home and housewares products are purchased. The first five sessions offer a deep-dive into each of the consumer lifestyle trends, highlighting shifts in light of Covid-19 and including implications for both suppliers and retailers. The sixth session will recap all the trends and look ahead to the rest of 2020.
Presenters were report authors: Leana Salamah, IHA vice president, marketing; Joe Derochowski, vice president and home industry advisor for The NPD Group; and Tom Mirabile, principal and founder of Springboard Futures. Peter Giannetti, editor-in-chief of HomeWorld Business, served as moderator.
Experiences helps shape people's own personal brands, which Salamah described as their view of themselves and how they want people to view them.
"We live in a selfie world," said Derochowski. No matter what social platform they're using, "people in essence want to tell their story."
Before the pandemic, the experience economy – and our sharing of it on social media – was driven more by larger group experiences like vacations, concerts and sporting events. But now, the world of experience has expanded to include even more stay-at-home experiences like learning to bake bread, throwing a family movie night party or training a new puppy.
That explains why the actionable quality of experiences increased from a rating of 6 in the IHA Market Watch report in March to an 8 today. Its rating for generational relevance increased slightly, while all other ratings stayed the same (including an aspirational value of 10). Actionable quality measures how easy this trend is for the home and housewares industry to harness. The trend viability mapping system was developed by Springboard Futures for IHA.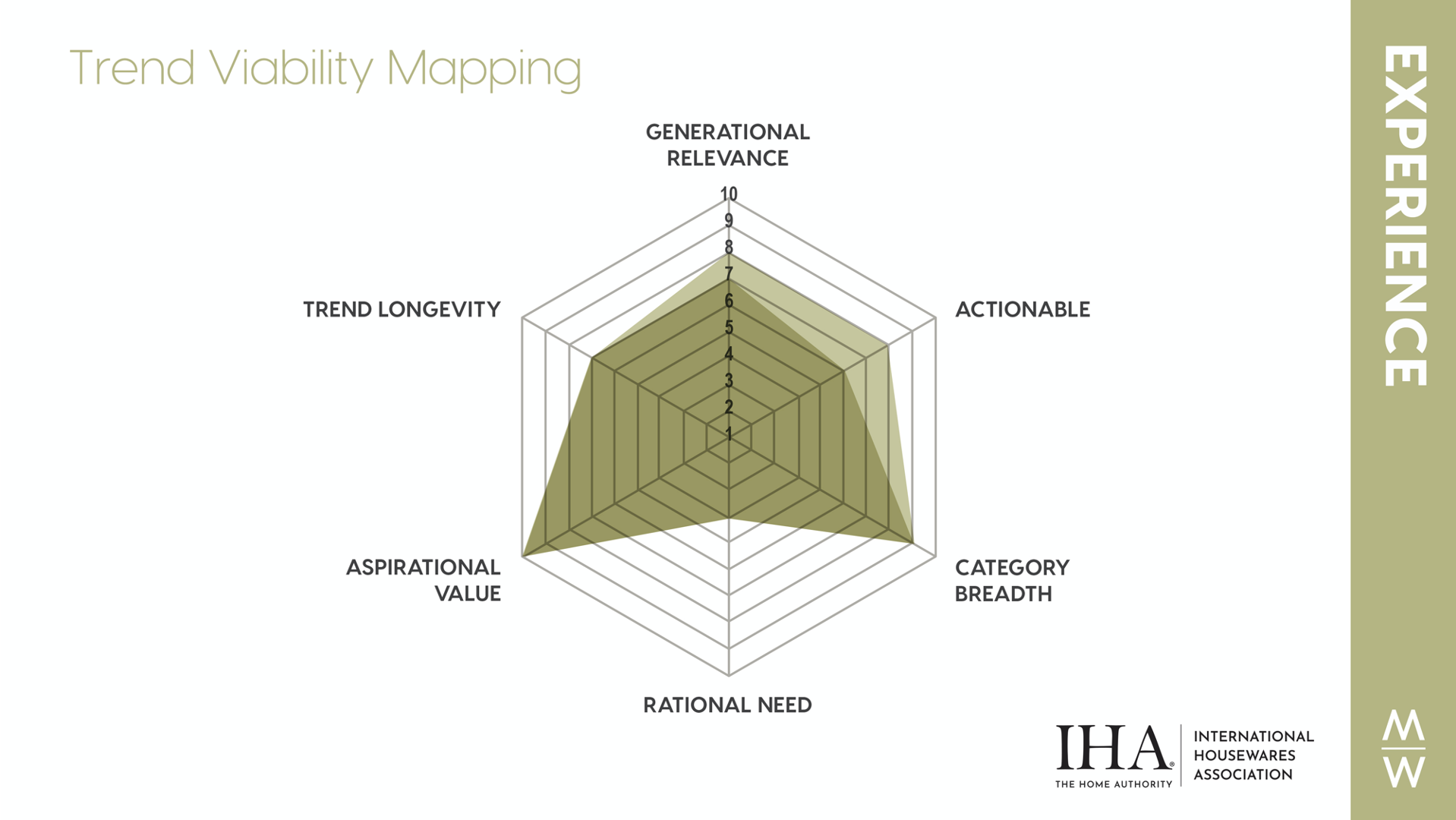 So, how can product developers and retailers sell experiences when they're really selling things? The key is in positioning how a product enables or enhances an experience.
"This is all about looking at home and housewares products as a means to an end," said Salamah.
"When you can promise an experience, that's the added value," said Mirabile.
Products should have one or more of the following attributes:
Emulate a paid experience at home
Enhance personal skill sets
Impress others
Mirabile encouraged participants to look at current stay-at-home experience trends and ask themselves: "What can I bring to the table that enhances that experience?" Just a few he listed were snacking (can you perhaps help enable healthy snacking?), movie nights, at-home spas and cleaning.
Keep in mind, there is significant long-term opportunity if consumers learn how to emulate a paid experience at home or enhance their personal skill sets during this stay-at-home period.
"Once you have these skills, it's not like they all of a sudden go away (once the pandemic is over)," said Giannetti.
On the retail side, consumers are also looking for memorable, interactive shopping experiences. It's no longer just about a transactional experience in which products are bought and sold.
Retailers should look for ways to:
Provide interactive engagements – think technology-enabled online or POS opportunities that allow consumers to compare products on a screen or visualize products in their own space.
Create sensory experiences – something like cooking classes that give consumers a taste of what they'll get from a product if they buy.
Prioritize personalization.
There's no doubt the retail landscape is continuing to evolve, said Derochowski. He emphasized the importance of partnerships to innovate the shopping experience.
The presenters agreed there are opportunities to enrich shopping experiences online, as well as in-store. Boomers are getting more comfortable with shopping online and technology in general, said Mirabile. "But we need to enhance how we create experiences online."
Sometimes it's the little things a retailer can do in terms of customer service to help create a memorable experience. A few examples shared from outside the industry were: Chick-Fil-A's attempts to personalize and humanize the in-store experience; Joybird Furniture's seamless melding of customer help via online chat and telephone; and Chewy.com's heartfelt handling of the death of a customer's dog.
Upcoming sessions in the IHA Market Watch webinar series include:
Tuesday, July 21, 1 p.m. CDT. Macro trend – Wellness. Register here.
Thursday, July 23, 1 p.m. CDT. Macro trend – Responsibility. Register here.
Tuesday, July 28, 1 p.m. CDT. Trend Wrap Up and Look Ahead. Register here.
The webinars are free, but registration is required. The webinars will be posted on the Show website, TheInspiredHomeShow.com after each is broadcast.
To watch the entire webinar on Experience, go to TheInspiredHomeShow.com. To download a complimentary copy of the 2020 IHA Market Watch Report, go to https://www.theinspiredhomeshow.com/downloads/marketwatch-2020/