Consumers are living longer. Healthcare costs are rising. There's growing appreciation for a holistic approach to wellness. Oh, and there's a global pandemic that's causing everyone to focus on their health…and what they can actually control in order to improve it.
The result is an enormous emphasis on wellness, and a tremendous opportunity for the home and housewares industry. The $81 billion wellness market was the topic the fourth webinar in a six-part series featuring the newly created IHA Market Watch report. The first five sessions offer a deep-dive into one of five key consumer lifestyle trends, highlighting shifts in light of Covid-19 and including implications for both suppliers and retailers. The sixth session will recap all the trends and look ahead to the rest of 2020.
Years ago, wellness was equated with physical health. But today's definition is much broader. The IHA Market Watch report lists eight current dimensions of wellness: physical, emotional, spiritual, social, financial, occupational, intellectual and environmental.
Today's consumers look at wellness much more holistically than in the past, said Leana Salamah, IHA vice president, marketing, during the webinar.
"It encompasses body, mind and spirit," agreed Tom Mirabile, principal and founder of Springboard Futures.
Here's how the original report in March rated each aspect of the wellness trend.  (Each received a rating of one to 10; 10 being the highest score.)
Aspirational value – 10
Trend longevity – 9
Generational relevance – 9
Rational need – 8
Category breadth – 7
Actionable quality – 5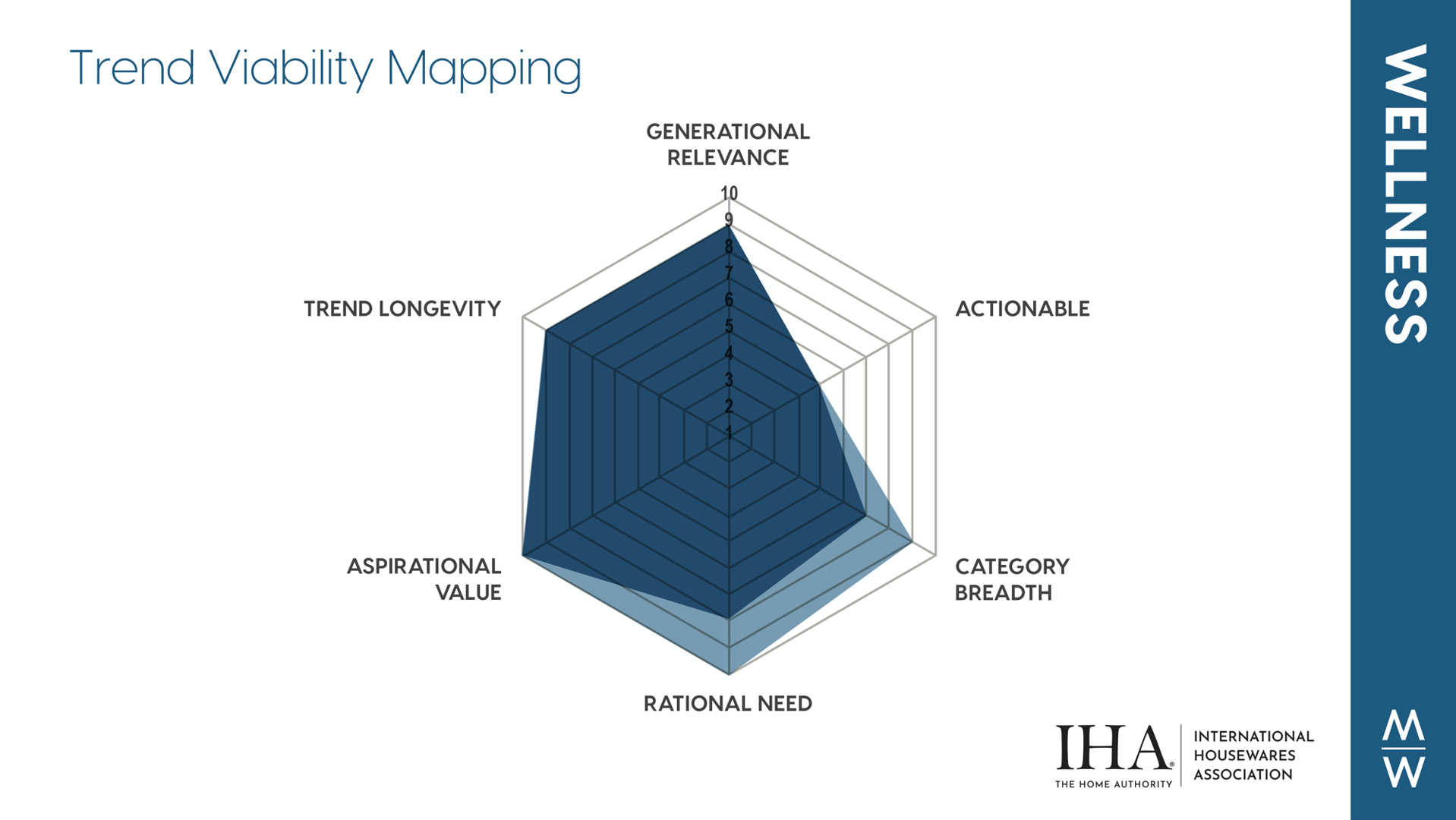 Since then, rational need jumped to a rating of 10, and category breadth jumped to 9.
"The wellness trend has been driving the (home and housewares) industry going into the pandemic," said Joe Derochowski, vice president and home industry advisor for The NPD Group. And that's only expanded ever since.
It's as if "wellness had moved from 'a way of life' to 'the way of life,'" said webinar moderator Peter Giannetti, editor-in-chief of HomeWorld Business.
The increase in rational need comes as a direct result of the Covid-19 pandemic. "Now it's not just about aspiring to be well…it's about 'I've got to be well,'" explained Mirabile.
As for the increase in category breadth, there are many more products that can help consumers feel well….because the broad definition of wellness now encompasses anything that helps a consumer feel more in control of their home environments in a very chaotic world.
It can also include products that are helping consumers develop new skills, which can positively affect their mental health, Giannetti pointed out.
On that note, Salamah said she sees a deep intersection between the wellness and experience trends. "So much of wellness is in discovering new ways to be well," she said.
With the current broad definition of wellness, any product that can be positioned as contributing to physical, mental or spiritual well-being has an opportunity to capitalize on this trend. Product developers may also want to focus on ways to:
Provide wellness information and analysis. "Focus on making it measurable," said Mirabile.
Eliminate wellness detriments. Get rid of any ingredients or materials that might be perceived as unhealthy. There's much more attention paid these days to how a product is made, said Derochowski.
Deliver environmental control. Think air quality, food purity, clean materials.
Products that prioritize simplicity and convenience will have a competitive edge.
On the retail side, consumers who perceive their retail store as valuing wellness over profits will gravitate to them regardless of price. Some ways retailers can project these values include:
Offer wellness experiences. Think in-store yoga classes, partnerships with nutritionists or other special events.
Cross-merchandise wellness products. Set up a story-driven area of your store or website to inspire wellness solutions for all areas of the house in one place.
Eliminate wellness-adverse product lines. Show – don't tell – how you care about consumers' health. CVS got rave reviews when it got rid of tobacco-related products.
While there are always exceptions to the rule, "You have to remember which generation you're targeting when talking about wellness," concluded Mirabile. "Millennials tend to be more pro-active with wellness, while older generations may be more reactive. Their attitudes toward different aspects of wellness such as diet can be quite different."
The final two sessions in the IHA Market Watch webinar series are:
Thursday, July 23, 1 p.m. CDT. Macro trend – Responsibility. Register here.
Tuesday, July 28, 1 p.m. CDT. Trend Wrap Up and Look Ahead. Register here.
The webinars are free, but registration is required. After each broadcast they are posted on the Show website at TheInspiredHomeShow.com/marketwatch2020. Recaps of the programs are posted at TheInspiredHomeShow.com/blog
To download a complimentary copy of the 2020 IHA Market Watch Report, go to https://www.theinspiredhomeshow.com/downloads/marketwatch-2020/