Today's consumers are acutely aware of potential threats to the environment, the economy and society. And they're ready and willing to use their purchasing power to support the brands and retailers they deem as responsible citizens of the world.
Responsibility was the fifth and final macro lifestyle trend addressed in the webinar series on the IHA Market Watch report. So, what does corporate responsibility mean to you?
"It's one of those things if you ask 10 people, you're going to get 10 different answers," said Tom Mirabile, principal and founder of Springboard Futures. "But for this report, we looked at environmental protection, social equity, economic health and cultural vitality."
While younger generations may have provided the initial fuel for the responsibility trend, "it's trickling up the generational ladder," said webinar moderator Peter Giannetti, editor-in-chief of HomeWorld Business.
The IHA Market Watch report was compiled in early 2020, with a planned launch at The Inspired Home Show in March. Because of the Show's cancellation, IHA produced a webinar series taking a deep-dive into the report's five lifestyle trends and providing updates in light of the Covid-19 pandemic. Report authors were Leana Salamah, IHA vice president, marketing; Joe Derochowski, vice president and home industry advisor for The NPD Group; and Mirabile. Cadent Consulting provided data and support.
Of the five macro trends in the report, responsibility was the one that changed the most in recent months:
Generational relevance jumped from an initial rating of 6 to 9
Actionable quality jumped from 5 to 8
Rational need increased from 6 to 8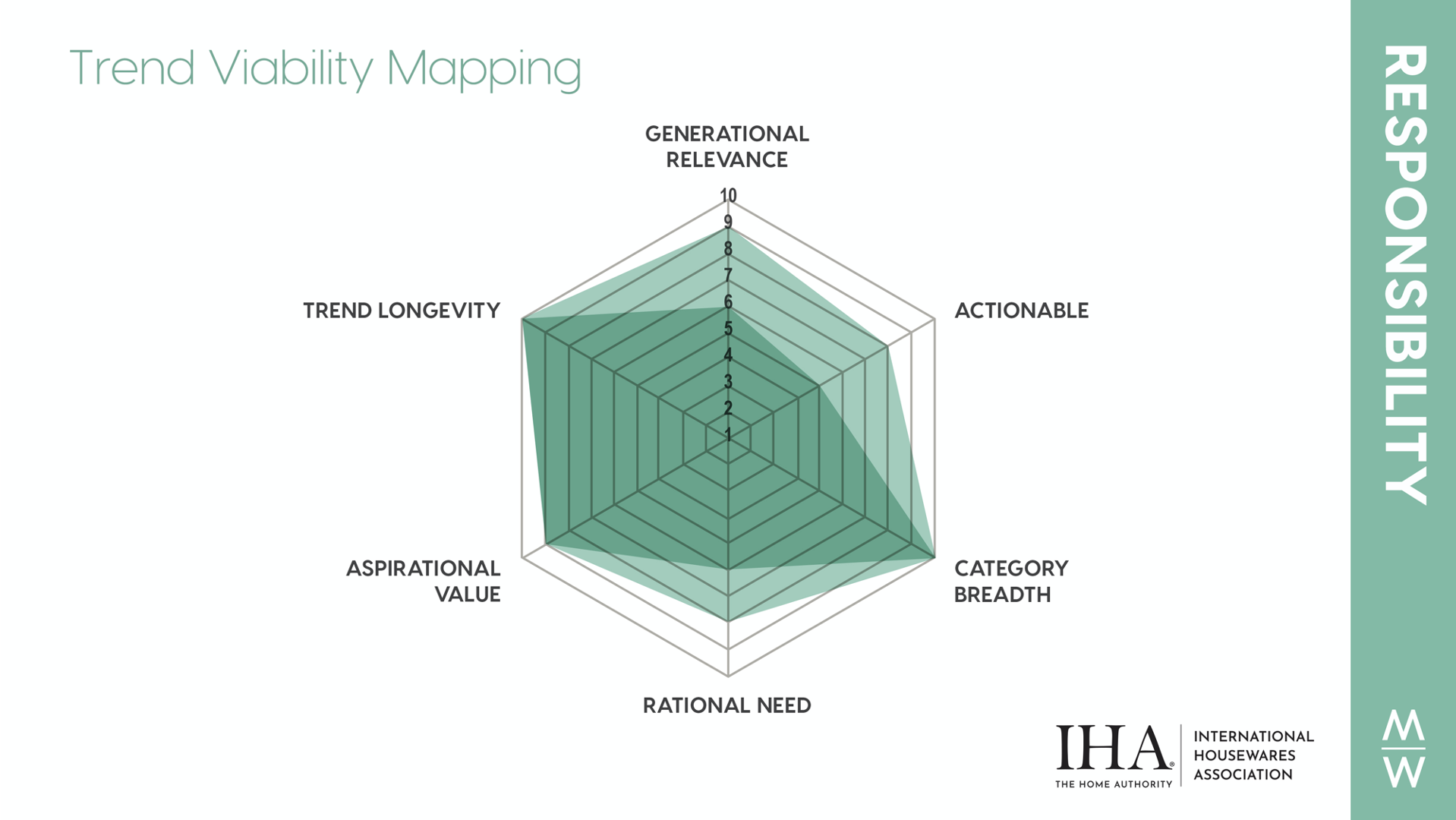 Ratings for category breadth (10), aspirational value (9) and trend longevity (10) remained the same. (10 is the highest rating possible.)
Many of the changes had to do with how consumers are reacting to social issues related to the pandemic, as well as social equity and justice issues that have come to a head in recent months.
Salamah explained that when the authors compiled the initial report, they were more focused on environmental issues. But social responsibility has now jumped to the forefront, increasing both its rational need and actionable quality.
Today, responsibility is less about "What is the environment going to look like for my children and my children's children?" which is more aspirational, she said. The urgent or rational need occurs when people say responsibility "is about safety and security for myself and my fellow man…..there are people out there who are being hurt by irresponsible practices as it relates to Covid-19, and also irresponsible practices of how we treat each other in society."
Mirabile said many in the home and housewares industry still focus on the environmental part of responsibility and not as much the social part. "You have to look at both," he said.
Derochowski pointed out that responsibility becomes a lot more actionable for both suppliers and retailers when you look at the social equity part.
But it's not enough to just say you support sustainability or social equity, Mirabile added. "In fact, if you say it and your practices don't support it, consumers are very quick to call you on it."
Responsibility is a "highly personal and extremely sensitive issue," Giannetti said.
For that reason, responsible corporate values must be authentic and incorporated into your company's mission and vision, said Derochowski. "You have to make sure (that mission) is built into the fiber of your organization, and it has to be constantly updated."
But don't let that deter you, he advised. "This is one of the greatest times right now to build a brand. A brand is an emotion." And, with consumers' emotions running high right now, companies that connect with those emotions will be rewarded.
There are tremendous opportunities right now for companies that are nimble and pivot to address consumers' wants and needs in terms of responsibility, said Salamah. Newcomers who are just establishing their brands may also benefit from incorporating responsibility from the get-go.
Product developers can:
Demonstrate responsible corporate values
Create products that replace disposable ones
Create products that extend the life of other products or make the unusable usable
There has been some back-sliding recently on the environmental front due to the pandemic, said Mirabile. Many stores are prohibiting the use of reusable bags to slow the spread of germs, and consumers have taken to using paper plates more to cut down on dishwashing while they're staying at home, he explained. But those changes are more circumstantial and are expected to revert when the virus is more under control.
Retailers can:
Support responsible product lines
Review supplier practices
Provide access to responsible disposal options
Everyone agreed that retailers need to fully vet supplier/product claims on the responsibility front because they are, in essence, endorsing a product by selling it. Many consumers view retailers as the local experts, which is a tremendous opportunity but also carries its own responsibility.
All of the IHA Market Watch webinars are posted on the Show website at TheInspiredHomeShow.com/marketwatch2020. Recaps of the programs are posted at TheInspiredHomeShow.com/blog
To download a complimentary copy of the 2020 IHA Market Watch Report, go to https://www.theinspiredhomeshow.com/downloads/marketwatch-2020/