IHA spoke with Richard Babick of Design Research, LLC to learn about suppliers' changing approaches to facing retailer requirements and consumer expectations in using products at home, which he and his co-presenters will discuss at the 2020 Show. The Inspired Home Show's Innovation Theater will feature 21 presentations over four days. Topics will include successful retail practices, consumer research findings, digital commerce, sustainability and global market trends.
Design Research is a full-service research firm conducting research in a wide variety of industries.  They specialize in studying products made for the home where design matters –hard goods, soft goods, furnishings, household appliances, kitchen, bath, and clean & contain products.  They have been members of the IHA for 20 years and have the privilege of providing research solutions to many of the most prominent IHA member companies.
Rick Babick, president of Design Research, has more than 35 years' experience in the market research field.  He founded Design Research as a boutique research agency in 1998 and has led the company into its current role as a valued research and trends consulting resource for more than 50 client companies, many of which are industry leaders.  Prior to founding Design Research, Babick spent 16 years with Lenox, Inc. where his most recent title was assistant vice president, corporate director of research and strategic planning.  His group supported more than six divisions and 15 brands in multiple countries and multiple channels of distribution and conducted more than 75 studies per year.  He was involved in every major acquisition and every new product program as well as oversaw the development of information systems and forecasting and strategic planning efforts.
Janine Michalek, Design Research vice president of market intelligence, is a veteran at improving products and brands via comprehensive market analysis coupled with a deep understanding of American consumers. She is a passionate trend spotter in fashion and the home, as well as cultural and generational trends. Michalek's expertise in consumer insights helps companies understand and manage the ever-changing consumer marketplace.  Prior to joining Design Research, Michalek served as director of market research at Lenox, Inc. She worked closely with both senior management and the board of directors in developing strategic business plans that were in-line with consumer desires, strongly tied to macro-societal trends and focused on market demands. She began her career at Opinion Research Corporation in Princeton, N. J.
Jane Freiman, president of the Smart Kitchen Insights Group, is a passionate consumer advocate who combines a love of cooking with a keen understanding of consumers' cooking needs and behaviors to envision and create innovative strategies that generate business growth and revenue.  She led Campbell's Consumer Test Kitchen for nine years, providing consumer cooking insights and trends to the broader Campbell business and ensuring that home kitchen realities and the mindset of a consumer remained central to Canpbell's recipe and product development. Prior to Campbell's, Freiman was a home economist/nutritionist for Durkee French Foods and consumer relations specialist at North American Philips Corp. where she tested and evaluated their small kitchen appliances.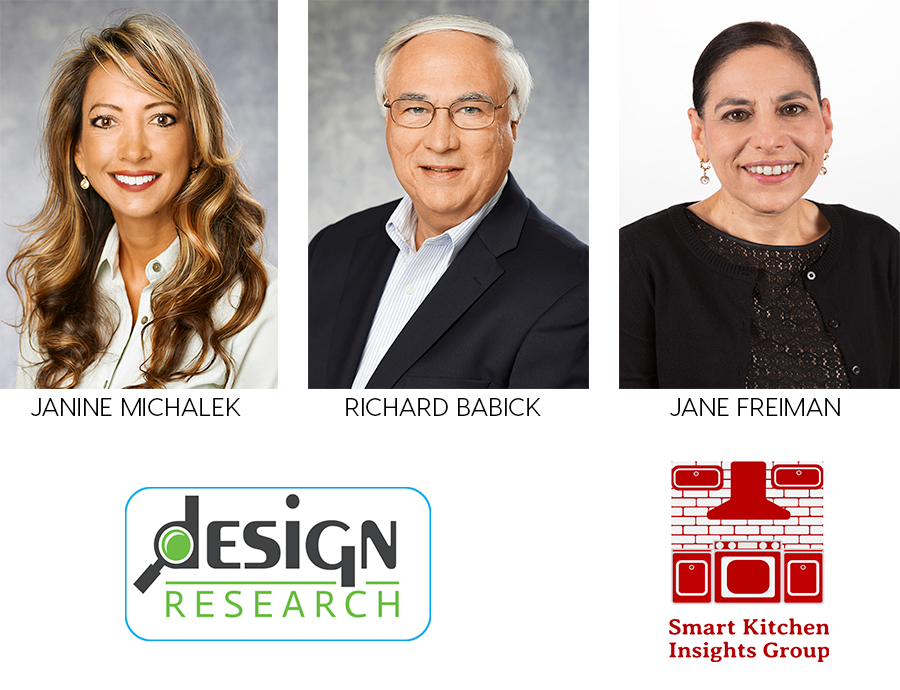 Rick, tell us what you will be speaking about and how this topic is important for Show audiences.
Design Research is pleased to be back at the Show's Innovation Theatre sharing experiences and insights based on our on-going consumer research in the housewares category.  This year, we are pleased that our colleague Jane Freiman will be us. We have joined forces with her because in working with our clients we are seeing a greater need for after-the-sale support.   
What are some of today's trends or issues that new product development professionals and/or retailers face in the housewares market?
Our presentation has three related components.  All of our topics have come to us through our clients –they reflect the concerns and challenges that they face and we are helping them to address.  The first section is about Target's new sustainability challenge to its vendors.  We will share some ideas about how to address the challenge and remain relevant to Target's consumers and to all consumers who care about being environmentally responsible.
The second section relates to post-sale challenges our clients have asked to understand and solve through research. This relates to creating improved user experiences.  This can include everything from clear, convenient easy product support to creating communities of product enthusiasts.
Finally, we will talk about new strategies to involve and delight consumers through post-sale support.  This will come from both Design Research and Frieman, who will talk about strategies to develop great recipes to enhance the consumer's experience with your products.
To learn more about Design Research, based in Lawrenceville, NJ, see www.designres.com
Thank you, Rick, for giving us a peek at your latest research and discoveries.Your presentations always attract eager audiences at our Innovation Theater. We look forward to hearing more at your session on Sunday, March 15 at 10:30 – 11:20 a.m. in the Innovation Theater.
The Sale Doesn't End at the Register:  Understanding the Power of the User Experience in Growing your Brand
Sunday, March 15 | 10:30—11:20 a.m.
Lakeside Center, Innovation Theater, Room E350
––
Be sure to attend the free executive-level educational sessions at the Innovation Theater to hear about successful retail practices as well as the latest research and analysis of home trends and forecasts for products in the smart home, kitchen and health care categories.  These programs will give you a fresh perspective as you walk the Show and will inspire, inform and improve your business. All programs will be audio-recorded and will be available at The Inspired Home Show after the Show.