Time. We always seem to want more of it.
Housewares product developers and retailers looking for guidance on where to focus critical resources in the coming months and years heard some valuable insights today in a free IHA webinar on how to help consumers make the most of their time.
Presenters were:  Leana Salamah, IHA vice president, marketing; Joe Derochowski, vice president and home industry advisor for The NPD Group; and Tom Mirabile, principal and founder of Springboard Futures. Peter Giannetti, editor-in-chief of HomeWorld Business, served as moderator.
This was the first in a six-part series featuring the newly created IHA Market Watch report. The first five sessions will each offer a deep-dive into one of five key consumer lifestyle trends, highlight shifts in light of Covid-19 and include implications for both suppliers and retailers. The sixth session will recap all the trends and look ahead to the rest of 2020.
The IHA Market Watch report is a collaboration between IHA, The NPD Group, Springboard Futures and Cadent Consulting.
Time was the first macro consumer lifestyle trend to be addressed.
"Time is like space. We always want more than we have," said Mirabile. "The pressure comes from a wealth of choices. There's always a hundred things you feel like you could be doing with your time."
While consumers might have been spending their time differently before Covid-19, that doesn't mean the desire for products and retail experiences that help them save time is any less today. In fact, it's actually increased.
Using a trend viability mapping system developed by Springboard Futures for IHA, the key consumer trends were evaluated against six criteria: generational relevance, actionable quality, category breadth, rational need, aspirational value and trend longevity. The webinar showed the trend viability maps from the report as originally compiled in March, as well as how they changed three months into Covid-19.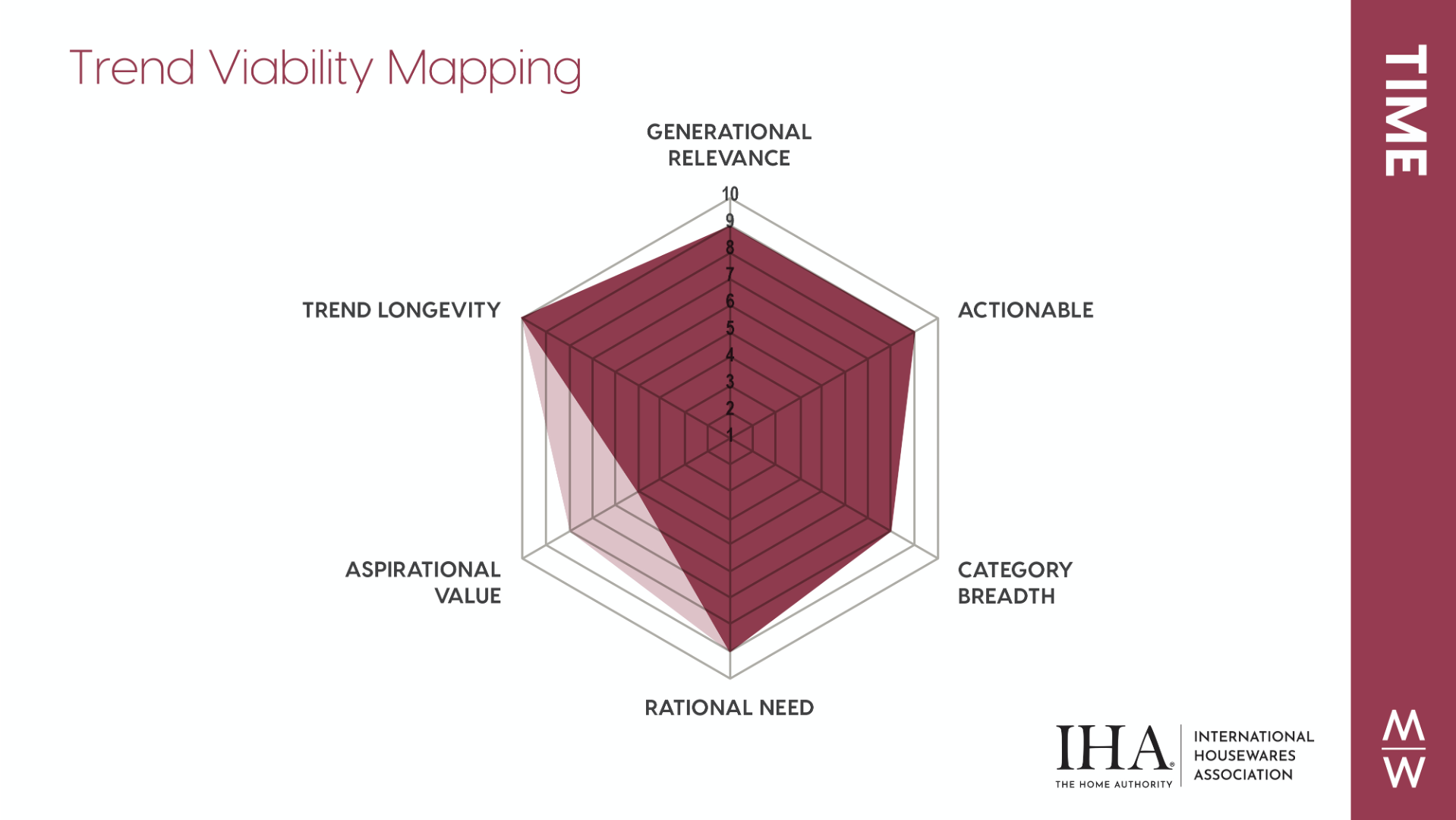 On a scale of one to 10 (10 being the highest), time originally received a rating of five in aspirational value. Today, its rating is eight. Ratings for the other five criteria stayed the same. Aspirational value is defined as how a trend can enhance a consumer's desired lifestyle, goals or personal brand.
"Interestingly, time is a part of wellness….feeling better about how you're spending your time," said Giannetti.
A good portion of the webinar was dedicated to ways product developers and retailers can help consumers make the most of their critical time.
Product implications include:
Eliminate the human factor in a process – Before Covid-19, this might have been more about saving consumers time so they can go do something else. But now it adds a health/safety benefit (less contact).
Reduce the time, or eliminate a step, in the process – Salamah clarified that this is "about eliminating things that feel like a chore, not eliminating engagement or experience."
Reduce maintenance – Anything from automating the process of part replacement to making things machine washable creates a time benefit.
"It's easy to look at time's product implications from a technology point of view," said Mirabile. "But make no mistake, this can be very simple. It's as simple as brands relating to consumers and giving them what they want."
"It's important to point out that technology itself is not a benefit," said Derochowski. "Technology needs to create a benefit for consumers."
If consumers are looking to conserve time at home, they are likely to be attracted to retail establishments that are also sensitive to giving them time.
Retail implications include:
Simplify product evaluation – "It's surprisingly difficult to compare products online right now," said Mirabile. Retailers could benefit by being clear about why they offer a product.
Simplify purchase transaction – Moving forward, Salamah predicts that services such as online ordering for store pick-up, curbside pick-up and other services introduced by many stores in the wake of Covid-19 will still be expected.
Expedite maintenance needs – Make it easier for consumers to get replacement parts or service they need.
"We've moved five years ahead in just a few months (in terms of shopping)," said Derochowski. "Consumers aren't really interested in the difference between in-store and online shopping. They're just trying to get a product to help solve a need."
The last key takeaway? Notice how time rates on the trend longevity scale – it scored a maximum of 10.
"The why of this macro trend may change, but it's been such an important consumer need for decades and it will continue to be for years to come," Mirabile said.
Upcoming sessions in the IHA Market Watch webinar series include:
—
The webinars are free, but registration is required. The webinars will be posted on the Show website, TheInspiredHomeShow.com after each is broadcast.
To watch the entire webinar on Time, go to TheInspiredHomeShow.com. To download a complimentary copy of the 2020 IHA Market Watch Report, go to https://www.theinspiredhomeshow.com/downloads/marketwatch-2020/