Providing Education and Connections
Thank you for attending Connect FALL 2022!
Click below to view the latest sessions.
11:00 AM – 12:00 PM (CT)
Opportunities in Inflationary Times
Whether or not we are technically in a recession, inflation is a real challenge—and likely to stay that way for a while. As an industry that thrives when the emphasis in on in-home experiences, where are the best opportunities for growth in the next year? Join Joe Derochowski, VP and Home Industry Advisor from The NPD Group, for his perspective on where consumers are likely to spend over the next year and how you can be ready to meet their needs.
As an added treat, Joe will spend the first half of the session presenting, leaving the second half open for a "town hall" type of interaction. Bring your questions to the session—OR submit them ahead of time here.
Speaker: Joe Derochowski, The NPD Group
12:30 – 1:30 PM (CT)
Never Say Normal: Navigating Change and Enabling Growth in the Modern Marketplace
The home + housewares marketplace has never seemed less stable or predictable. Still, this dynamic environment also presents many opportunities for innovation and growth. Seizing these advantages requires a clear understanding of shifting consumer lifestyles, aspirations and pain points, while staying anchored to those fundamental needs that are the bedrock of all consumer demand. Join Tom Mirabile, principal of Springboard Futures and consumer trend forecaster for the International Housewares Association (IHA), for an exploration of some of the trends that will drive products and purchases through 2023 and beyond.
Speaker: Tom Mirabile, Principal, Springboard Futures
11 AM – 12 PM (CT)
PFAS Chemicals and Housewares: Answering the Critical Questions
IHA and the Cookware & Bakeware Alliance (CBA) continue their partnership to inform the housewares industry about legislation regulating products made with PFAS chemicals. An issue once thought to affect mainly certain non-stick coated cookware and bakeware is impacting a wide range of housewares products that come in contact with food. The latest installment of this joint educational program by IHA and CBA will provide important updates on enacted and proposed state laws covering products made with PFAS chemicals. Panelists will allocate extra time during this special IHA Connect FALL presentation to answer the many questions being asked by industry decision-makers about how to prepare for looming PFAS regulation.
Moderator: Peter Giannetti, Editor-in-Chief, HomePage News

Panelists: Fran Groesbeck, Managing Director, Cookware & Bakeware Alliance
Tobias Gerfin, CEO, Kuhn Rikon, and President, European Association for Cookware, Cutlery and Flatware (FEC)
Thomas Lee, Partner, Energy, Environment and Infrastructure Practice Group, Bryan, Cave Leighton and Paisner
12:30 – 1:30 PM (CT)
Growth at the Intersection of Food, Housewares and Lifestyle Trends
Consumer lifestyles and food culture are interacting in new and different ways. Leigh Ann Schwarzkopf, principal of Project Partners Network, and Nicki Gondell, founding partner of Trend House, look at key lifestyle and design trends influencing home and housewares, food and flavor, cooking and culture for 2023 and into 2024. This session will explore emerging trends and discuss their implications for manufacturers and retailers in product development and content.
Speakers: Leigh Ann Schwarzkopf, Principal of Project Partners Network
Nicki Gondell, Founding Partner, Trend House, Inc.
10 – 11 AM (CT)
Enhance Your Visual Toolbox
As consumer behavior and expectations continue to evolve, the strategies and techniques employed to attract them must also advance and sharpen. Even the simplest change in your design approach and presentation can affect how shoppers perceive the store environment's culture and merchandise. Join Anne Kong as she explores both simple and complex techniques that speak visually to consumers. She will look at the power of great visual merchandising design as a language that can invite and promote sales. Merchandising with meaning and elevated communication are just a few of the many ways retailers and suppliers can strengthen their relationship with today's busy consumer. Enhance your visual toolbox and discover ways to appeal to a broader generation of shoppers. 
Part of Anne's presentation will be the announcement of the gia Top Window Global Honorees of 2022. The gia Top Window competition recognizes and celebrates the best and most innovative window displays in the home + housewares industry worldwide. The Global Honorees – one small company and one large company – win a trip to The Inspired Home Show in Chicago in March 2023.
Speaker: Anne Kong, Professor & Program Coordinator, Spatial Experience Design Program, Fashion Institute of Technology, and Partner, A+D Kong
12:30 – 1:30 PM (CT)
IHA Occasions Survey 2023: Housewares Joins the Celebration
Leana Salamah of IHA and Peter Giannetti of HomePage News will preview results of the second annual IHA Occasions Survey examining the renewal of key life moment celebrations and how the home + housewares business can join the party. This presentation will highlight key findings and conclusions, including shifts compared to the 2021 Occasions Survey, fielded just as consumers were beginning to envision life beyond the pandemic that paused such in-person gatherings. Learn how special occasions will fill up calendars a year later to trigger new purchase opportunities across several housewares categories. Speaking of celebrations, this presentation also will spotlight findings of a recent IHA consumer survey on In-Home Entertaining, exploring the year-round potential for the housewares business to serve the resurgent appetite for in-home gatherings.
Speakers: Peter Giannetti, Editor-in-Chief, HomePage News
Leana Salamah, Vice President, Marketing, IHA
Speakers
A Wealth of Knowledge and Experience
Watch 2021 Product Demos On Demand
Connect FALL Digitized Virtual Product Demonstrations & Sessions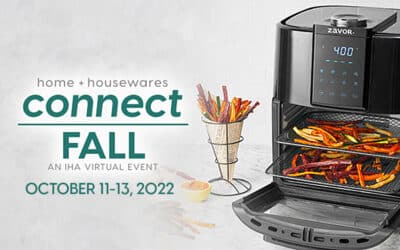 Connect FALL, an IHA virtual event, is set for Oct. 11-13 with exclusive, in-depth content designed to bring the housewares industry together around critical industry education.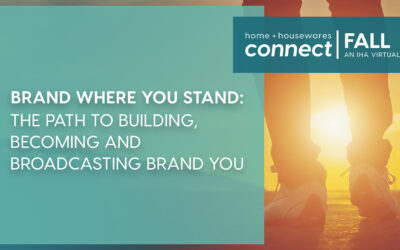 As consumer relationships with brands have become more complex, they have become more important than ever, discussed Leigh Ann Schwarzkopf during IHA's Connect FALL virtual event.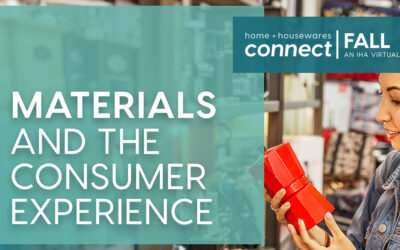 Dr. Gayatri Keskar of Material Connexion urged home and housewares developers to keep consumer experience at the center of design and material choices in the latest episode of  "Material Matters."