Excellence in Product Design
IHA Global Innovation Awards (gia)
The IHA Global Innovation Award (gia) for Product Design honors exhibitors' latest creations and cutting-edge innovations with award recognition, distinguishing five finalists in 15 categories.
Gia Product Design
20+ Years of Excellence
2022 Global Honorees Have Been Selected
View the Global Honorees & Finalists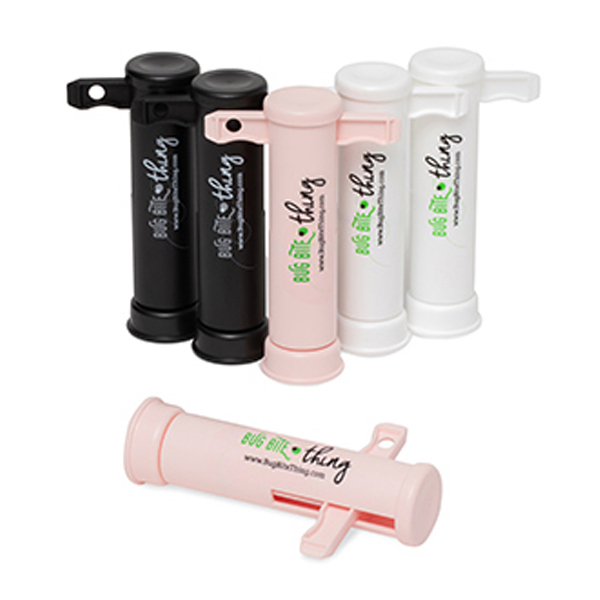 Bath + Personal Care
Bug Bite Thing
Bug Bite Thing
Description
As seen on Shark Tank, Bug Bite Thing is Amazon's #1 selling product for insect bite relief with over 40,000 reviews. The easy-to-use suction tool effectively extracts insect saliva/venom from under the skin to alleviate the itching, stinging and swelling caused by insect bites and stings. The award-winning product is chemical-free, reusable, and safe to use on children of all ages and adults. Bug Bite Thing (MSRP $9.99) is made with medical grade plastic and available in white, black and pink.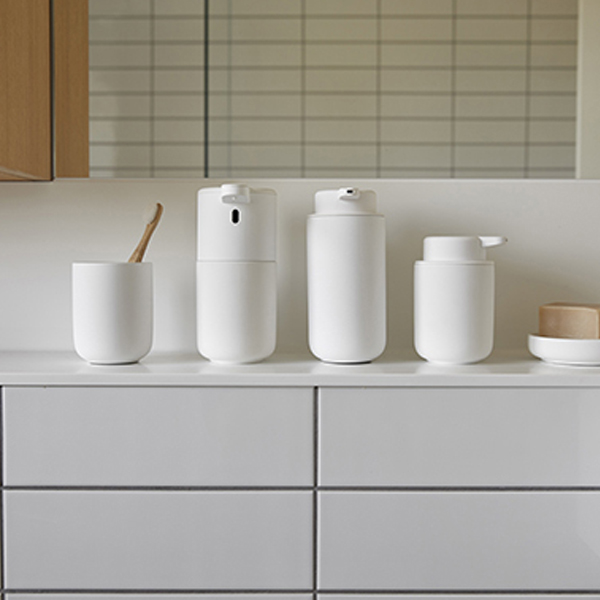 Bath + Personal Care
UME Bath Series
F&H Group A/S

Description
The UME Bathseries consist of a full apprerance to the bathroom; Soap Dispenser 2 sizes for standing or for wall mounting Sensor dispenser for Soap / Sanitizer Wall bracket Toothbrush mug Soap Dish Jar Pedal Bin Toilet brush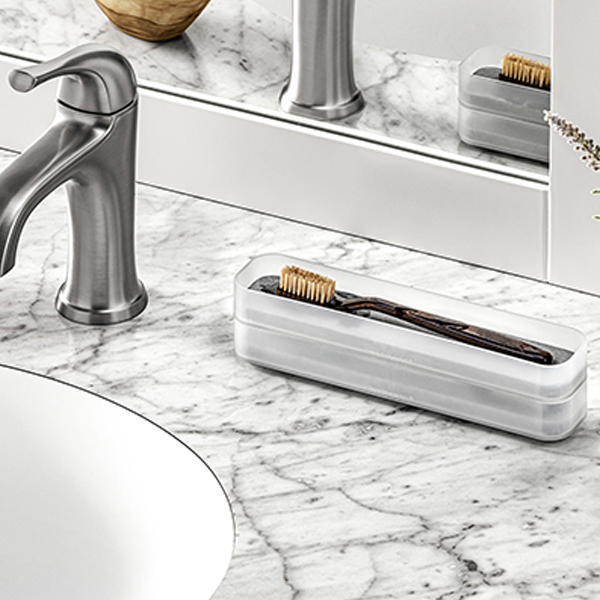 Bath + Personal Care
Drying Stone™ Toothbrush Tray
madesmart
Description
The madesmart® Drying Stone™ Toothbrush Holder is the latest edition of our Drying Stone™ Collection. Made of a natural stone that amazingly absorbs moisture and is infused with an antimicrobial additive providing the user with unmatched quality & product life-span, this is surely is the best way to keep your bathroom beautifully pristine. This item is infused with an antimicrobial additive that enhances product quality and lifespan while inhibiting the development of bacterial odors and discoloration.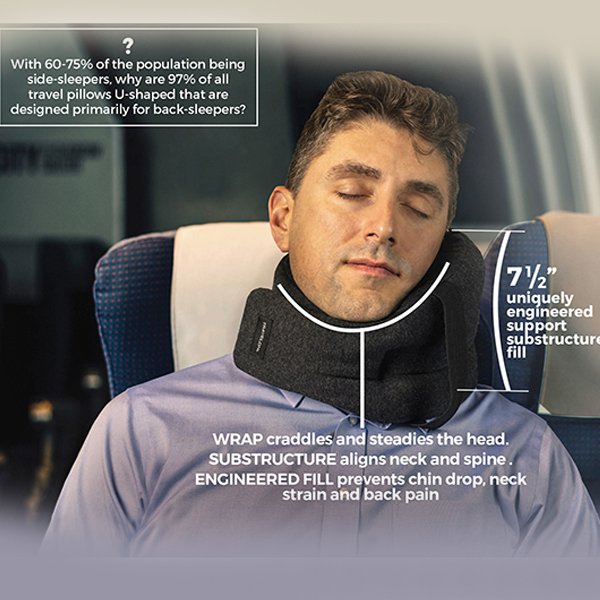 Bath + Personal Care
SOMNiWRAP Travel Pillow
Travelon
Description
SOMNiWRAP's unique and innovative tapered design enables you to have your best-sleep and best sleep-health while seated upright. Designed for side-sleepers which consists of 60-75% of the population, it is just as effective for back and stomach sleepers. The SOMNiWRAP provides scientific and advanced neck support with its unique substructure fill that cradles the head, is soft n' cozy to the skin, and ergonomically aligns your head and neck for "No more bobble-head" interrupted sleep. Enjoy 360˚zero-pressure neck protection for all your sleep positions as the SOMNiWRAP adjusts to any sleeping style. Wraps like a scarf where shape and fit can easily be adjusted with self-fastening hook and loop closure. Fits all heights from petite to tall, and every neck size. One third less weight and size of bulkier heavy memory foam U-shaped travel pillows. The SOMNiWRAP Travel Pillow's low profile also making it easier to pack away in your carry-on without sacrificing space, or simply drop into your bag or backpack. For Gamers, the SOMNiWRAP pillow provides optimal neck and spine alignment, for long hours of support. No need for straps and hooks that that require one to be strapped into a chair – simply to keep your head upright. Rotate the SOMNiWRAP so the high point is under your chin. Viola, instantly – no more chin drop to undermine your game. Sides and back substructure support and steady your head, relieving pressure on the neck and spinal tissues thus enabling your muscles to relax for long hours of intense fun.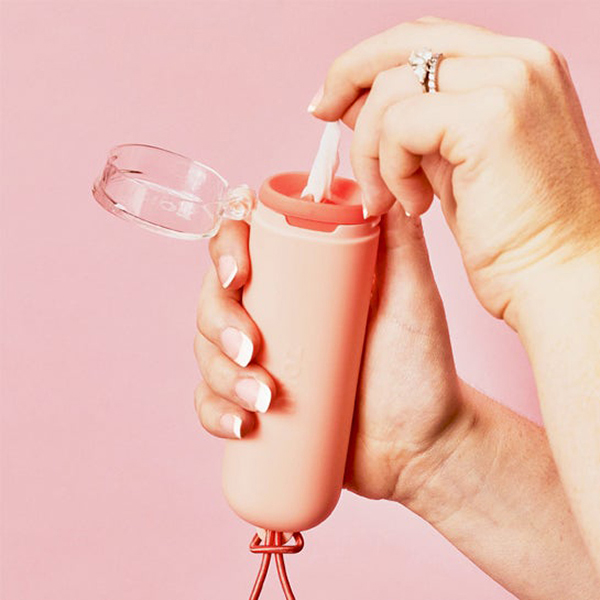 Bath + Personal Care
Travel Hand Wipes
Zoku, LLC
Description
The Travel Hand Wipe Set is thoughtfully designed to help you fight germs wherever you're headed. The silicone dispenser stores 25 eco-friendly, 100% biodegradable hand wipes, and easily attaches to your bag, backpack or purse. The perfect solution for keeping your family safe and sanitized. Pack them in your kid's school lunch, leave a set at work for wiping down common areas, and be sure to keep a dispenser in your pocket, too, for when you're traveling or eating on-the-go. Available in Peach, Teal, and Gray.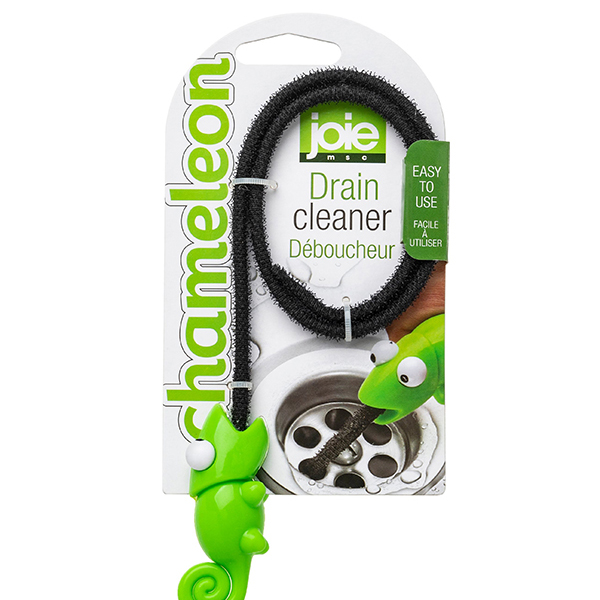 Cleaning
Joie Chameleon Drain Cleaner
Evriholder Products, LLC
Description
Save yourself from a plumber's visit or harsh chemicals with the Joie Chameleon Drain Cleaner, which clears slow-moving or blocked drains of hair and debris. It is easy to use, simply glide it down the drain, twirl it and pull out the hair.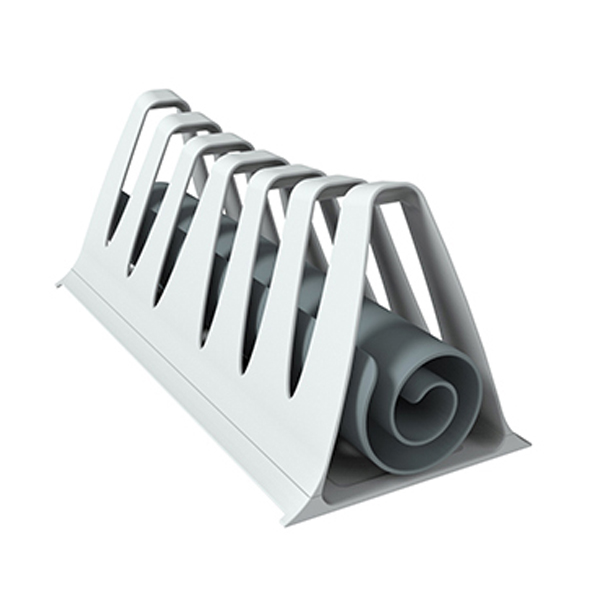 Cleaning
Sophisti-Clean Compact Dish Rack & Silicone Mat Set
Evriholder Products, LLC
Description
The Sophisti-clean Compact Dish Rack and Silicone Mat Set combines two dish drying surfaces into one. Perfect for everyday use, this 2-in-1 dish rack includes a durable dish rack to air dry dishware, cookware, and glassware on countertops, with an attachable silicone drying mat for additional drying space. When not in use, the mat can be easily rolled up and stored within the rack for compact storage.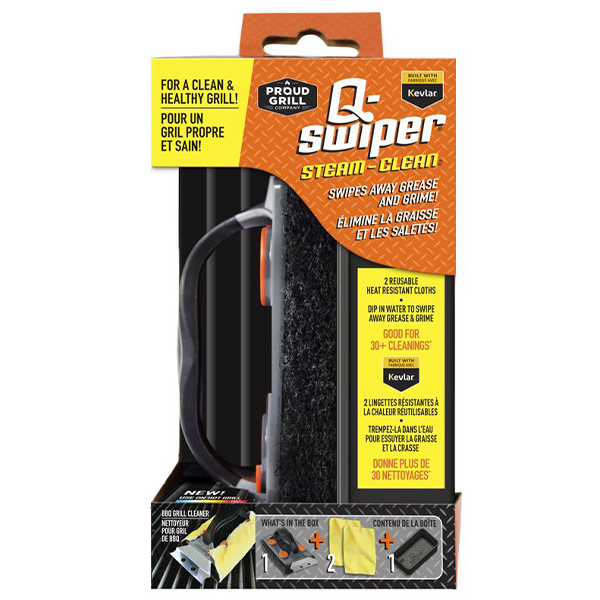 Cleaning
Q-Swiper Steam Clean Grill Cleaner
Proud Grill Company
Description
BBQ Grill Grate Cleaner with 1 Q-Swiper Grill Brush, 2 Reusable Grill Cloths and 1 Dipping Tray.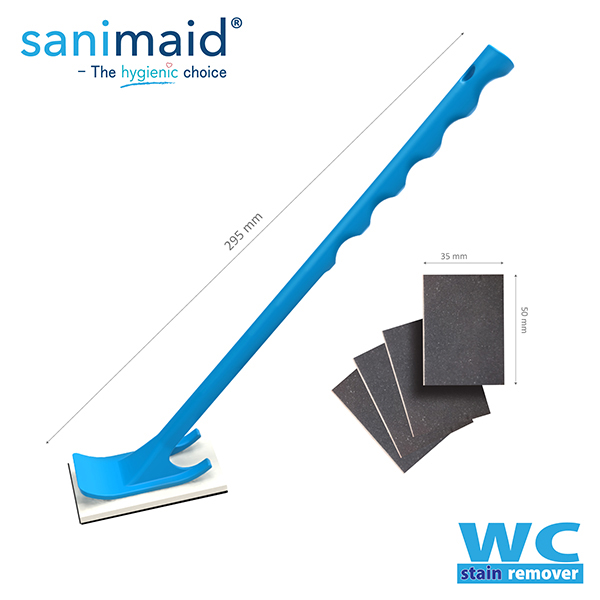 Cleaning
#Stain Remover
Sanimaid ApS
Description
New Danish invention easily & efficiently removes limescale stains in the toilet bowl and ceramic tiles in the bathroom shower, with anti-microbial handle for more hygienic cleaning. Efficiency and hygiene are the main focus, and the Stain Remover ensures an easy and complete cleaning of the toilet bowl as well as ceramic tiles. The consumer benefits are very impressive: More hygienic than competition. More effective than competition. No chemicals needed. Cost effective and sustainable with reusable handle.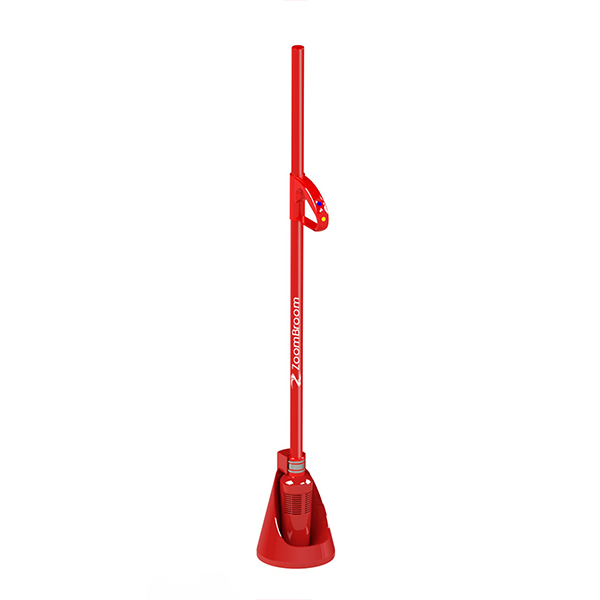 Cleaning
ZoomBroom Tornado
ZoomBroom
Description
The ZoomBroom is a lightweight, quiet, and convenient debris blower designed to clean all of your outdoor living areas. Its sleek design makes it easy to use and the batteries are built-in so there is no battery pack to change. It has as much power and longer run-time than the most popular cordless leaf blowers.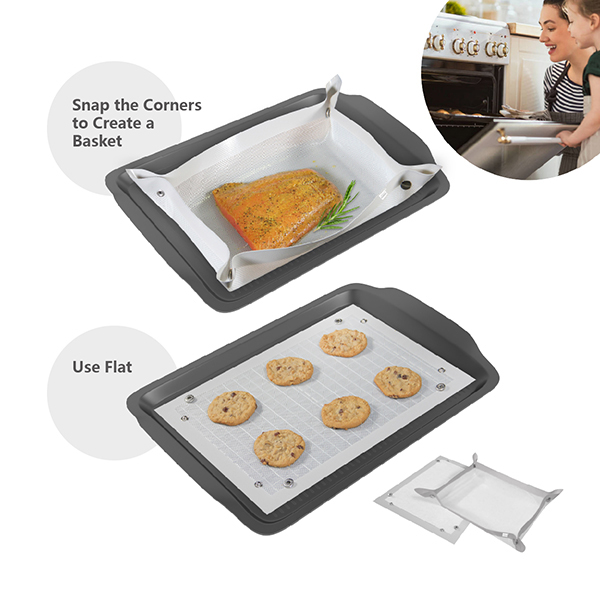 Cook + Bakeware
Leakproof Silicone Non-Stick Baking Mat
Grand Fusion Housewares, Inc..
Description
Patent pending design incorporates snaps into the corners of a traditional silicone non-stick baking mat so that it can be used flat or in a basket. Using in basket form allows you to cook messy foods in the oven and still keep your baking sheet clean.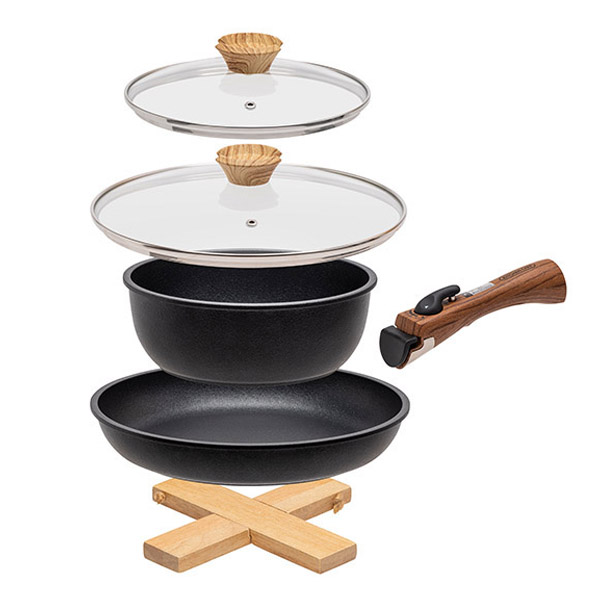 Cook + Bakeware
6-Piece Cookware Sets with Cool-Touch Removable Hands & Tempered Glass Lids, MEGASTONE™ Non-Stick Coating
IRIS USA, Inc.
Description
QUALITY INSPIRED BY YOU: IRIS USA Non Stick Cast Aluminum Fry Pan set is the solution for any type of living. Grill, simmer, steam, or deep fry with this all in one 6 piece set. Pans are oven-safe, up to 430°F. NESTING COOKWARE: Save space and make your kitchen look cleaner with the nesting cookware. The stylish removable handles with wood design are soft to the touch, and cool to handle. Perfect for tiny home and RV cookware, for small kitchens and living spaces. TWO SIZE PANS: Two depth size for your convenience. Use the shallow one to create stir fries, sear, grill or steam, and the deeper one as bakeware, ovenware, or as a soup pot. PREMIUM COATING: MEGASTONE™ premium coating has three layers to provide superb experience for healthy cooking enthusiasts. Superior in salter water resistance, abrasion and egg testing and is positioned as better quality than regular non-stick coatings in the market. With unique convex finish & high abrasion resistance for a longer life expectancy, withstanding 700K abrasion test cycles (JIS2010 7.4.5), FDA compliant. Cook beautifully and clean effortlessly! SPACE SAVING TRIVET: Raise your skillets off from the table by using the included wooden trivet. Lock the two woods together to use it, and stack or hang when not in use. Utensil holder on the glass lid knob also eliminates additional dish-washing process. Works on all cooktops: Gas, Electric, Ceramic and Induction Cooktop. Tested by SGS; No PFOA, No PFOS, No PFOR, No Lead, No Cadmium, and BPA Free.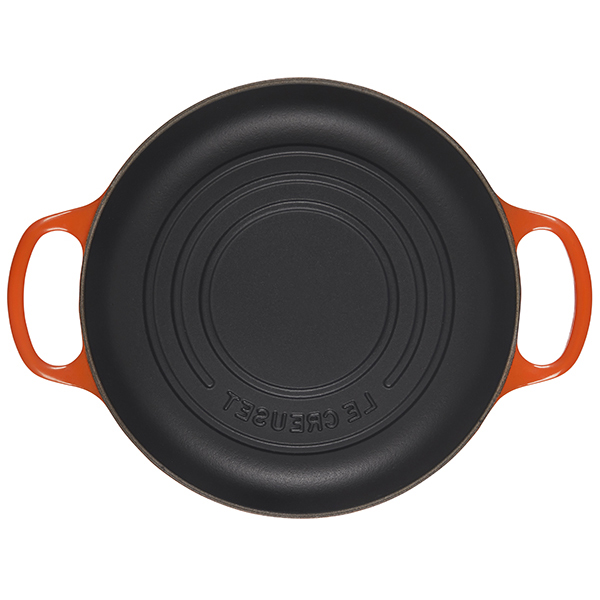 Cook + Bakeware
Signature Bread Oven
Le Creuset of America Inc.
Description
The Le Creuset Bread Oven takes home baking to the next level of delicious and beautiful. Crafted from our legendary cast iron for superior heat distribution, this purpose-built shape is designed to produce bakery-quality results. A domed lid traps and circulates steam for maximum rise and ultimate flavor, while the low-profile base promotes even browning and produces a golden, crispy crust marked with our hallmark three rings. With an easy-to-clean matte black interior enamel and ergonomic knobs and handles, the Le Creuset Bread Oven makes it effortless to bake like the experts at home.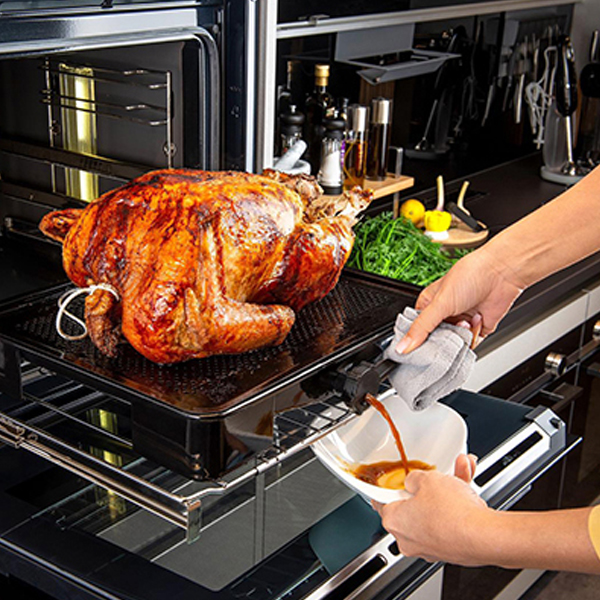 Cook + Bakeware
SRT Special Roasting Tray
SRT I.K. International
Description
This special enamelled roasting tray, the latest invention, is particularly suitable for meat, fish and vegetables. The unique design with our drain tap makes it possible to get the roast juicy and at the same time to get your own sauce for the roast because you don´t lost the juice during cooking.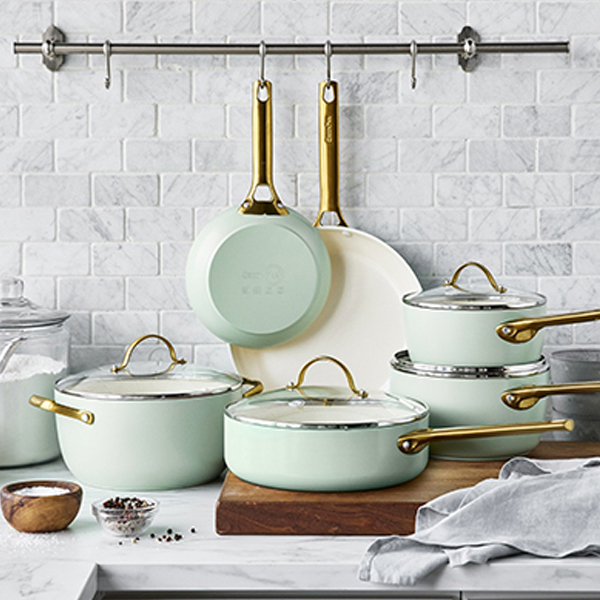 Cook + Bakeware
Greenpan Reserve 10pc set
THE COOKWARE COMPANY (USA), LLC
Description
World-class tech meets minimalist style in GreenPan Reserve. Featuring a sun-soaked finish, this set is more than good looks: the duoforged hard anodized aluminum construction makes it extra tough and scratch-resistant while also promoting even heat distribution. Each piece features our Thermolon™ Minerals Pro healthy ceramic nonstick coating, featuring layers of diamonds to make it ultra-durable and heat responsive (all free of PFAS, PFOA, lead, and cadmium). The meal possibilities are endless—flavorful frittatas, tender stews, and perfectly seared seafood are just the start.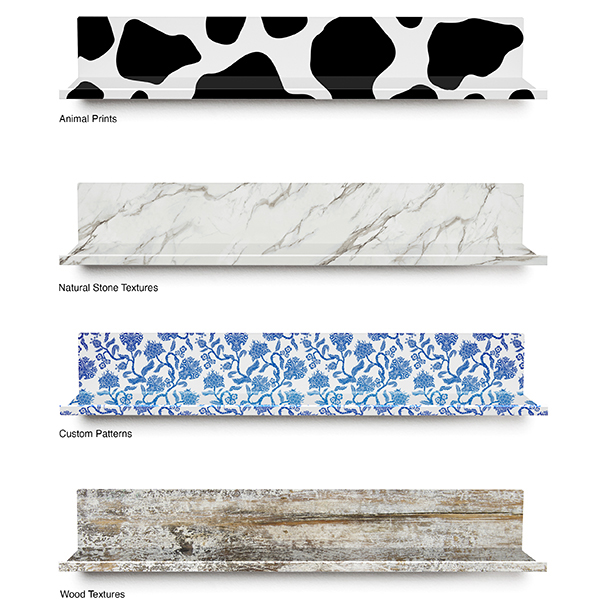 Home Decor + Gifts
No-Stud Floating Shelves with Dye Sublimation Finishes
Hangman Products, Inc.
Description
Two patented systems have come together to create a nearly limitless catalog of stunning and simple-to-install floating shelves: Hangman's No Stud Technology, and Decoral's Dye Sublimation. In dye sublimation, high heat transfers printed images into metal, producing high-resolution wood grains, marble, brushed metals, custom prints, and logos. Hangman's aluminum shelf is the perfect canvas, and its No Stud technology, the perfect complement! Tiny nails install into an aircraft-grade aluminum bracket on any drywall, plaster, or paneled surface - no studs required. The shelf hangs tight and flush to the wall, is incredibly strong, and leaves minimal damage upon removal. The result is a beautiful custom product that can be installed by almost anyone in minutes, using only a hammer. Variations include a standard depth of 4.125", larger reversible option 5.875"/6.375", and widths 12", 24", 36", 48".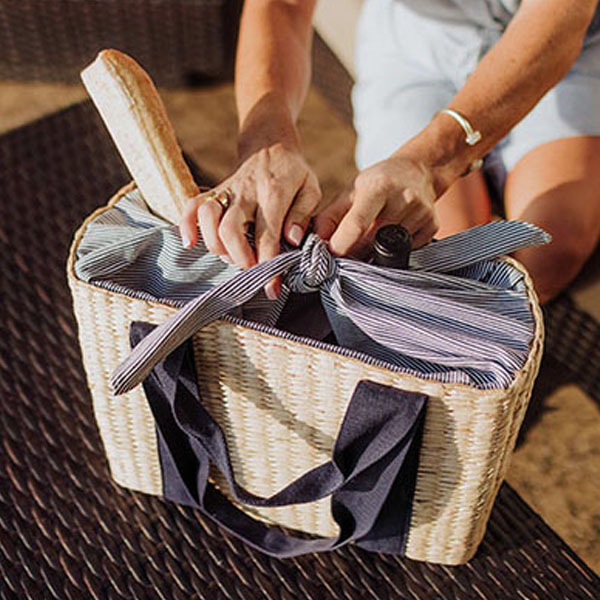 Home Decor + Gifts
Parisian Picnic Basket
Picnic Time Family of Brands
Description
The Parisian Picnic Basket is an insulated, woven Seagrass basket with plenty of room for wine and even, thanks to the innovative loose fabric tie closure, an extra-long French baguette! Ooh la la! This wine and cheese picnic basket boasts a 20 can capacity alongside long shoulder straps and shorter straps for carrying by hand. From the farmer's market to the picnic, this bag has vintage-style points to spare.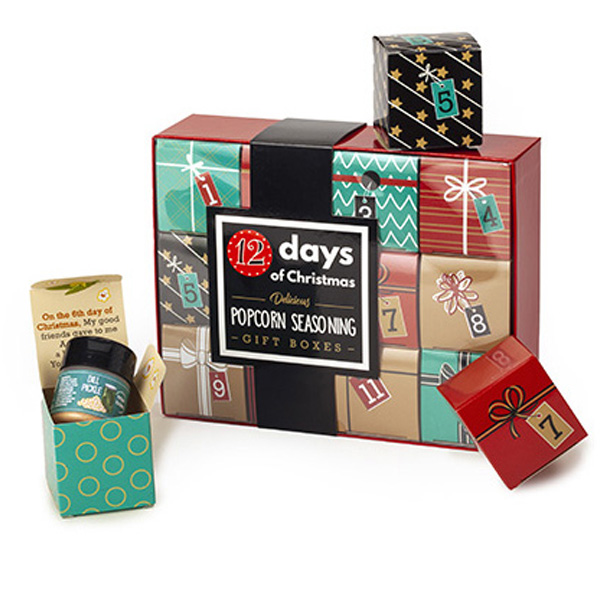 Home Decor + Gifts
12 Days of Christmas Popcorn Seasoning Advent Calendar
Wabash Valley Farms
Description
Advent calendars are a classic tradition in many homes where families are able to embrace the counting down of the days until Christmas. There is nothing more fun than waking up every morning and discovering a new surprise. What better way to enjoy this activity than by pairing it with popcorn and seasoning! This calendar is exclusively designed with 12 individual presents to be opened each day starting on December 13th making it the perfect gift for kids and kids at heart. Families will have a blast, as they open each gift box to discover the traditional, unusual, but always mouthwatering seasonings inside, plus enjoy the nostalgia of belting out the Wabash Valley Farms seasonings version of the 12 days of Christmas song that is inside each box. Pair these 12 delicious seasonings with their favorite popcorn and this advent calendar will be a gift that is sure to be remembered for years to come. The 12 Days of Christmas Seasoning Advent Calendar is packed full of stopping power and offers an incredible value. The calendar comes in a convenient 8-piece case pack and has a suggested retail of $34.99. Offer something unique and unexpected in your store this holiday season with the 12 Days of Christmas Seasoning Advent Calendar. Stop by and see it in our Booth S3415. To find out more about the New 12 Days Seasoning Advent Calendar and all the other new product additions for 2022 feel free to contact us at 877-888-7077 or visit us on the web at www.wfarms.com.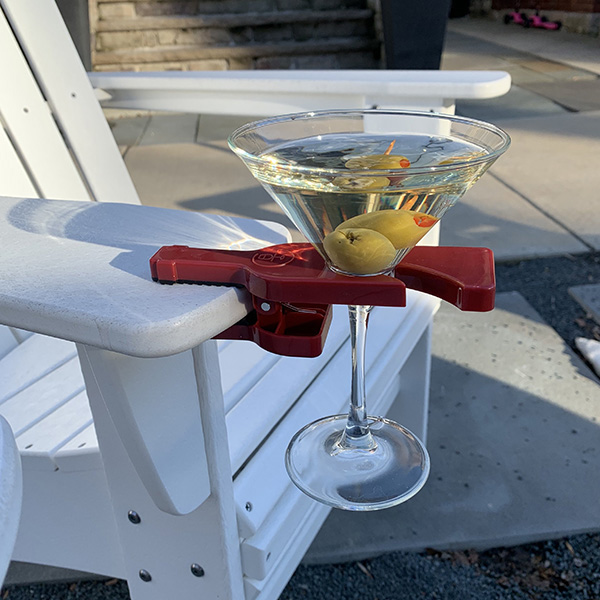 Home Decor + Gifts
WineGrasp™ Single
Wine Grasp Company
Description
The wineGrasp™ will keep beverages best enjoyed in stemmed glassware upright and within reach. The rubber padded grips, and sturdy spring allows wineGrasp™ to firmly grip surfaces up to 1" thick. The wineGrasp™ is made in the USA and designed to hold up to 10 oz. Perfect for wine, martini, margarita, champagne, and cocktail glasses. While at the beach, camping, boating, or hanging out on the patio. Just clip your wineGrasp™ to your Adirondack chair, camping chair, picnic table, pontoon boat, or patio railing to always be ready to Grasp the Good Times™.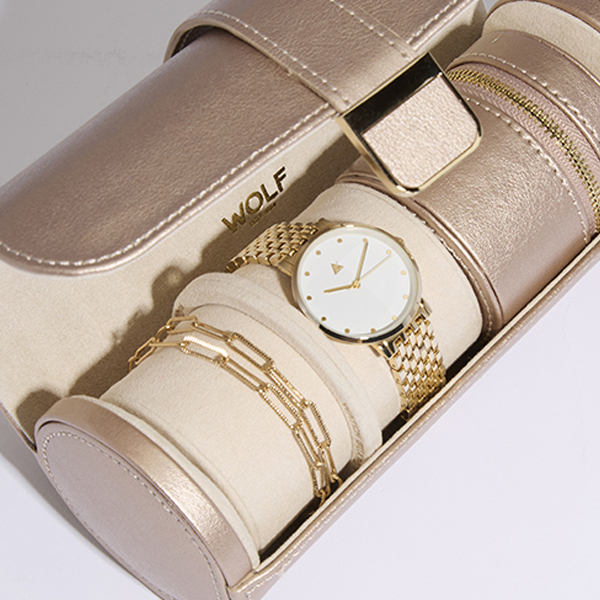 Home Decor + Gifts
Palermo Double Watch Roll w/Jewelry Pouch
WOLF
Description
Charming and sophisticated, Palermo takes cues from its namesake city on the side of a mountain by the sea. Store your favorite time pieces in this sumptuous leather watch and jewelry roll. Room for 2 watches + hidden jewelry capsule with two compartments and a removable small jewelry storage in zip pouch with small tray inside.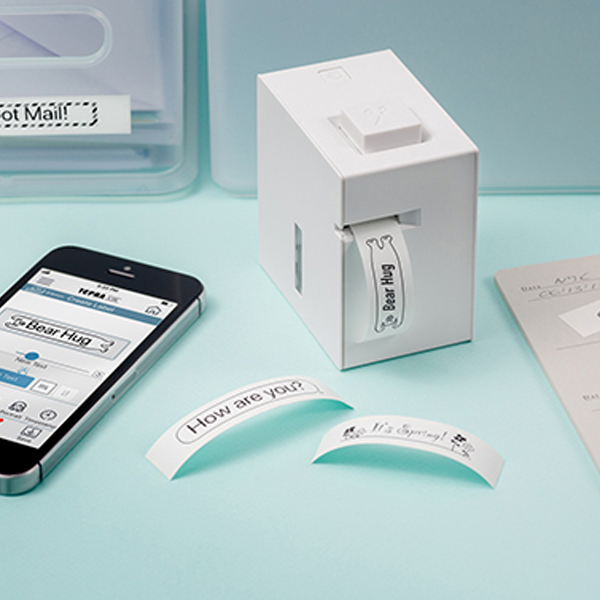 Home Organization + Storage
KING JIM "TEPRA" Lite Compact, Palm-sized Label Printer
Bous
Description
TEPRA Lite is a Compact Palm-sized Label Printer. Size 2.3"x 3.9"x 5.2" - Easily create labels straight from your smartphone. - Palm-sized and battery powered. - Multiple label templates to choose from. - Compatible with all languages and alphabets. - A wide variety of different tape options.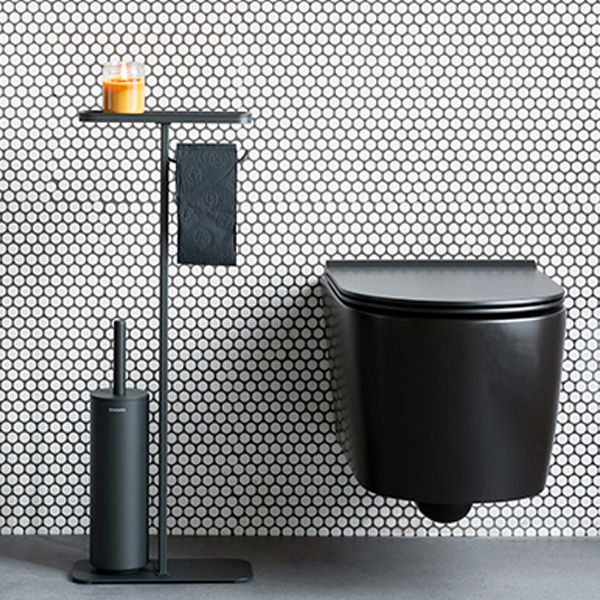 Home Organization + Storage
Mindset Toilet Butler
Brabantia USA
Description
The Toilet Butler is an all-in-one shelf, toilet roll holder and toilet brush in one stand. It is everything you need in the toilet, without sticking or drilling. The Toilet Butler stands strong with weighted base that ensures stability and is non-slip. It is ideal for humid areas and is made of corrosion resistant materials. The silicone brush is hygienic and does not hold water or bacteria.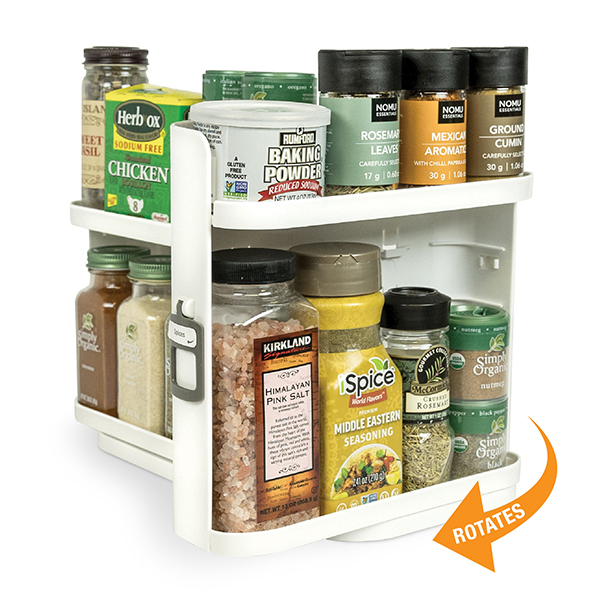 Home Organization + Storage
Cabinet Caddy SNAP!
Inspired Product Development Group
Description
Cabinet Caddy SNAP! is a new and improved pull-and-rotate organizer for spices, prescriptions, crafts and much more. Cabinet Caddy SNAP! fits smaller cabinets and has three adjustable snap-in shelves that pivot for easy access to any item. The low-profile shelf edges allow labels on stored items to be easily seen. It also includes a "small things" tray for smaller, odd-sized items. Its wide shelves and sleek and sturdy design make this the perfect organizer for your cabinets or on your countertops. Each Cabinet Caddy SNAP! comes with a magnetic latch that connects additional units side-by-side, so users can add on as needed.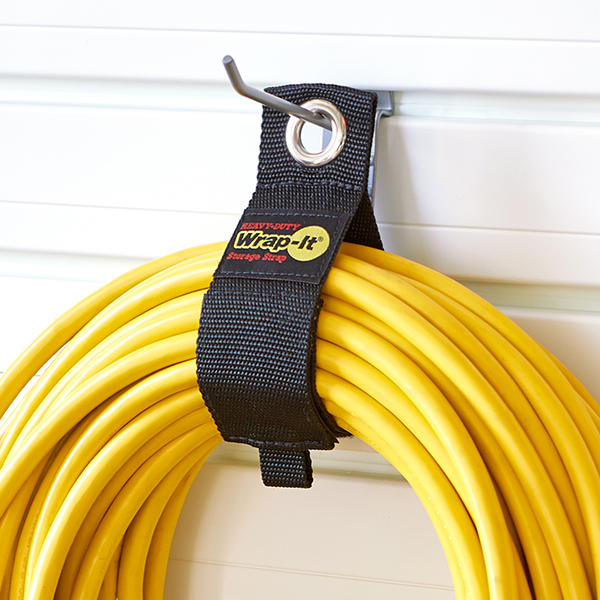 Home Organization + Storage
Heavy-Duty Wrap-It Storage Straps
JJAAMM, llc
Description
These grommet-geared best-sellers are made with super-tough polypropylene material. But you'll swear we feed them nothing but meat and potatoes. They'll get your bulky cables, hoses, cords and ropes looped, wrapped tight and stored up and away like a powerlifter. They're perfect for every-day, anywhere use.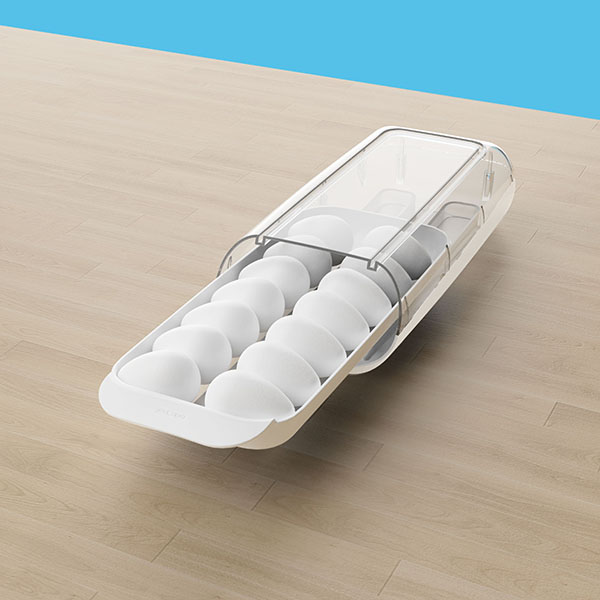 Home Organization + Storage
FridgeView™ Rolling Egg Holder
YouCopia
Description
FridgeView Rolling Egg Holder is a one-stop solution for all your egg needs. This organizer includes a protective storage container, rolling egg dispenser and removable tray all in one. The base unit stays in the fridge to protect eggs from breaking or cracking while stacking other things on top. A clear view means you'll never second-guess how many eggs you have left. The inner tray is designed with a gentle slope that keeps eggs rolling to the front for quick, convenient access of single eggs. With a built-in handle, you can remove the entire tray for easy loading and unloading too. Rolling egg dispensing design keeps eggs within reach.
Removable inner tray with handle
Holds 12-14 standard, large or jumbo eggs
Compact and stackable design
Secure, clear top for quick viewing
BPA free plastic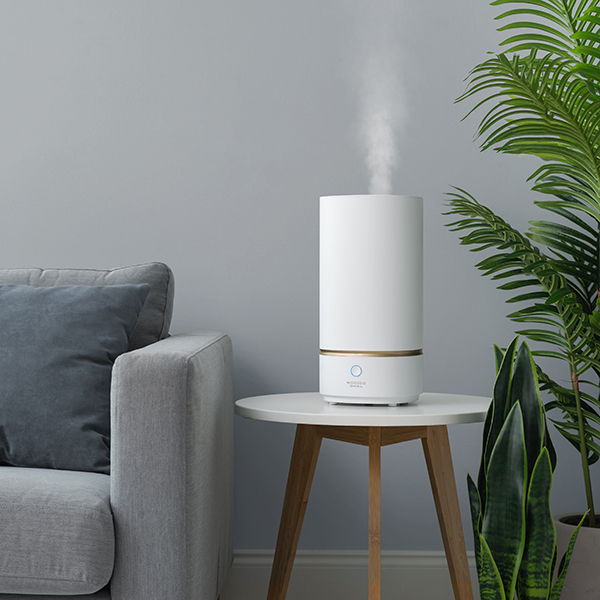 Household + Home Electronics
WOOZOO™ Ultrasonic Top-Fill Cool Mist Humidifier
IRIS USA, Inc.
Description
ADJUSTABLE MIST LEVEL: With three (3) levels of ultra-fine mist output and a maximum humidification rate of up to 230mL/h, the WOOZOO Ultrasonic Cool Mist Humidifier makes it easy to maintain humidity in your bedroom, living room, office, or any space at an ideal 30% - 50% at all times. Low humidity can cause problems such as dry skin, sinus discomfort, and can increase static electricity build-up. Better air quality makes for better sleep, helps alleviate dry skin, and even helps to keep plants healthy. EASY TOP-FILL RESERVOIR: The large 3.0-liter capacity tank enables continuous operation without the need to refill. On a full tank, the Ultrasonic Humidifier runs for up to 38 hours on Low, 23 hours on Med, or 13 hours on High. The unit shuts off automatically when water runs out. Refill and cleanup are a breeze with the top-fill tank design; simply remove the lid on top to directly access the water reservoir. PERFECT FOR ANY ROOM: On the Low setting, the Cool Mist Humidifier's noise output is less than 37db, even quieter than a library! The nonintrusive blue LED ring creates a relaxing atmosphere, perfect for sleep, studying, or even working at home or in the office without disturbance. This is the perfect humidifier for babies' nurseries, children's rooms, family rooms, living rooms, offices, studies, bedrooms, and anywhere you can think of. SIMPLE EFFICIENT DESIGN: Inspired by the Japanese word for vortex, "uzu", the powerful and convenient WOOZOO Ultrasonic Humidifier offers all the comfort and ease-of-use you need with a straightforward single-button control system. Operation is quick and easy, just push the button and let it get to work. SAFE AND TRUSTED: BPA free, ETL listed, and Prop 65 tested; safe for people and pets.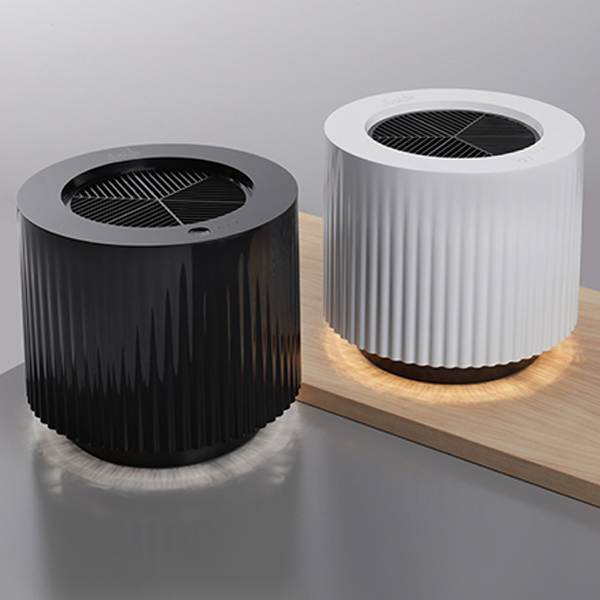 Household + Home Electronics
Sumikaze Pure Air
NGK SPARK PLUG CO., LTD. Venture Lab
Description
Sumikaze is a beautiful and compact plasma air purifier that inactivates up to 99.9% of airborne viruses while providing an air of quality to the home and office. Sumikaze uses plasma technology to generate oxidants in the room to inactivate bacteria, viruses, and odors. A conventional air purifier uses a filter to trap the bacteria and viruses, but it does not inactivate the bacteria and viruses itself. What makes Sumikaze special is that it acts directly on bacteria, viruses, and odors present in various locations of a room.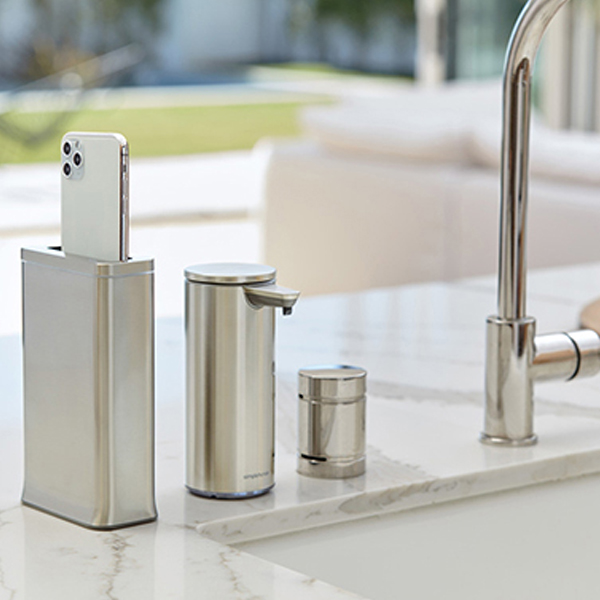 Household + Home Electronics
Description
Our cleanstation uses our omni-lux™ chamber to sanitize the entire surface of your phone, killing 99.9% of germs in just 30 seconds – fast enough to use while washing your hands. As soon as you insert your phone, it automatically lowers into the omni-lux chamber where 30 high-intensity UV-C LED lights use highly reflective aluminum to ensure UV rays are hitting the entirety of your phone's surface. When sanitation is complete, the phone will automatically raise up. Keep your cleanstation by the sink so you can wash your hands while sanitizing your phone at the same time. Thoughtfully designed, an array of optical sensors automatically shut the powerful UV-C LEDs off if irregular movement is detected. In addition, the cleanstation is optimized to work with iPhone 6-12 plus, and slim cases.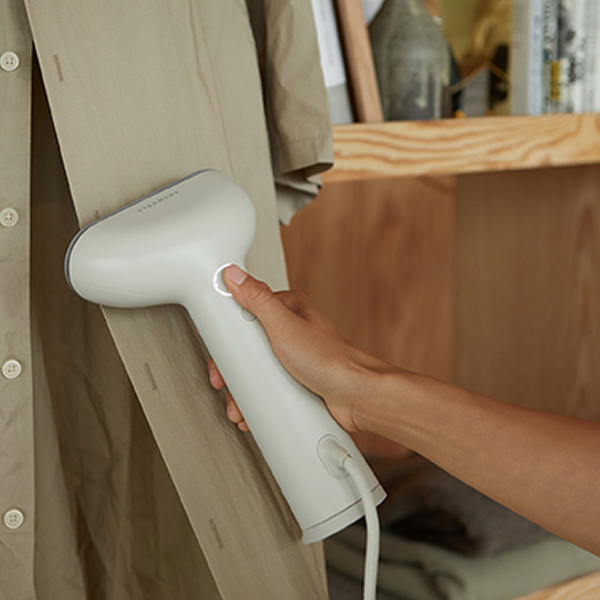 Household + Home Electronics
Steamery Cirrus No. 3
THE FOUNDATION
Description
Steamery recently launched it's 3rd generation of it's handheld travel steamer. This new design is built from the ground up and took 3 years to come to fruition. They have not only kicked up the quality as well as the design ... but they also added the Iron feature to their steamer to help press out wrinkles that may need a little more than steam! Creating either a pressed or a more natural look, Cirrus No.3 Iron Steamer is a hybrid between a steamer and an iron, making it possible to steam your clothes any way you prefer. This iron steamer will make your clothes wrinkle-free, smooth and appealing in no time. The hot steam also reduces bad smells and kills bacteria, making it a great alternative to washing.
User benefits / features
Keeps clothes wrinkle-free, fresh and smooth in between washes
More efficient, with the best steam quality among our handheld steamers
Can both stand up and lie down when hot or not in use
A unique geometrical silhouette with selected design elements
Smaller than a regular handheld steamer – ideal to bring on travels
Energy efficient – runs on only 1200W
Wearable ironing tool included – making it even easier to steam
Works on all materials except leather and suede. (Be gentle on silk)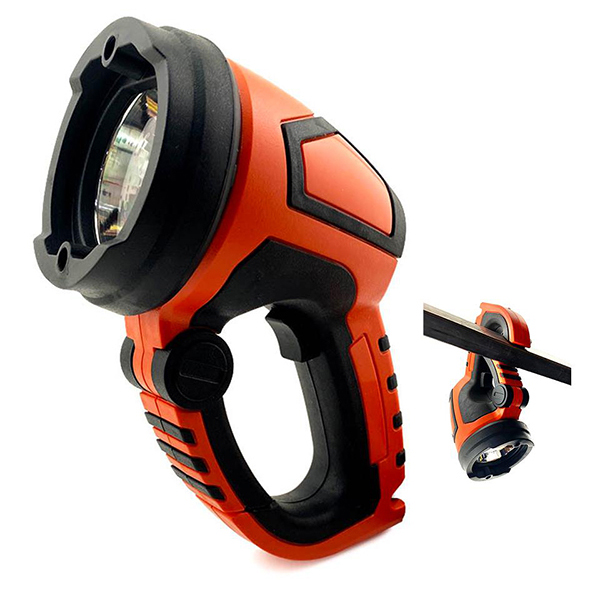 Household + Home Electronics
Q-Beam Clamp Lamp
Viatek Consumer Products Group, Int'l.
Description
This powerful LED spotlight has a unique clamping handle, allowing you to attach or clamp it wherever you need it most. It's perfect for use anywhere, from a garage to out camping. Giving you hands-free lighting. It has a fully rechargeable battery, with both an AC and DC charger included, allowing you to charge it at home and in your car when you need it! The Clamp Lamp has a 3W 120 Lumen light with high and low settings, and a powerful lithium battery, providing up to 6 hours of light.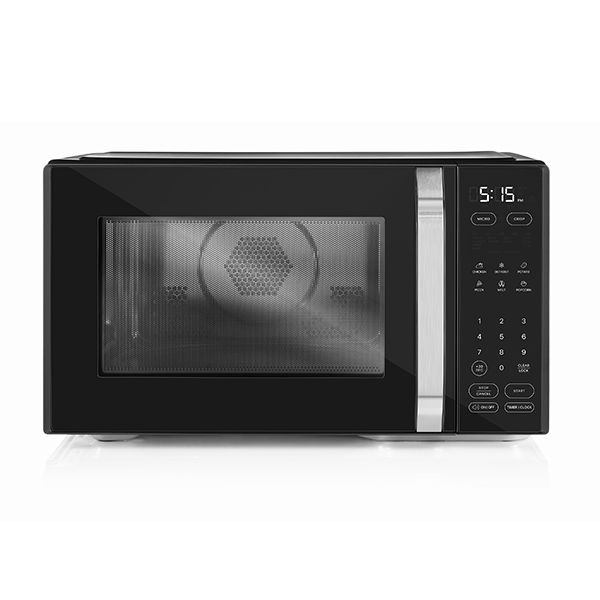 Kitchen Electrics
PowerCrisp Microwave
Chefman
Description
Family size with a 1-cubic-foot capacity, the Chefman PowerCrisp Microwave has a classic look and the same features as most microwaves but also boasts a powerful, 1800-watt automated crisp function to give foods that just-cooked texture. Its clean, capacitive-touch display features just the presets people actually use, including buttons for pizza, popcorn, and potatoes.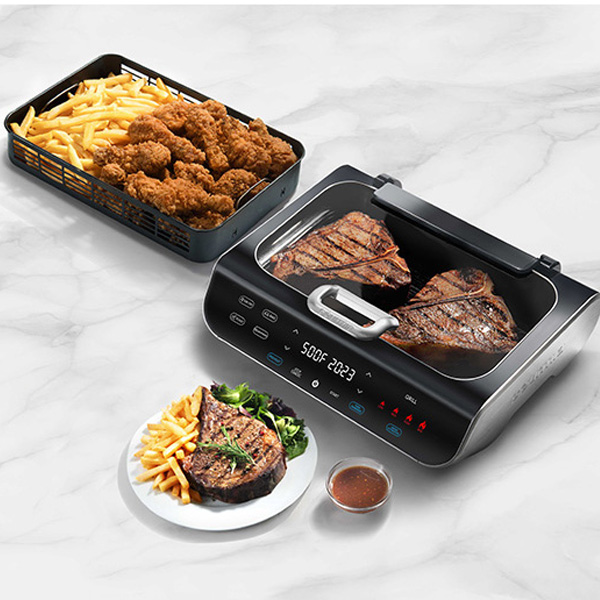 Kitchen Electrics
Gourmia FoodStation™ Smokeless Indoor Grill & Air Fryer with Smoke Extracting Technology, 5 One-Touch Cooking Functions, and Extra-Large Nonstick Cooking Surface
Gourmia
Description
The FoodStation is the first indoor grill/air fryer that gets it right from the start---meaning it was engineered with one goal in mind; to eliminate the challenges presented by other products. Case in point, its exclusive, bottom-mounted dual-use heating element makes the FoodStation the only product available with true "direct to grill" contact. This innovative design lets it take full advantage of one of the most fundamental laws of thermodynamics: the fact that heat rises. The result? A grill surface that can efficiently and consistently deliver up to 510 °F of authentic grill power! An added benefit of the placement is that it allows for its tempered glass lid to deliver an unobstructed view of the entire cooking area --and even lift it to add seasonings etc, during the process. To make the most of the heating element's innovative placement, the FoodStation employs a custom-crafted, cast aluminum grilling surface called GrillGrate, which ensures consistent 'grill ability' over the entire "largest in its class" surface. More than producing results that are "true 'cue' in every sense of the experience, the FoodStation is engineered to even 'deliver on the details' case in point its ability to not just grill steak or chops to perfection but to even add the requisite "hash marks"--the universal sign a 'great grill'. Because the FoodStation shares its DNA with Gourmia's industry-leading air fryer technology, the unit features the next generation "FryForce360" air frying system. By using the same software used in optimizing the aerodynamics of fighter jets combined with a micro-balanced 3000 rpm fan, the FoodStation's internal "aerodynamics" are "tuned" to circulate massive volumes of superheated air at unprecedented levels of speed and precision. The resulting "Cyclonic Convection" produces results that have redefined the category as much as created a new one. Exteriors are lighter and crispier than ever, while interiors are moisture and juicer --thanks to the "super-speed sear and seal" effect that locks in the natural juices usually "blown away" by lesser systems. More than moving superheated air at super speeds, the FoodStation's 3000rpm fan is also what makes it the most seriously smokeless of any smokeless grill. That's because 3000 rpm does not simply move air; it actually dissipates any smokiness by drawing it in then diluting at the rate of 50 revolutions per second. Aside from its leading-edge smokeless grilling and air frying, the FoodStation also offers world-class, one-touch cooking functions like Baking, Roasting, and even Dehydrating. The FoodStaton is next level at every level.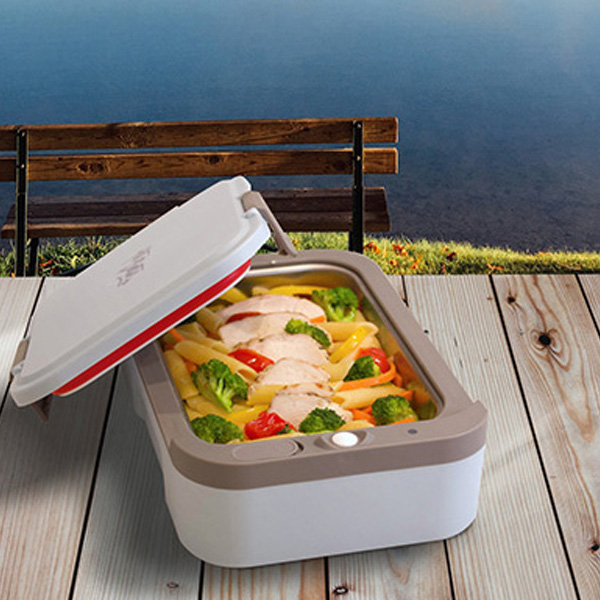 Description
Hot Bento Self Heating Lunch Box, Battery powered, Hot Meal in 10 minutes anywhere. Sleek, rugged, airplane safe, watertight. Hot Bento goes where you go.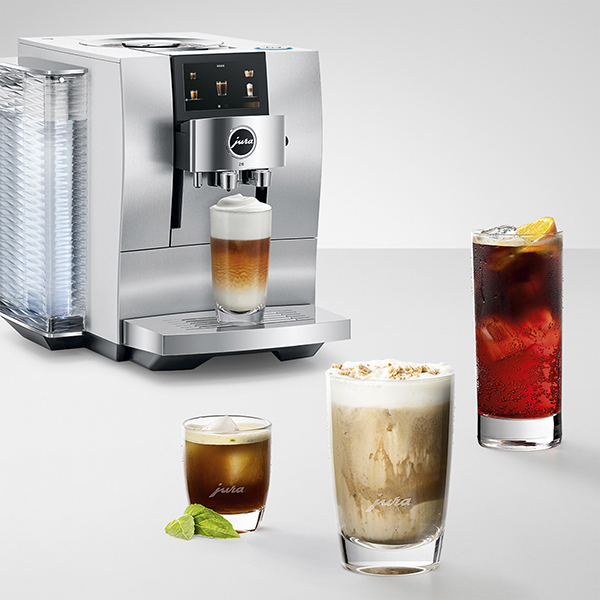 Description
A masterpiece of Swiss engineering, the new JURA Z10 doubles the range of specialty coffees that can be brewed at home. It not only prepares the full spectrum of hot drinks at the touch of a button – from intense espresso to trendy flat white. It also opens a whole new dimension in coffee enjoyment with the introduction of cold brew specialties, thanks to JURA technology and innovation. JURA's exclusive Product Recognizing Grinder (P.R.G.®) recognizes the chosen specialty and then adjusts the fineness of the grind accordingly, instantly and precisely. This ultra-fast automatic grinder accommodates any coffee specialty, hot or cold brew. The advanced eighth-generation brewing unit with 3D brewing technology ensures ultimate aroma. For the first time, cold brew specialties are available at the touch of a button, thanks to JURA's pioneering Cold Extraction Process. Cold water is slowly pulsed through freshy ground coffee under high pressure. The result is a completely new way of experiencing coffee – refreshing, energizing, and with a wonderfully balanced aroma. This outstanding premium coffee machine comes with a double-speed 4.3-inch touch display and a Blue Crystal Rotary Switch. Equipped with artificial intelligence, it features a Specialty Selection menu and is exceptionally easy and intuitive to use. Integrated maintenance programs ensure maximum hygiene. The technological quantum leap of the Z10 is also reflected in its sculptural design. The premium quality design features a convex-concave front panel and beautifully finished details, including a clear water tank with a wave design. The water tank and coffee bean container and conveniently accessible from the front of the machine. With its attention to detail and absolute manufacturing precision, the Z10 is a tribute to excellent taste. Adding to the machine's functionality is the integrated WiFi Connect, which makes the Z10 compatible with innovative J.O.E.® (JURA Operating Experience), an exclusive free app for operating the machine from a smartphone or tablet. J.O.E. lets users personalize their favorite beverages, initiate brewing, view maintenance instructions and videos, and more.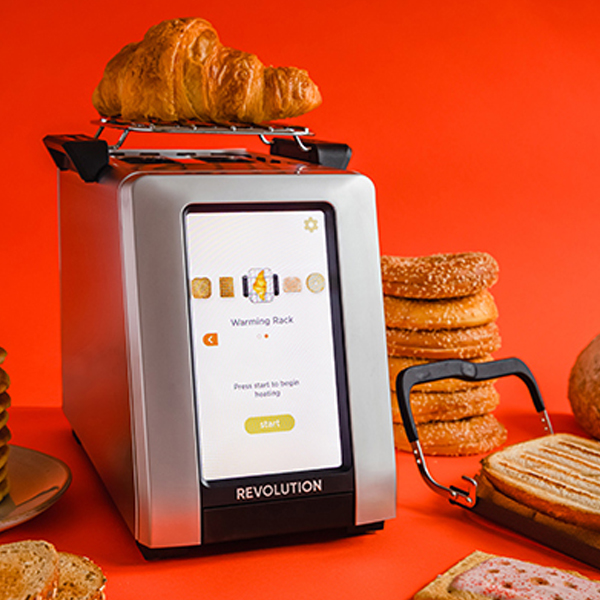 Kitchen Electrics
Revolution InstaGLO R270 Toaster
Revolution Cooking, LLC.
Description
We revolutionized toasting when we introduced the first advancement in toaster heating technology in over a century with our Revolution InstaGLO® R180 Toaster. Now we're taking toasting to a whole new level with our R270 Toaster. We've expanded bread types (including Gluten Free!), added customization and taken toasting to all meals of the day with our new Panini Press and Warming Rack accessories. There's something for the whole family! Who knew a toaster could do so much? We did.
Intuitive full color touchscreen display - Allows you to customize the exact shade and crispiness you crave for every meal.
Smart sensors optimize the toasting process based on your food type - Includes 34 Food Settings
An expanded toast library with all the favorites and family staples plus new Panini Press, Warming Rack, and Gluten Free Modes
Easily customize your home menu with your favorites
Includes 3 Toasting Modes: Fresh & Frozen settings adjust cooking times based on bread temperature - Reheat setting warms toast in 15 seconds - Offers up to 7 Toastyness Shades  
Toaster in Brushed Platinum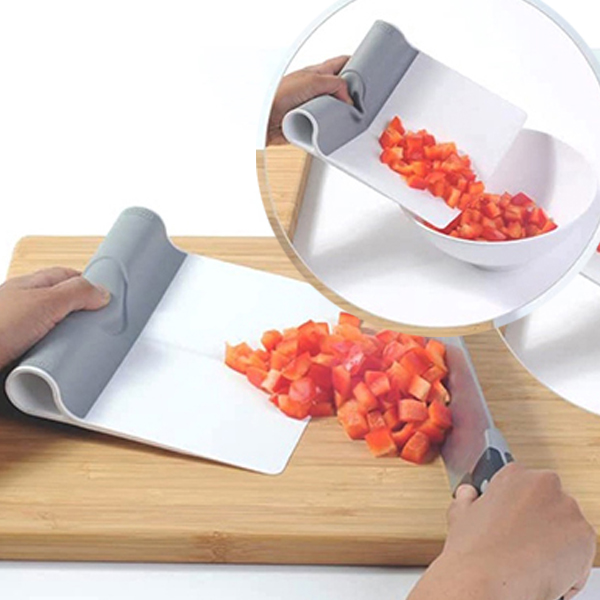 Kitchen Hand Tools + Cutlery
ScooperDuper® Folding Food Scraper by DANDY®
DANDY
Description
ScooperDuper® folding food scraper by DANDY® is the quickest, easiest, and neatest way to move chopped food from your cutting board to wherever you want to put it. Its patented folding design keeps food secure during transfer and funnels food neatly to its destination. Once you cook with it, you'll never want to cook without it.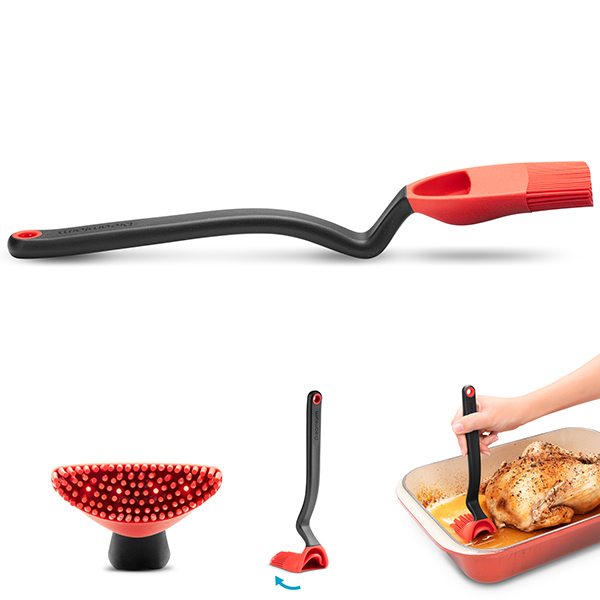 Kitchen Hand Tools + Cutlery
Brizzle - scoop drizzle basting brush
Dreamfarm
Description
Brizzle is a silicone basting brush that bends to scoop up liquid from small spaces into its baste reservoir. It then feeds the liquid onto its bristles for drizzling, brushing, and basting, and its built-in spoon rest means it sits up with no drips.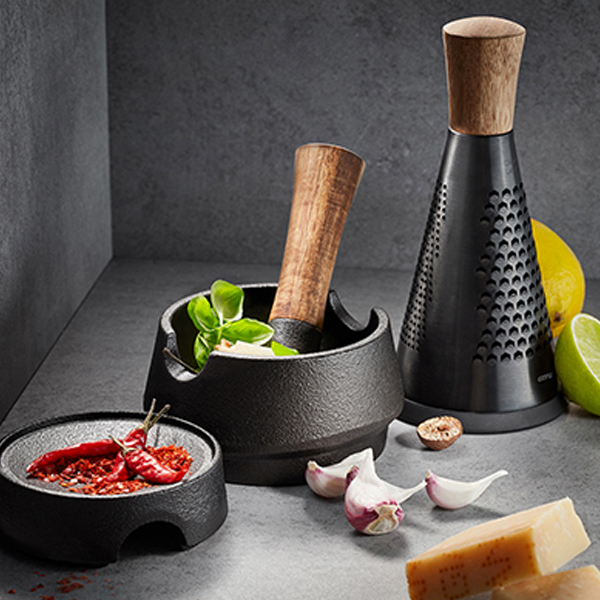 Kitchen Hand Tools + Cutlery
GEFU Spice Tower
Gourmet Kitchen Works LLC
Description
The GEFU Spice tower consists of a solid mortar made of heavy cast iron and a practical lid, which also serves as an additional mortar surface and collecting tray for the grater. The GEFU Spice Tower features extremely sharp laser-cut grating surfaces for coarse or fine results, crowned by a handle made of acacia wood. The design of the pestle, mortar and tower grater is perfectly coordinated and guarantees optimum grinding and grating results at all times.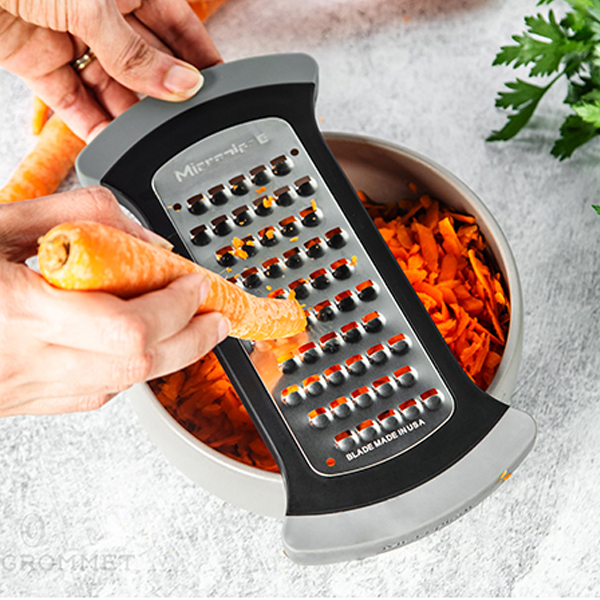 Kitchen Hand Tools + Cutlery
Extra Course Mixing Bowl Grater
Microplane
Description
Microplane tackled the need for a better ricing tool for carb-conscious eating trends with the launch of this new food prep tool which uses the commonly suggested grater type that is ideal for "ricing" vegetables with low water content. The extra coarse blade style is designed to grate root vegetables, creating results that are the identical size and shape as pre-riced vegetables bought from a store.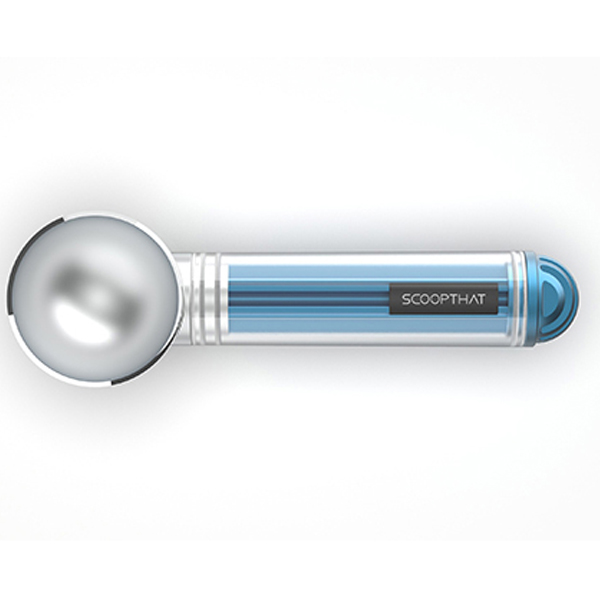 Kitchen Hand Tools + Cutlery
ScoopTHAT Radii
That Inventions
Description
This design is a sustainable way to replenish energy for a bio-safe liquid-filled, fully insulated ice cream scoop. Only the scooping rings are connected to the reservoir. Art deco-inspired radiator heat fins and geometric shapes help distribute heat to the scooping rings while using no electricity and wasting no water.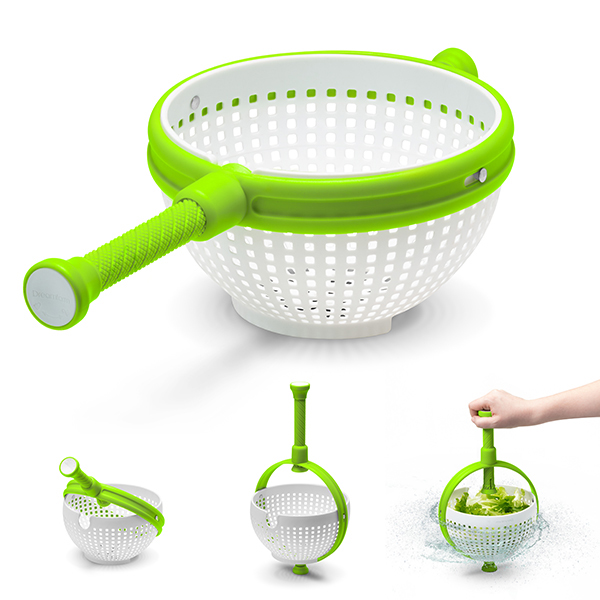 Kitchenware
Spina - spin and strain colander
Dreamfarm
Description
Spina is a colander that turns into an in-sink salad spinner to wash and dry salad leaves, vegetables, berries and more – right in your sink! Its basket has clever over-hanging sides so nothing climbs out, even when it's spinning at maximum RPM and it has a non-slip foot that grips in the wet so it always spins safely in place. There's no bulky bowl to store or wash up when you're done, and Spina's handle even tucks in for compact storage.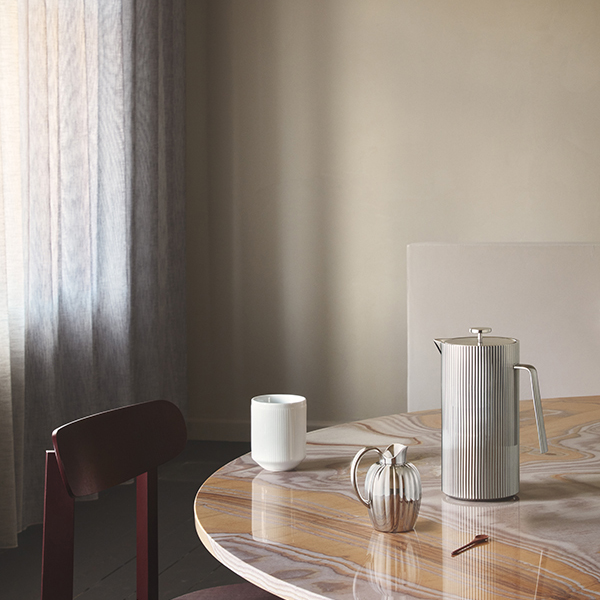 Kitchenware
Bernadotte French Press
Georg Jensen
Learn More >
Description
Take your coffee brewing to a new level of luxury with designs inspired by the Swedish Royal Family. The new Bernadotte French Press takes its inspiration from a sterling silver milk jug designed in 1938 in collaboration between Georg Jensen and Swedish prince Sigvard Bernadotte. The entire Bernadotte collection is renowned for it's instantly recognizable fluted lines and Art Deco details that carry a sense of timeless style and beauty. Sigvard Bernadotte was inspired by functionalism, and it was crucial for him to design pieces for daily use that weren't destined to sit on the shelf as an ornamental object. In respect of the Bernadotte legacy and design philosophy, heirs of Bernadotte are still involved throughout the entire design process. As a result, the new fully stainless steel, double-walled French Press is a perfect example of form following function. The Bernadotte French Press has a volume of 33.81 FL Oz, and can be used to brew delicious coffees or teas in 3-5 minutes.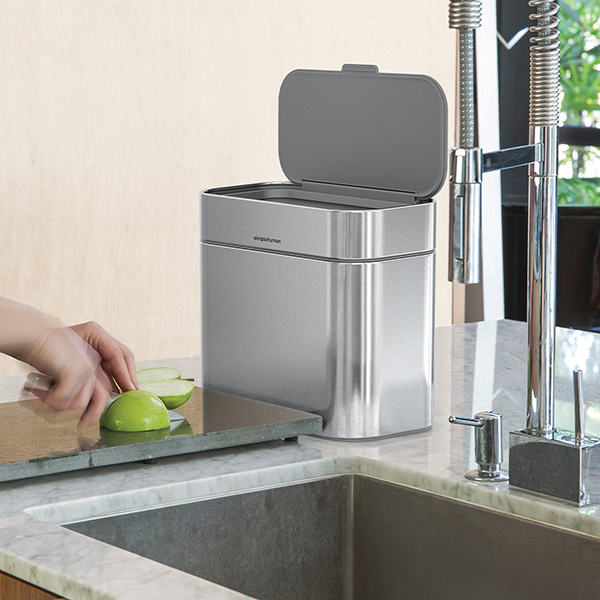 Description
Feed your garden and store compost scraps easily and efficiently with our odor-minimizing stainless steel compost caddy. It attaches to a magnetic dock that hangs on the side of simplehuman rectangular or slim liner rim step cans, or detach it for use on the kitchen counter. The soft-seal lid allows food scraps to breathe, keeping odor under control and pests away. The plastic inner bucket is removable so it's easy to dump out scraps or clean. The caddy's stainless steel surface is protected by an invisible fingerprint-proof coating that is also infused with Agion®, an EPA-registered antimicrobial that inhibits the growth of bacteria, fungi, mold, and mildew. A 30-pack of Code Z custom fit compostable liners is included — the liners fit the caddy perfectly and can be thrown out along with your food scraps since they decompose fully.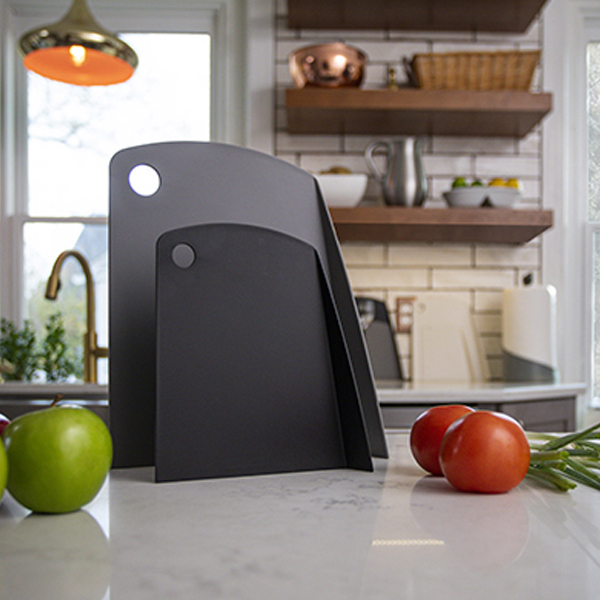 Description
VACCARO cutting board sets are nesting, self-storing, free standing, and they clean-off your knife as you prep your meals! Use the edge to keep your cut food where you want it. Large gray board & small black keep your kitchen organized.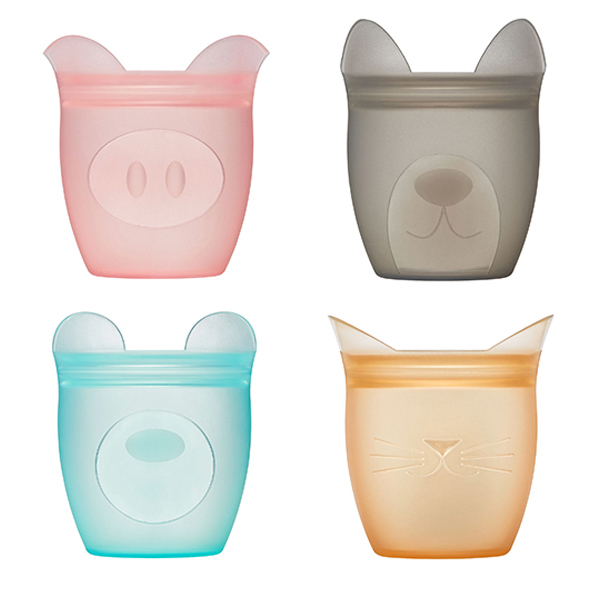 Kitchenware
Reusable Silicone Snack Containers
Zip Top
Description
Zip Top Baby: Better for baby, better for the planet! Designed to fit in little hands and cup holders, our large, soft zippers are easy for little fingers to open and close. Made of 100% platinum silicone, they are endlessly reusable and dishwasher safe. And you can rest easy knowing they won't leach harmful chemicals like plastics can. All containers are BPA-Free with no lead, PVC or phthalates. Ideal for little hands snacking – Zip Top containers make everything easy to see and access when open and seals closed to keep snacks fresh. Proudly made in the USA.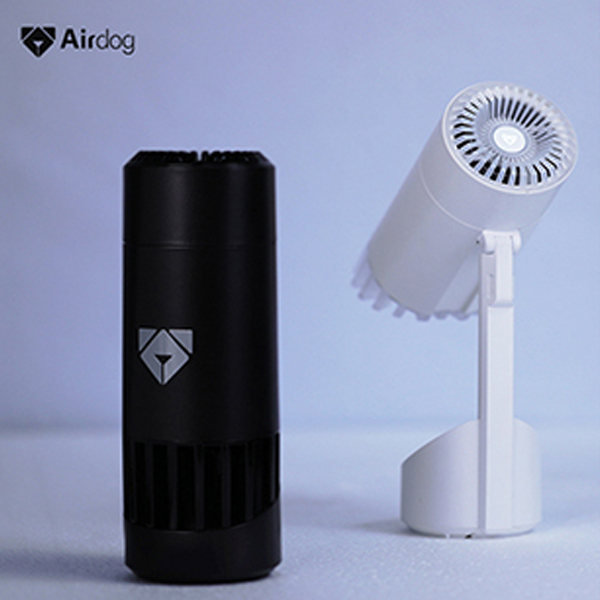 Personal Electrics
AirCap
BeiAng Air Tech Ltd.
Description
Made with Airdog's patented TPA® technology used in Airdog X5 & X8 Home Air Purifiers. Our cars are extensions of our homes. Filter-free purification: 50x more efficient than HEPA filters in sterilizing bacteria, mold, and removing smoke. Two Pole Active (TPA) technology is an active filtration technology, which is different from HEPA passive filtration technology. TPA was based on Ionic Wind and optimized for air filtration. V5 applies TPA in a smaller form factor. The electrical filtration enables its high collection efficiency and bacteria-killing capabilities.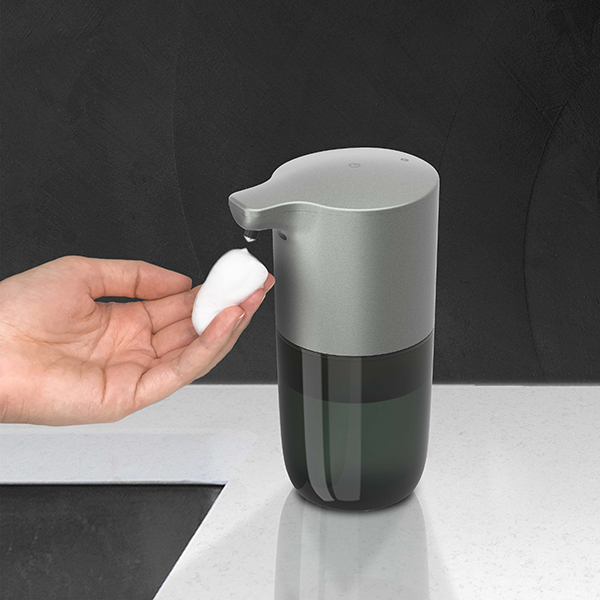 Personal Electrics
FOAMA Touchless Soap Dispenser
Better Living Products, Int'l., Inc.
Description
Clean, luxurious foam is made easy with hygienic, hands-free dispensing! The new FOAMA Touchless Soap Dispenser is an automatic, sensor activated foaming soap dispenser, featuring versatile multi-control settings. Its simple, contemporary design with soft curves blends in with all décor styles and makes FOAMA the perfect solution for clean hands in the kitchen, bathroom, laundry room or at the office.
Features & Benefits
Responsive, sensor activated operation
Works with pre-formulated foaming soaps or dilute your own favorite liquid soaps to create a rich lather and save you money
3 adjustable volume levels plus 'Drop to Stop' interaction to dispense the exact amount needed - Double Tap feature to manually dispense soap where needed
Lock feature saves your favorite settings - Splash resistant dispenser holds 10 oz (295ml) 
4 AA Batteries required (not included)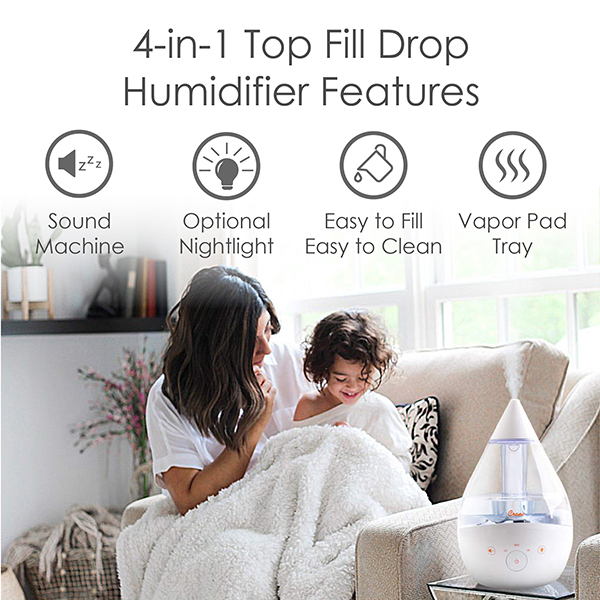 Personal Electrics
Crane 4 in 1 Humidifier
Crane USA, Inc.
Description
Crane's 1.0 Gal. Top Fill Drop Ultrasonic Cool Mist Humidifiers provide up to 500 sq. ft. of coverage and 24-hours of soothing moisture to help relieve the effects of dryness and congestion. 4 in 1 is humidifier, sound machine, color changing nightlight and aroma tray.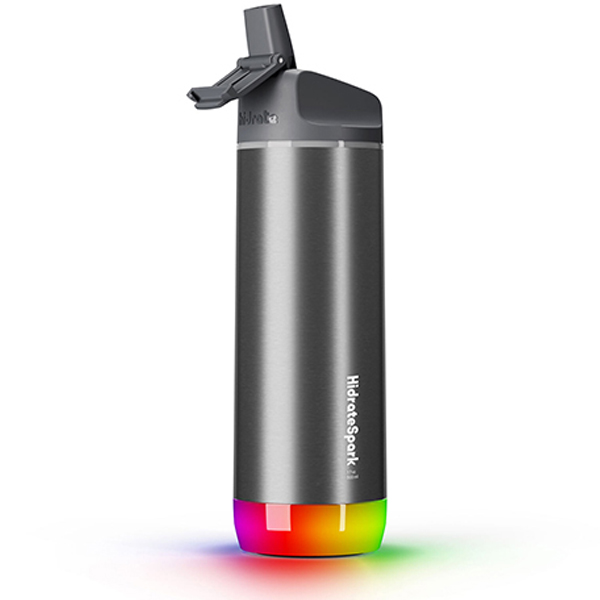 Personal Electrics
HidrateSpark PRO
Hidrate Spark
Learn More >
Description
HidrateSpark PRO, the world's smartest water bottle ever created. Available in stainless steel vacuum insulated material, keeping drinks cold up to 24 hours and lightweight, shatter and odor resistant Tritan ™ plastic. LED smart sensor "puck" glows to remind you when it's time to drink and tracks your water intake by syncing via bluetooth to the HidrateSpark App. Choose from 3 sizes and 2 lid options and make it your own with custom glow colors in the app.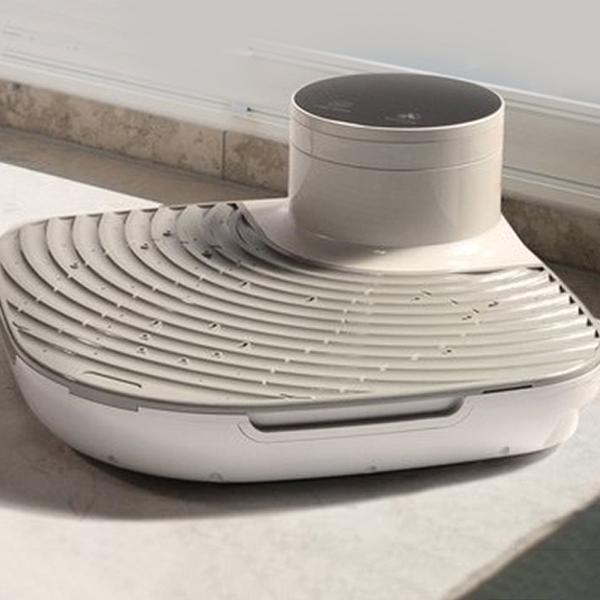 Personal Electrics
Body Dryer
Viatek Consumer Products Group, Int'l.
Description
The Body Dryer is a hands-free way to dry off. More hygienic than towels, and easy for anyone to use, from children to grandparents. Simply step on the Body Dryer to start airflow and step off to stop. Airflow reaches 100mph, making dry times extremely fast. Use it when you're getting out of the shower or tub, and even after a leisurely dip in the pool.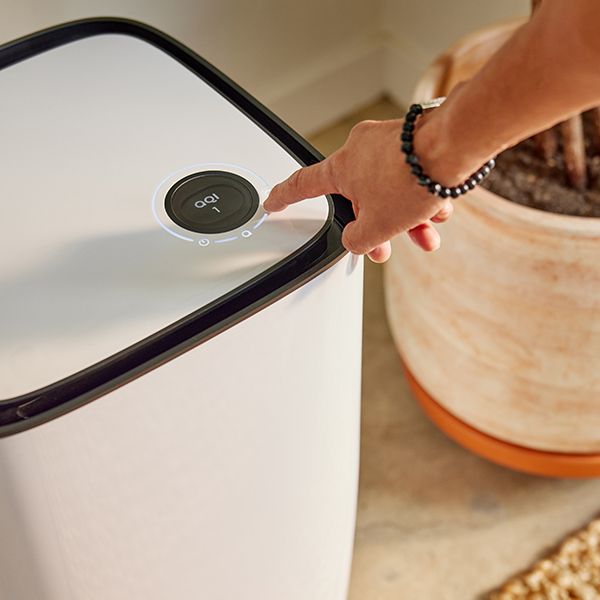 Smart Home Products
Aeris by iRobot aair 3-in-1 Pro
Aeris Health, Inc.
Description
Aeris by iRobot air purifiers solve a wide range of airborne pollutant concerns, from ultra-fine particulates to odors, gases, formaldehyde and more. The Aeris by iRobot aair 3-in-1 Pro is the ideal choice for consumers and small businesses who want a powerful, uncompromising air purifier that provides consistent clean air conditions in their home and work environments. What sets the 3-in-1 Pro apart of from the competition is a combination of its meticulous design, intelligent and thoughtful home technology, and professional-grade mechanical filtration system. The 3-in-1 Pro is one of the most powerful consumer air purifiers, capable of eliminating indoor air pollutants and purifying air in rooms of up to 1500 sq ft, making it ideal for most homes and small businesses. Designed and developed by MIT engineers, the Wi-Fi connected 3-in-1 Pro employs proprietary indoor air quality sensors and machine learning algorithms to learn and adapt to each user's personal habits and the air quality in their home over time. Through the companion app, users can control their air purifier from anywhere in the world; monitor air quality readings from the air purifier and from outdoor air quality monitoring stations (based on mobile device location), see historical data on air quality, check filter life, or even enable energy saving programs. You can do it all through the app. The 3-in-1 Pro uses Aeris' specially designed premium HEPA filtration material – an ultra-dense filter that was developed over the course of several years. Thanks to Aeris' meticulous engineering philosophy, the HEPA 13 filter in the 3-in-1 Pro is designed with dense layers of filtration material to remove 99.95% of airborne pollutants as small as 0.1 microns. We also added two pounds of activated carbon to tackle the removal of odors and harmful gases. And unlike many other air purifiers on the market, the 3-in-1 Pro is a completely sealed system, which means dirty air flowing into the unit is forced through the filter –there's no leakage of pollutants – and all air flowing out of the device is clean. Once a dangerous pollutant is captured there's no chance it gets out. Since the 3-in-1 Pro uses such dense filtration, Aeris designed the 3-in-1 Pro with a powerful fan to create a faster flow of air through the system. With its use of one powerful fan, the 3-in-1 Pro quickly, quietly (35 dBs), and efficiently purifies a 1500 sq ft room in 30 minutes and has the highest Clean Air Delivery Rate (CADR) of all our devices. Even with the powerful fan, our night mode feature provides owners with whisper quiet air flow and dimmed lighting for the quietest of times. Every location has a different indoor air pollution pattern. The 3-in-1 Pro's unique indoor air quality (AQI) sensor technology and software control ensure the best air quality at any time, adapting to the environment, while consuming the least energy possible. Because breathing clean air is about your health and wellbeing.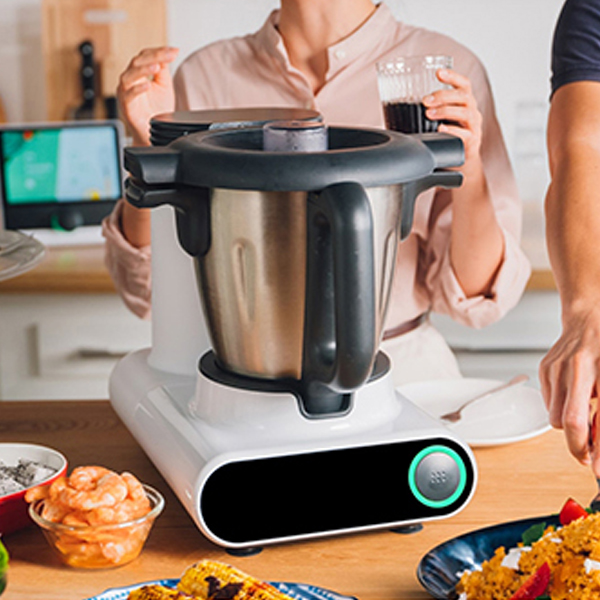 Description
Multo™ is the ultimate easy-to-use, all-in-one smart kitchen appliance controlled by a dedicated tablet called Smart Kitchen Hub, which allows for remote control cooking. It comes with all accessories you need for over 15 different cooking functions and a growing catalog of photo and video guided recipes updated every week. Multo makes cooking homemade meals easy, fast and fun. It also has a self-cleaning mode which makes the process effortless from start to finish.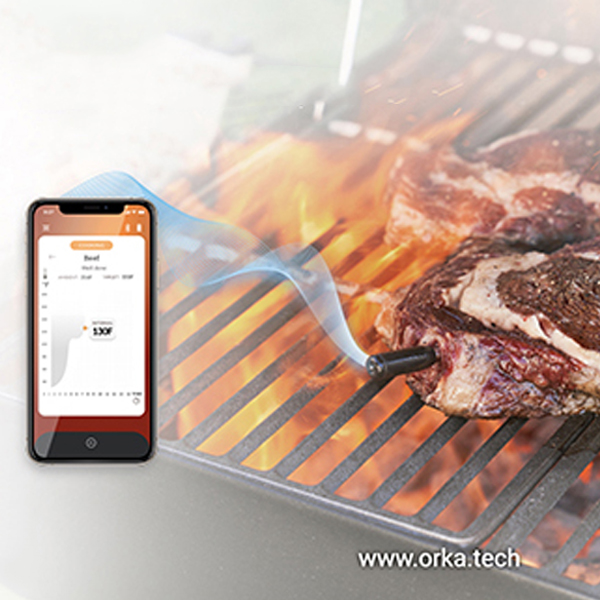 Description
meat°it 3 is the first smart 100% wireless patented Bluetooth cooking probe. Easily pair the probe with your smartphone, select your cooking beside more than 50 presets and monitor your whole cooking process from more than 200 feet away thanks to the Bluetooth repeater inside the dock and the dedicated freshly designed app. meat°it 3 helps you get perfect results, safely! meat°it 3 is the third generation of a best-seller which has sold hundreds thousand units in the last 24 months (including units sold under our partnership with Whirlpool / Yummly). It is the only wireless device to be used in every cooking situation: pan, BBQ, smoker, or oven. It can monitor all kinds of meat, fish, and poultry. meat°it 3 is truly the best when it comes to cooking large pieces of meat on the BBQ or in the oven. For all BBQ lovers, the meat°it app monitors up to 8 probes simultaneously. The original design of the meat°it probe is simple and dictated by its function to maximize thermal resistance. The core concept is to have integrated the battery, the electronics, and the sensors inside the probe. As the probe itself goes inside the food, those components are insulated below 100°C/212°F (which is the max temperature meat can attain). The rechargeable battery is a tailor-made lithium polymer that maintains the optimized product size and is fully enclosed in the stainless probe. The electromagnetic waves (Bluetooth) can go through the tiniest opening and therefore meat°it can transmit through a closed oven or a closed BBQ. This communication is granted by the probe's antenna which is located outside of the food and is protected by a high heat resistance ceramic cap. For meat°it + (the 2nd generation) we added an automatic probe activation and a low energy mode for a long cooking session, we also have upgraded the Bluetooth to BLE 5 and integrated a Bluetooth repeater inside the recharging dock to multiply the range of communication up to 200feet. meat°it 3 is the result of 4 years of evolution, it possesses all features from its older brothers and it has a beautiful new design (which is magnetized and provides sleek protection to the probe) on the outside but what's truly great is on the inside. meat°it 3 is now with 3 sensors for ultimate precision, the probe measures the current temperature at 2 points in the meat and the ambient temperature. The calculation of those 3 measures added with the target temperature in the improved machine learning algorithm gives the user the cooking speed of his preparation and the precise remaining time in real-time. We called it « Le cooking control » and it's now mastered and will be continuously perfected thanks to the DATA from all users. The app still warns the user in case of underheating or overcooking (hence reducing risks of fire) and obviously when the food is ready. The user can also add additional alerts and show graphs of the temperature rise. What we also did for this third generation is that we improved the overall resistance of the probe (did we say that it already resisted direct contact with flames up to 2 minutes?) and the structural design of the ceramic head which lets more Bluetooth waves go thru without degrading the heat resistance. The upgrading work in the process we did on the signal range with meat°it + has been updated with the improving of the electronic circuit to stabilize this expanding range. meat°it 3 measure temperature from 32°F to 212°F and operates in a -22°F to 930°F environment with a 1°C precision. Like all our probes it is remotely configurable and optimizable and a professional version for HACCP compliance is available. It is the perfect pairing to our stovetop thermometer : m°chef, the pair allowing temperature control on any cooking environment. Besides making food precisely delicious the benefits of precise cooking are that it improves the organoleptic capacities of food while increasing its nutritional capacities and reducing the risk of undercooking food-born illness. Moreover meat°it 3 improves safety, it alerts users in case of overcooking which often enough happens during a dangerous flare-up those reducing BBQ-induced fires. In addition, meat°it improves the culinary experience by decreasing the stress level and, most importantly, improving the time shared.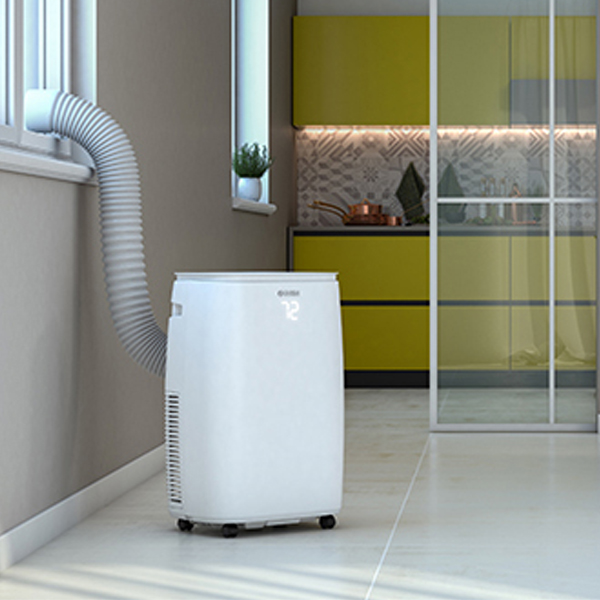 Smart Home Products
Dolceclima Fresco 15 AC WI-FI
Olimpia Splendid USA
Description
Dolceclima Fresco 15 AC WIFI Offers capacity up to 14,000 BTU/h with an onboard touchscreen display that allows for optimal cooling and heating performance. Equipped with a motorized flap to direct airflow providing ideal indoor comfort. The Dolceclima Fresco Series is available in cooling only (AC) or cooling and heating models (HP), and can condition a space up to 550 sq. ft. Fresco models are "Wi-Fi Ready" to be controlled via smart device. The Dolceclima Fresco offers whisper-quiet operation and flexibility in installation with a caster so the unit can be moved from one room to the next.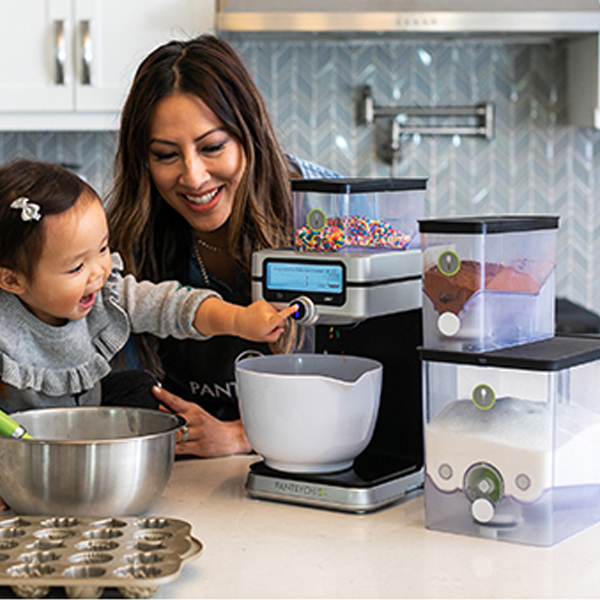 Smart Home Products
PantryChic Smart Storage System Starter Kit
PantryChic, a division of Nik of Time, Inc.
Description
The PantryChic Smart Storage System revolutionizes ingredient storage and recipe preparation as we know it. With its sleek design and smart technology integration, PantryChic simplifies recipe preparation by safely storing your dry ingredients in stackable, airtight, dispensing canisters that automatically convert volume to weight and dispense the perfect amount of each ingredient directly into your bowl giving your more consistent results when baking. PantryChic is truly a multipurpose Kitchen tool; Whether all or some ingredients are stored in SmartCanisters, the PantryChic base unit also functions as a traditional digital scale for liquids, proteins and other dry ingredients not stored in SmartCanisters so you can complete your recipes from start to finish with precision. PantryChic can be used by itself or controlled remotely with the Chefling Recipe App enabling you to: assign SmartCanisters, set dietary preferences, discover and prepare recipes with auto-dispensing directly from the ingredient lists, track your ingredients and set expiration dates. This convenient solution replaces traditional ingredient storage canisters, measuring utensils and scales to allow bakers and foodies at every skill level to perfect recipes in less time with less mess.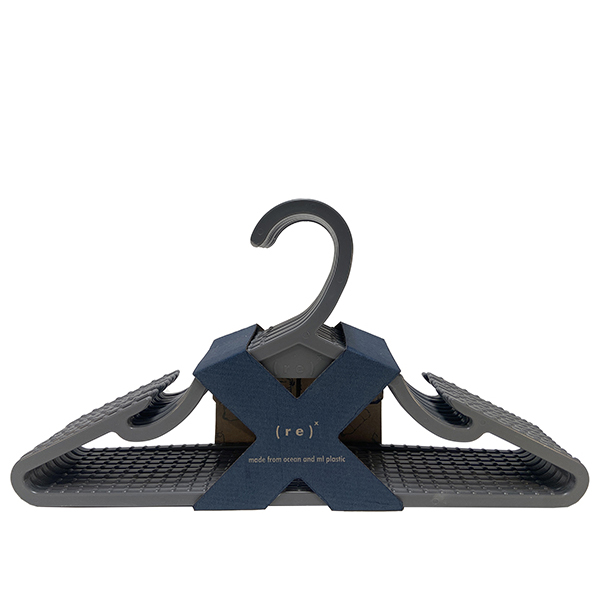 Sustainable Products
100% Recycled Ocean and Ocean Bound Plastic Hangers
( r e )x
Description
Our hanger is manufactured from 100% recycled plastic that is gathered from the ocean or intercepted before entering the ocean.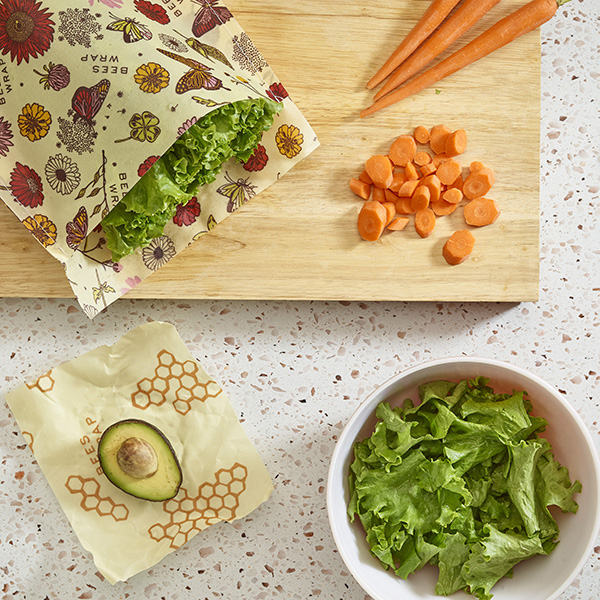 Sustainable Products
Reusable Produce Bags - Large 2 Pack
Bee's Wrap
Description
A natural alternative to plastic and silicone bags! Perfect for storing fruits, veggies and herbs, these compostable plant-based bags keep your produce crisp and our planet clean. Wash & reuse for one year or longer.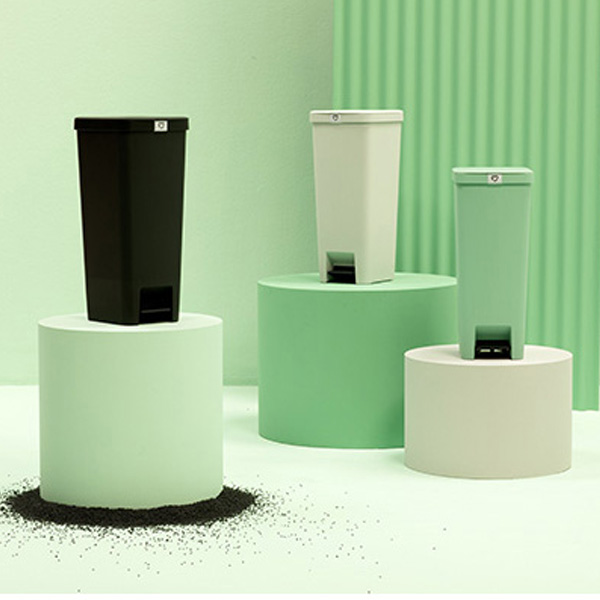 Sustainable Products
StepUp Pedal Bin
Brabantia USA
Description
Step up your recycling with the Brabantia StepUp pedal bin 40L! Made from 91% recycled waste and made for recycling waste. If you love recycling, you will surely love this bin. It is space efficient and fits closely to the wall or conveniently in a corner.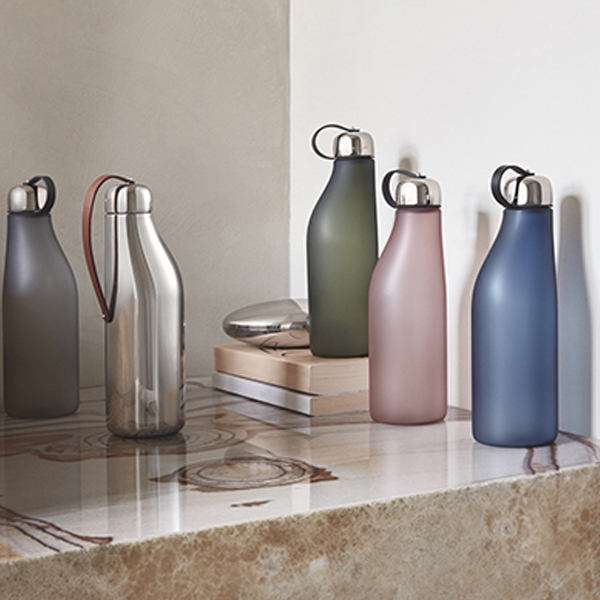 Sustainable Products
Sky Drinking Bottle
Georg Jensen
Description
Meet the new Sky Drinking Bottle from Georg Jensen. Designed by French-born industrial and interior designer, Aurélien Barbry, functionality, and beauty are brought together in this new sustainable piece of design. Central to Barbry's design aesthetic is his desire to take simple objects from daily life and look at how they could be designed in a different and more elegant way without compromising their performance. The design of the drinking bottle is elevated using a sculptural, ergonomic, and asymmetric shape, which not only means that the piece is beautiful to touch but that it also remains true to its purpose. The Sky Drinking Bottle is available in both a stainless steel and a BPA-free Tritan plastic version. It's dishwasher safe and features a functional and stylish design with the detail of a natural calf leather strap to keep the lid in place.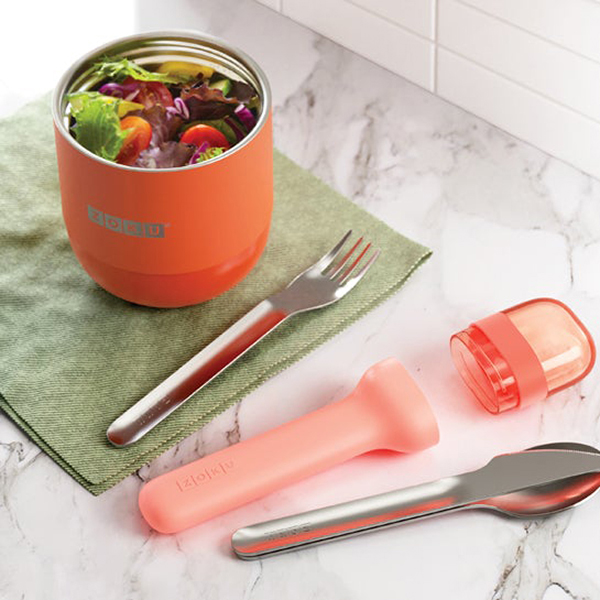 Description
Zoku's Pocket Utensil Set is designed to replace single use plastic for good! The neatly nesting set of 3 utensils includes a spoon, fork and knife. The utensils stow snugly into the slim travel case. The complete set is made to fit in a pocket, purse, backpack or lunchbox. No sink? No problem, just put the dirty utensils back in the case and clean when you get home.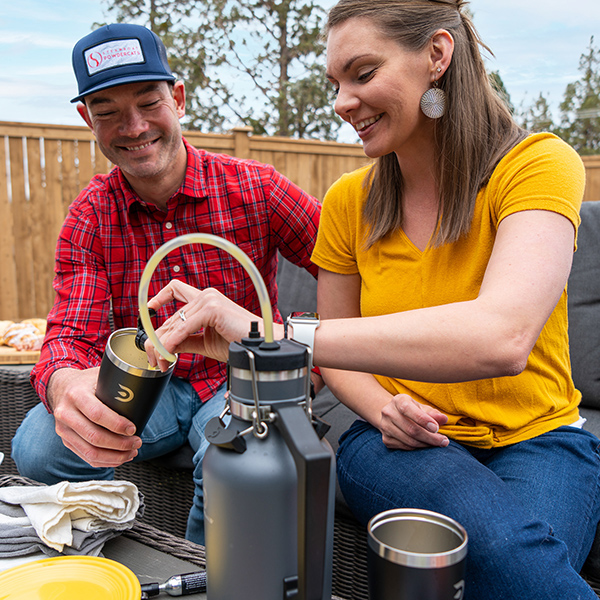 Description
Built for Bubbles. Your own personal mini-keg, the DrinkTanks Travel Keg™ combines our 64 oz. insulated Craft growler with our easy to use Keg Cap® dispensing attachment. So, you can enjoy the perfect pour of your favorite beverage, always on tap. The Travel Keg is a great gift for everyone from craft beverage purists to weekend revelers. It also helps the environment + your wallet by reducing can + bottle consumption.
Product Features:
Compact, durable + completely portable personal tap system
Airtight, patented + leakproof dual-bail closure system keeps carbonation in + spoilage out
Premium 18/8 grade stainless steel double-walled vacuum insulation that's passivated to deliver pure, untainted flavor across fills
Perfect Pour Handle for comfortable, single-handed pouring
Durable powder coating withstands everyday use
Wide opening with internal ounce markings for easy filling + cleaning
Dishwasher Safe + 100% BPA Free •
Backed by a lifetime warranty + our friendly staff in Oregon Life is an Adventure. Drink it Up.™️
www.drinktanks.com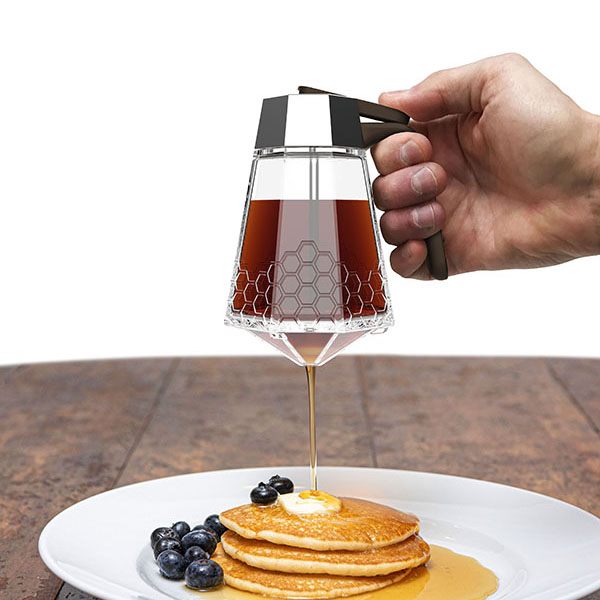 Tabletop
Honey Pourer
Freshlink Product Development, LLC dba PREPARA
Description
Non-drip, super quick, trigger controlled honey dispenser keeps the honey pure and fresh.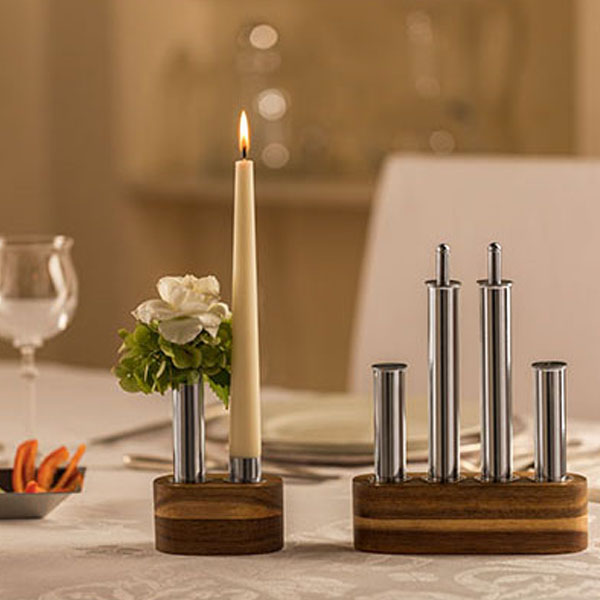 Tabletop
Olipac FILARE
Gourmet Kitchen Works, LLC
Description
The FILARE combines the classic look of wood and stainless steel in an oil and vinegar set. The bottles feature an exclusive ball pourer that "closes" once the oil or vinegar has been poured, and the no-drip system assures that the product is always clean. The set has a contemporary design that dressed the table with elegance.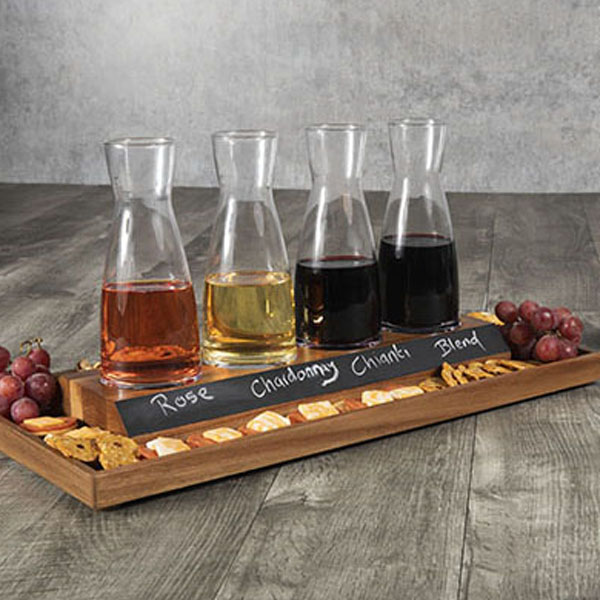 Tabletop
Cava Wine Tasting Kit
Picnic Time Family of Brands
Description
Bring the wine tasting experience home with the Cava Carafe Wine Tasting Kit. Brunch, pre-dinner drinks, cocktail parties, and more just got a whole lot more fun with this tasting set, ideal for wines, mimosas, and cocktails at home or al fresco! With 4 16-oz carafes, a classic Acacia wood base, and a chalkboard for labeling, you're sure to be the belle of the vineyard. No Bachelorette, wedding party, Sunday brunch, or at-home tasting is complete without this carafe set. This is the perfect gift for the budding sommelier in your life - especially if that friendly wine enthusiast is YOU!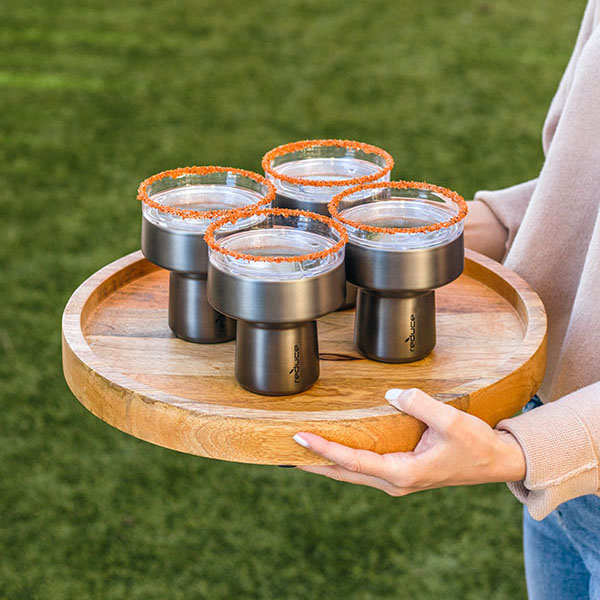 Description
The Saltini Tumbler is taking insulated stainless barware to a new level. Enough wine products in the market that offers a unique rim-able lid, the Reduce® Saltini Tumbler is the perfect tumbler to 'spice' up happy hour. Whether you prefer sugar or salt, its unique 360° lid design lets you sip from any side so you can enjoy your cocktail, rim included, while preventing spills and messes. Designed to keep margaritas, cosmos, martinis, and other cocktails cold for up to 10 hours, this dual-wall, vacuum-insulated tumbler is putting an end to watered-down drinks. The glass-free design is outdoor-approved, making it the go-to choice for partying at the pool or relaxing at beach. Don't be salty, the Saltini Tumbler is the upgrade you (and your cocktails) deserve!
Finalists are selected by a panel of retail buyers, including representatives from Ace Hardware, Artichoke, Bed Bath & Beyond, The Cook's Warehouse, Event Network, HTI Buying Group, Lekka Retail Concepts, Leon & Lulu, National Building Museum, Pampered Chef, Quality Products and Toque Blanche. Their selections are based on the following criteria:
Innovation
Product presents an original concept, employs new technology or materials or offers unique functionality or benefits compared to existing products.
Appearance
Product appearance differentiates an appealing alternative to existing products in form, color, texture or material.
User Benefits
Product demonstrates enhanced functionality and additional user comfort, safety or convenience over existing products.
Ecological Responsibility
Product is distinguished because of the materials or processes used in production, distribution or packaging, because of its impact on user behavior for conserving natural resources, or because of its contribution to improving social conditions.
Market Impact & Positioning
Product offers unique price/value alternative in its market positioning.
Join Us In Chicago
Discover The Next Industry Game-Changer at The Inspired Home Show 2023
Register Today