Excellence in Product Design
IHA Global Innovation Awards (gia)
The IHA Global Innovation Award (gia) for Product Design honors exhibitors' latest creations and cutting-edge innovations with award recognition, distinguishing five finalists in 14 categories.
Watch the 2023 gia Excellence in Product Design Awards!
The Global Innovation Awards (gia)  Winners were announced on Saturday, March 4, 2023. Watch the 2023 gia Gala highlights now!
Gia Product Design
20+ Years of Excellence
View the 2023 Global Honorees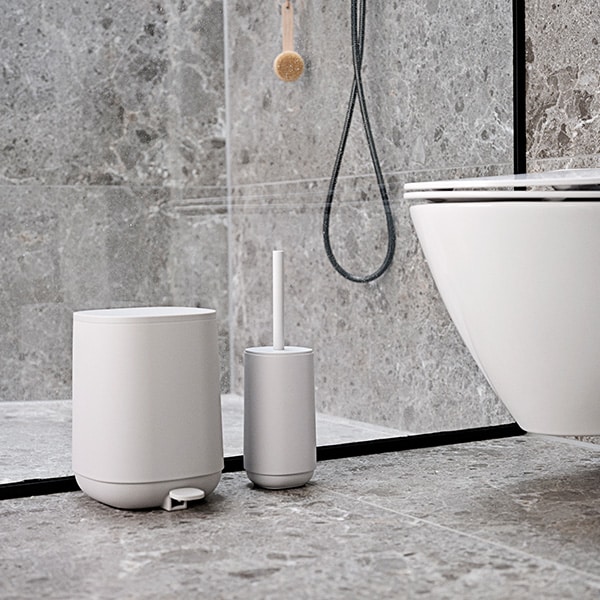 Bath + Personal Care
Zone Denmark - TIME Bath series
F&H Group A/S

Description
The TIME bathroom range definitely invites a second glance. Three of the products – the soap dispenser, toothbrush tumbler and toilet brush – are made of concrete with just a few plastic details added. The pedal bin is pure ABS plastic, but colour-matches the concrete products, giving the range a consistently powerful look and feel. With uncompromisingly charisma and naturalness, concrete has found its way into interior design. On reaching the end of their current life, these products can be crushed and reused.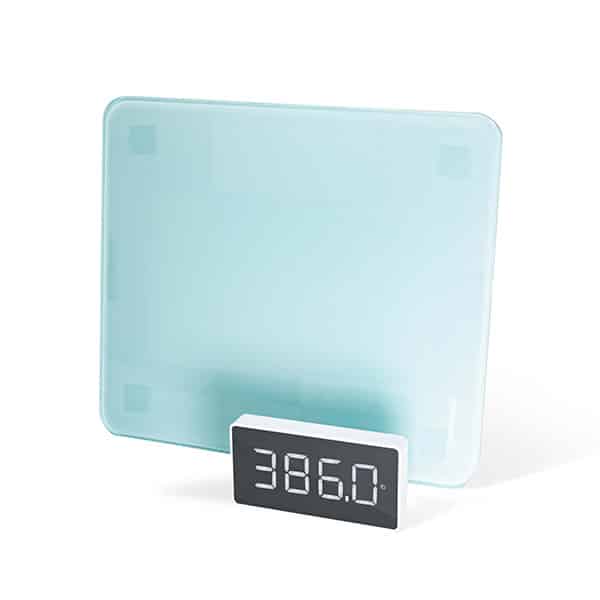 Bath + Personal Care
Clear View Digital Scale
Jobar International, Inc.
Description
This clear view scale provides easy viewing for users with its removable, brightly lighted display that can be adhered to a wall, placed on a countertop or handheld. The extra wide platform and 616 pound capacity accommodates users of multiple body types.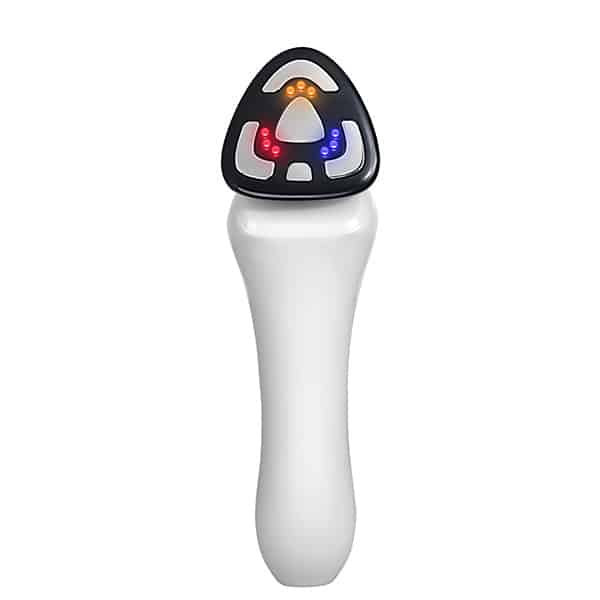 Bath + Personal Care
5 in 1 EMS Micro Current LED Light Anti-Aging Massage Device
Prospera Corp.
Description
This anti-aging beauty device is perfect for easy, at-home skin and body care. Medium RF therapy uses low energy radiation to heat the deep layer of skin called the dermis. This heat stimulates the production of collagen to help improve signs of wrinkles and sagging skin. The EMS micro current works with 3 light treatments for reducing wrinkles and tightening skin. Vibration stimulates blood circulation, makes blood flow in your face, increases vitality and makes you look young.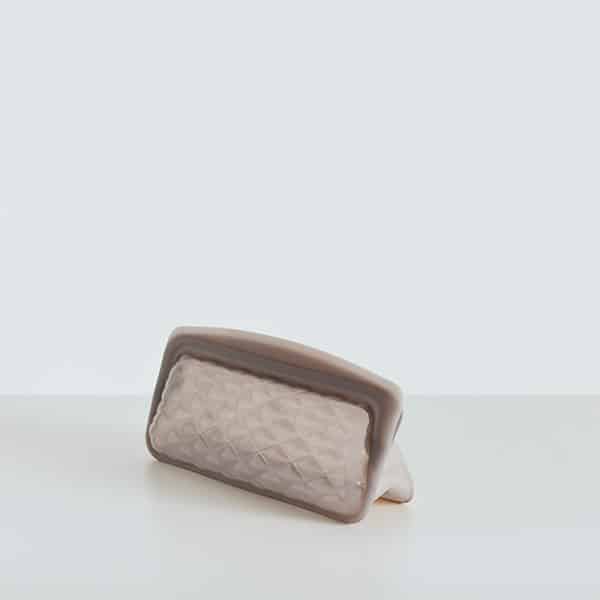 Bath + Personal Care
Everyday Beauty Bag
Stasher
Description
This beautiful product boasts the same functionality as Stasher's beloved portfolio of bags, now with a lux, quilted pattern and a new made-for-beauty size. The Stasher Everyday Beauty Bag features a patented leak-free Pinch-Loc® seal making it one of the best for travel. Plus, it's made from platinum silicone, which means it is dishwasher safe and one of the easiest beauty bags to clean on the market.  Easy to use. Easy to clean. Easy to love. Bath + Personal Care
Natural Scent-Free Bathroom Spray
Moso Natural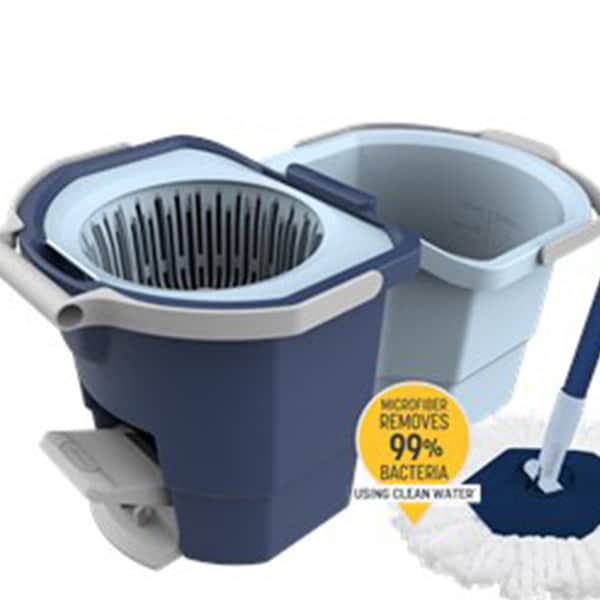 Cleaning
Casabella Clean Water Spin Mop
Bradshaw Home
Description
Features two buckets that allow for separation of clean and dirty water, making it easier to carry clean bucket to the sink. It has an easy-to-use pedal spin, is simpler to fill in any sink, convenient nesting buckets and removable splash guard. The built-in cleaning solution ratio cup gets the ratio right, saving cleaning solution; the visible max fill line allows up to 1 gallon. Double handles combine to form one with a comfortable grip.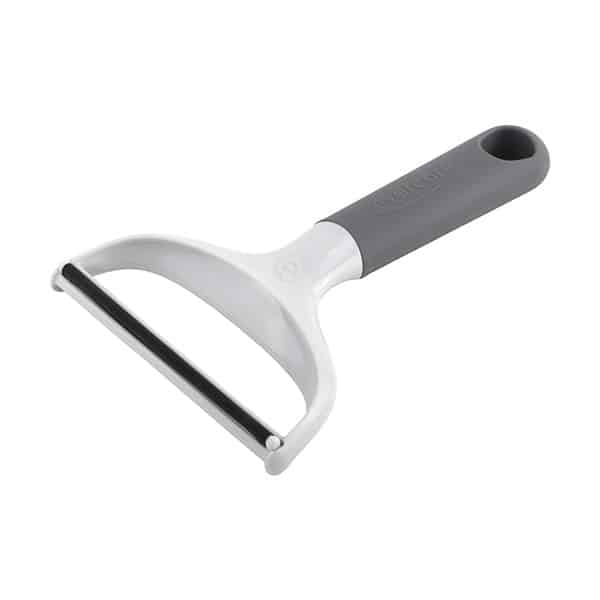 Cleaning
Evercare Duo Pet Hair & Lint Remover
Bradshaw Home
Description
The Evercare Duo Pet Hair & Lint Remover has dual-sided combs that allow for the use of each comb for different needs. The metal comb can help with deep cleaning needs on carpet, furniture and other sturdy/rough fabric, while the delicate comb is ideal for use on clothes made with cotton, knit or other thin fabrics. The dual-sided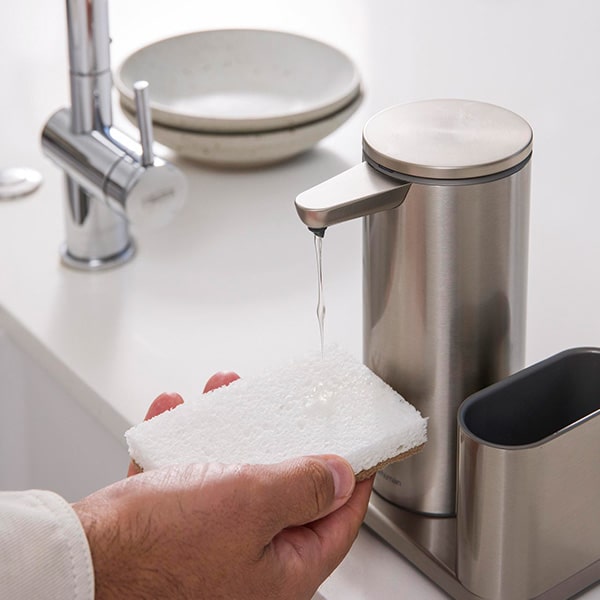 Cleaning
14oz Sensor Pump with Caddy
simplehuman
Description
The 14-oz sensor pump is optimized for effortless, efficient dishwashing with a matching stainless steel caddy that perfectly fits the pump and stores a sponge so it's always available when needed. The large capacity pump holds 50% more soap than our standard pump, requiring less refills. The clog-proof tube ensures a precise and consistent flow, and the silicone valve prevents messy drips. It's the perfect tool for dispensing soap touch-free without leaving germs behind.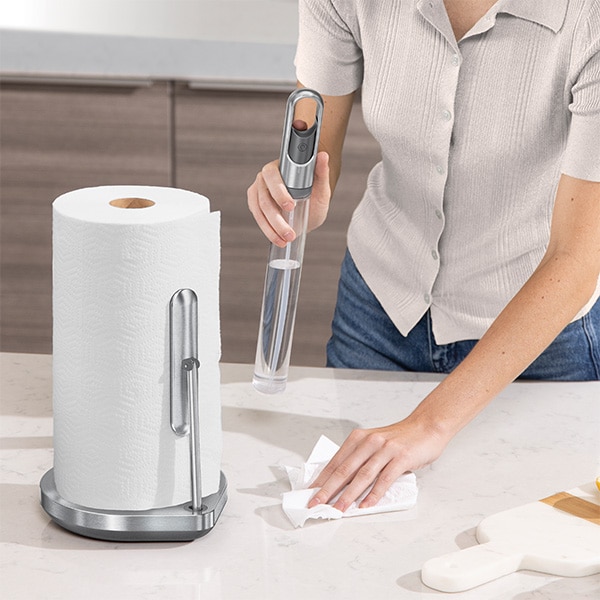 Cleaning
Paper Towel Pump
simplehuman
Description
The new simplehuman paper towel holder pump is a 2-in-1 solution for daily cleaning routines and unexpected messes. Designed with an integrated refillable spray pump, everything you need for a quick, easy cleanup is in one place - just spray and wipe. Drips, spills, grease, germs – no problem! And the holder's perfectly balanced tension arm prevents the roll from unraveling and provides just enough resistance to tear off one sheet at a time.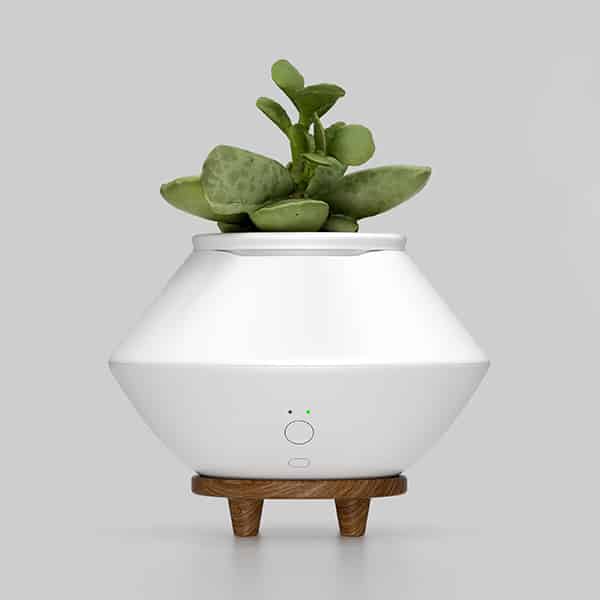 Cleaning
Bloom Planter
The Procter & Gamble Company
Description
Bloom Planter freshens the air in your space. Equipped with a smart sensor, this hands-free device responds to your motion, releasing freshness at the right time, at the right intensity and adds a glow of light to a dark room. This cordless air freshener is designed to fit seamlessly into your home and works effortlessly so you are ready to host 24/7!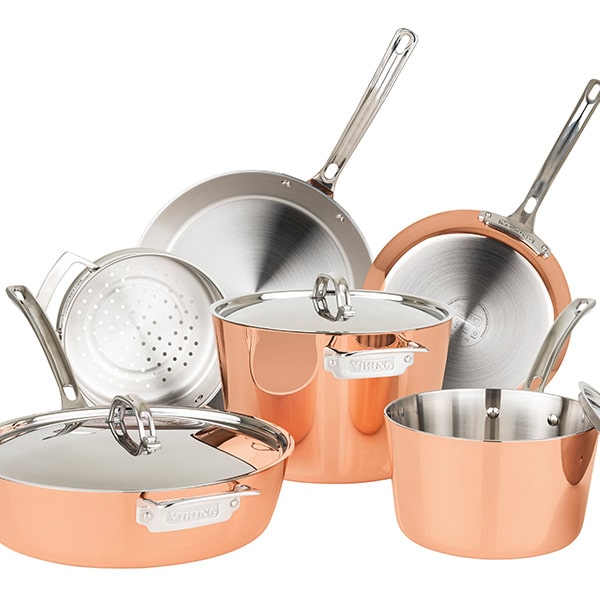 Cook + Bakeware
Viking Contemporary Copper 4-Ply 9 Piece Cookware Set
Clipper Corp.
Description
This set modernizes cooking with copper by adding an induction-capable cooking base. It is durable for stovetop use, functional enough to finish or cook dishes in the oven to 600°F and elegant enough to take to the table for serving. The domed metal lids help lock in flavor as you steam or braise. Set includes: 10" Fry Pan, 12" Fry Pan, 3.4-Qt Stainless Steel Steamer Insert, 3.4-Qt Saucepan with Metal Lid, 4.8-Qt Sauté Pan with Metal Lid and helper handle, 8-Qt Stock Pot with Metal Lid.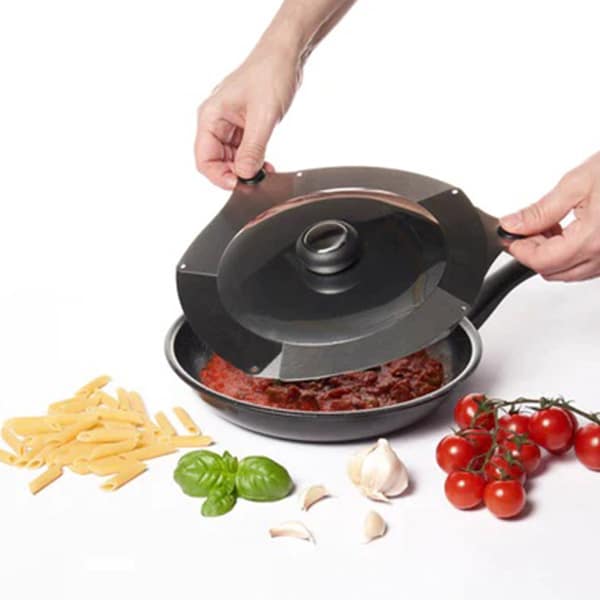 Cook + Bakeware
Genetti Fan Lid
Gourmet Kitchen Works
Description
Unique in the market, this lid can be used for all pots and pans in your kitchen with a diameter of 5" to 12". The patented lid, constructed of high quality stainless steel, uses an exclusive "Fan Opening." To expand the lid to fit the pot, open the fan by pulling one tab to the right; to close, pull the tab to the left. The "stay-cool" knob protects hands when removing the lid.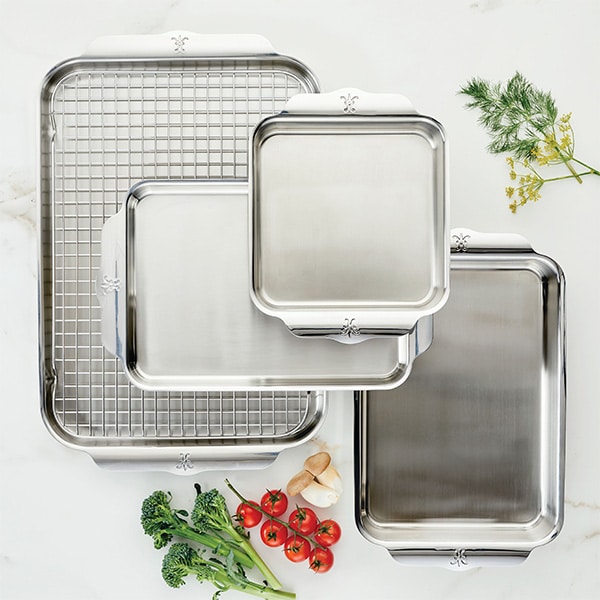 Cook + Bakeware
Hestan OvenBond 5pc Set
Hestan Culinary
Description
The Hestan Provisions™ OvenBond Set includes a Half Sheet Pan with Rack, Quarter Sheet Pan, Square and Rectangular Bakers. Crafted from triple-bonded clad stainless steel with a responsive aluminum core designed to evenly emit heat, producing beautifully browned goods and perfectly roasted foods. The wide, curved handles provide and easily accessible, firm hold when removing the baking sheets from the oven, even when wearing oven mitts. This gourmet ovenware set is broiler safe and oven safe to 600°F.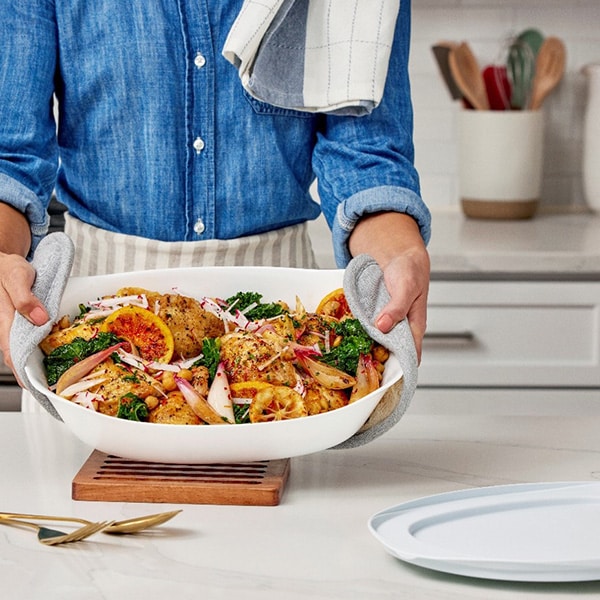 Cook + Bakeware
Rubbermaid® DuraLite™ Bakeware
Newell Brands
Description
Rubbermaid® introduces DuraLite™ Bakeware, oven to table bakeware that you can use to prep, cook, broil, serve and store. The first glass bakeware to withstand oven heat up to 550° F, allowing you to broil with glass bakeware for the first time in history. DuraLite Bakeware is extra lightweight versus ceramic bakeware for easy handling. It is break & chip-resistant and nestable & stackable for space-saving organization. The product is easy to clean, microwave, freezer and dishwasher safe.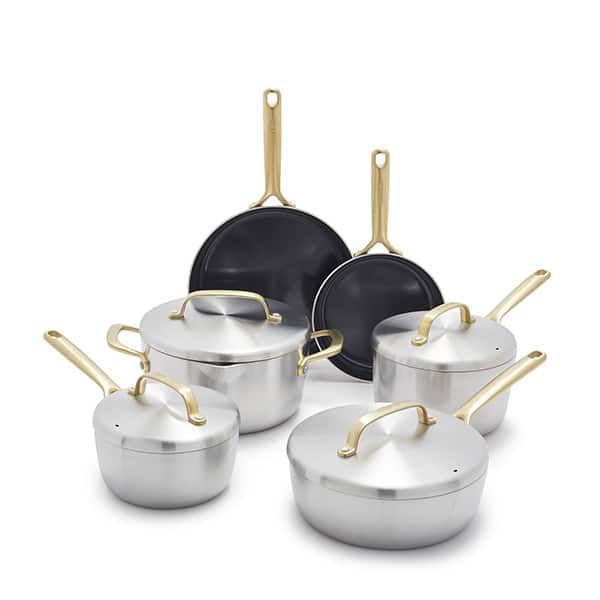 Cook + Bakeware
GreenPan GP5 Stainless Steel Collection
The Cookware Company
Description
GP5 is simply the most advanced stainless steel collection we've ever made. This high-performance set features five layers to ensure effortless heating and each pan is finished with our groundbreaking Infinite8 ceramic nonstick.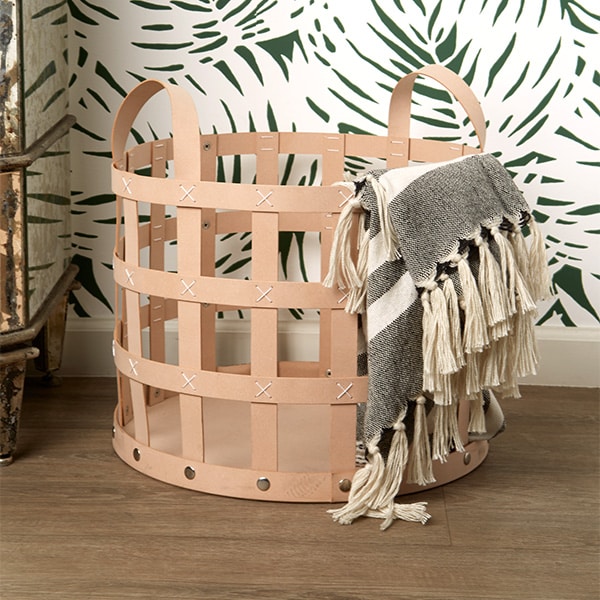 Home Décor + Gifts
Pali Recycled Leather Floor Basket
Be Home
Description
Our Pali Basket Collection is made from pre-consumer tannery waste. Nearly 30% of leather is wasted and put into landfill through the tanning process. We are repurposing that to make our natural toned, biodegradable, recycled leather in this collection. Smart snap button construction also makes them as easy to store away as they are easy to use for organizing essentials.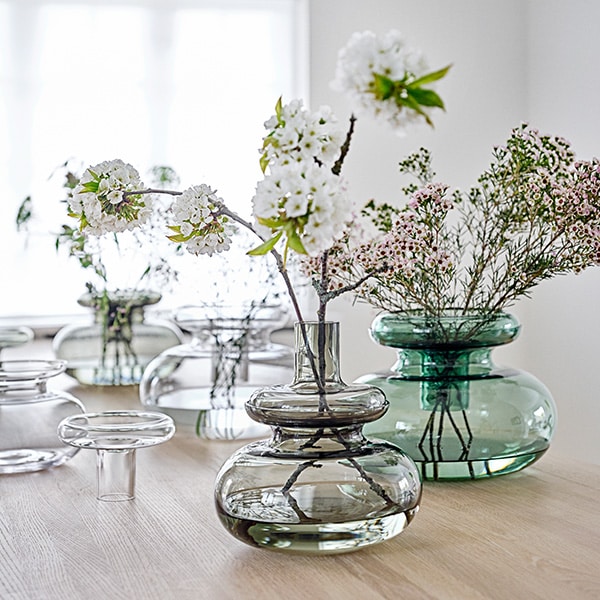 Home Décor + Gifts
Zone Denmark - INU Vases
F&H Group A/S
Description
The mouth-blown INU vase is inherently beautiful and, at the same time, the start of a multitude of flowering works of art with you as co-creator. The vase consists of two pieces, the top part being turnable. Turn the neck down, the vase is the perfect base for tall bouquets. Turn the neck up and it elegantly supports a few twigs or single stems. Remove the top piece altogether and you have a beautiful organic embrace for large, dense bouquets.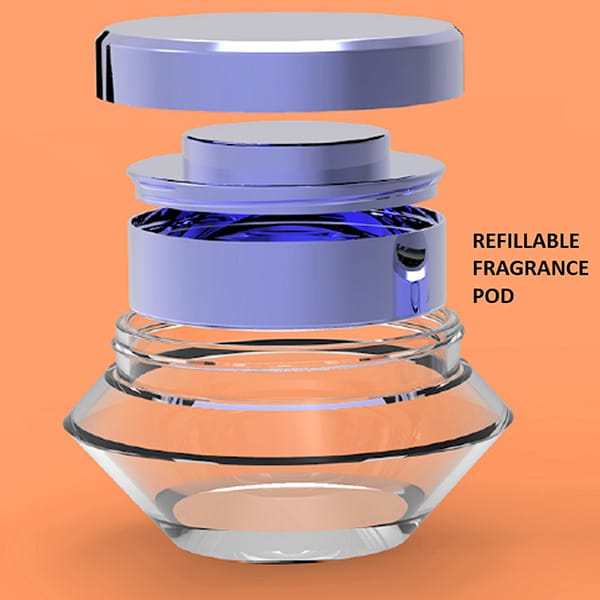 Home Décor + Gifts
noBrn - Sustainable Luxury Home Fragrance™
Innovative Fountains
Description
This patent-pending refillable fragrance pod fills your spaces with calming aromas in stylish vessels. noBrn uses Scent-Perm™, a unique combination of green technology and essential oil, to safely release aromas without using heat, liquids or electricity. Fragrance pods come with a service cap that can be replaced to preserve the fragrance for another use and make it easy to change scents. Pods come in unlimited scents and unlimited Pantone colors and last about 725 hours.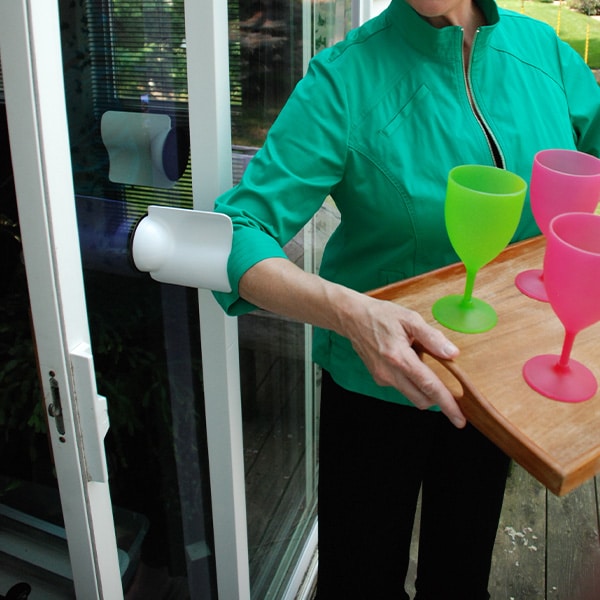 Home Decor + Gifts
The Doorhickey
TV Productions, Inc.
Description
A smarter, safer, hands-free way to open sliding glass doors. The Doorhickey® suctions to glass, creating an extra "handle" on your sliding glass door so you can use your elbow for hands-free opening and closing! Unlike a regular suction cup, The Doorhickey® uses vacuum suction for a Herculean hold!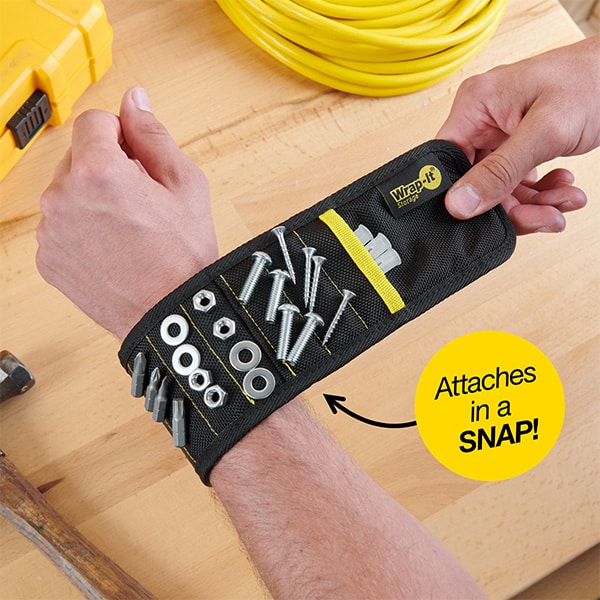 Home Decor + Gifts
MagSnap - Magnetic Snap Wristband
Wrap-It Storage
Description
Remember those slap bracelets from middle school? Like you, they're all grown up now, with grownup responsibilities like keeping all your nuts, bolts, and screws handy while you clear that weekend chore list. 15 strong magnets easily hold screws, nuts, bolts, washers, drill bits and more. Includes a pocket for wall anchors and other nonmagnetic pieces . Has a mesh inside for breath-ability. Home Organization + Storage
Coming Soon From
Brabantia USA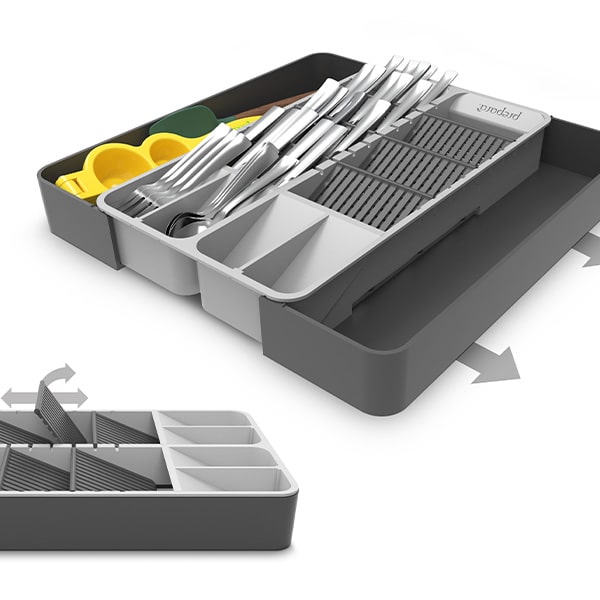 Home Organization + Storage
Expandable + Adjustable Utensil Organizer
Freshlink Product Development, LLC dba PREPARA
Description
Prepara adjustable cutlery and utensil storage organizer. Incorporating two side wings for assorted gadgets and 6 divider panels for complete customization. Dividers can be moved to suit customers cutlery needs. Made of heavy duty BPA-free PP, easy to clean and gentle on all your silverware. Creates order where there was once chaos. Make it easy to find tools, gadgets and silverware.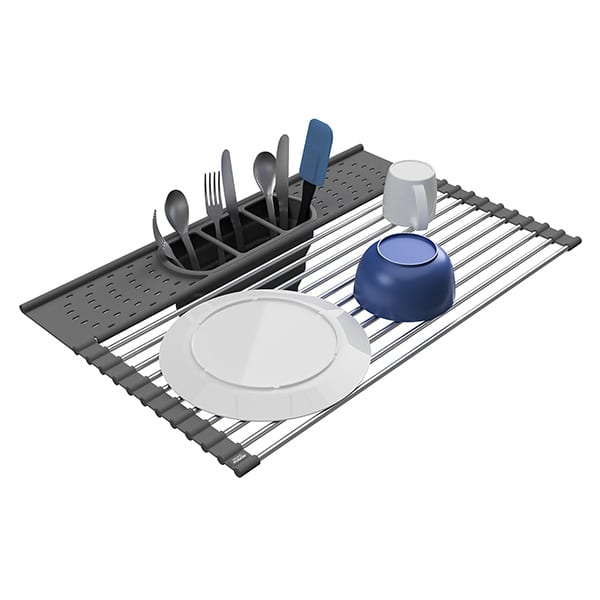 Home Organization + Storage
Roll-Up Drying Rack with Collapsing Utensil Holder
Grand Fusion Housewares, Inc.
Description
This new space saving drying rack measures 20" x 13" and is designed to fit most standard-sized kitchen sinks. The high-quality stainless-steel bars are both strong and beautiful in appearance and the rack also has an attached silicone utensil organizer that is 5" deep with two slats across the top allowing it to hold a variety of cutlery and kitchen tools in an upright position. The product is heat-resistant to 425° F and can also be used as a cooling rack.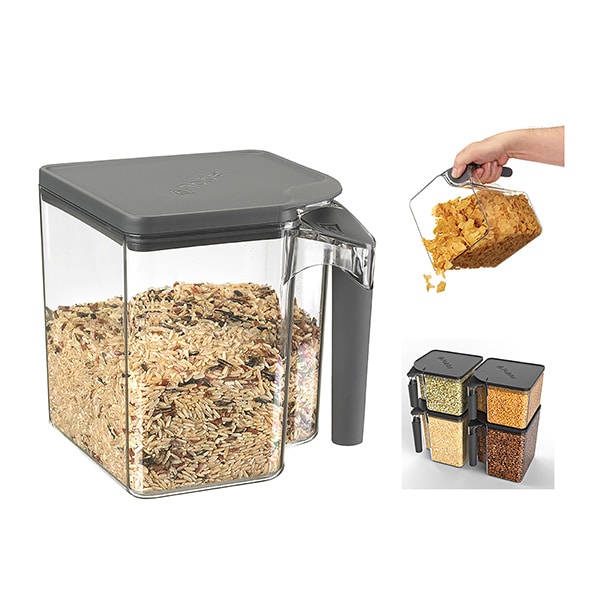 Home Organization + Storage
Handle-It™ Storage Canisters
Polder Products
Description
The Handle-It™ Storage Canister incorporates the handle in the frame of the bin, making it easier to store and allowing a heavier carrying load of over 10 lbs without bowing. The design provides a natural pouring feature as the opposite corner from the handle acts as a perfect spout. The angled convex thumb pad at the top of the handle creates a comfortable vertical grabbing/pouring position. When applying the lid, a silicone ring on the inner wall creates a secure air-seal, keeping contents fresh and air-tight.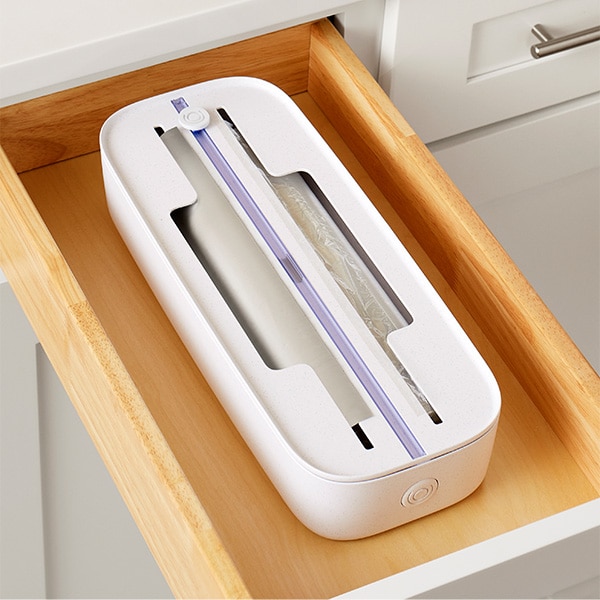 Home Organization + Storage
StoraRoll™ Food Wrap Dispenser
YouCopia
Description
StoraRoll Food Wrap Dispenser keeps all your food wrap in one tidy organizer. Two individual compartments hold standard rolls of kitchen wrap, aluminum foil, parchment or wax paper and reduces box clutter. Wraps pull through the slots to stretch across the track where a safety cutting blade makes a straight cut every time. A removable lid helps you reload and bright labels point to the wrap you need. When grabbing wrap is a quick task, meal prep is in the bag.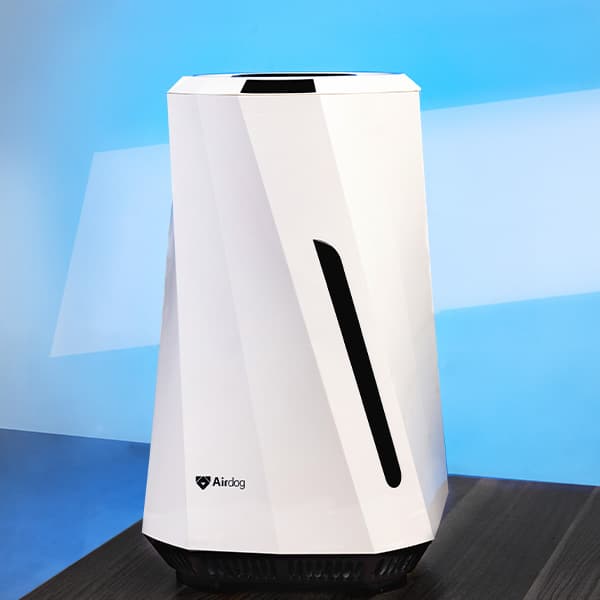 Household + Home Electrics
Airdog MOI Mist Free Evaporative Humidifier
BeiAng Air Tech Ltd.
Description
Airdog MOI continuously provides healthy, clean and comfortable air for your home and offices with its innovative design and engineering solution. The humidifier adopts the latest cold evaporative technology, the most natural way to bring moisture to the air. It uses a washable fiber filter with the patented "shower spray" technology, which ensures constant evaporative humidity levels regardless of the water level in the tank. The active electrolyte module effectively inactivates 99.99% of mold and bacteria and eliminates possible odor issues.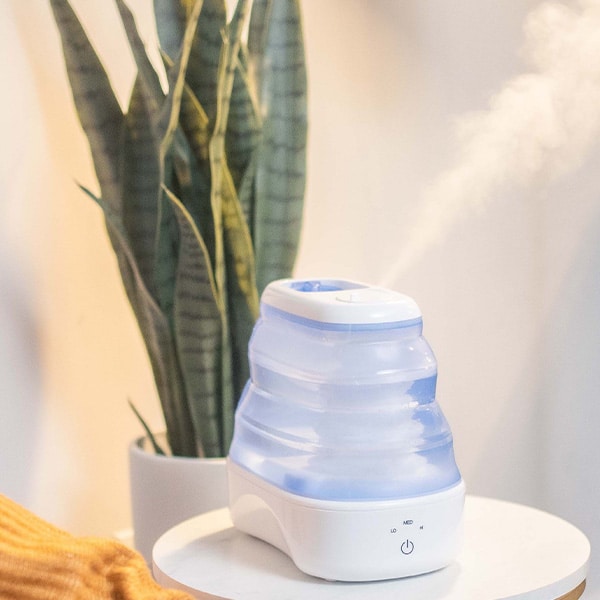 Household + Home Electrics
Cool Mist Collapsible Humidifier
Crane USA, Inc.
Description
The Crane 1-Gal. Collapsible Cool Mist Humidifier is a first-of-it's-kind humidifier. Not only does it offer the ease of a top fill tank, but the collapsible design offers easy and compact storage when not in use. It provides up to 15 hours of soothing moisture to help relieve the effects of dryness and congestion, helping you and your family sleep through the night peacefully.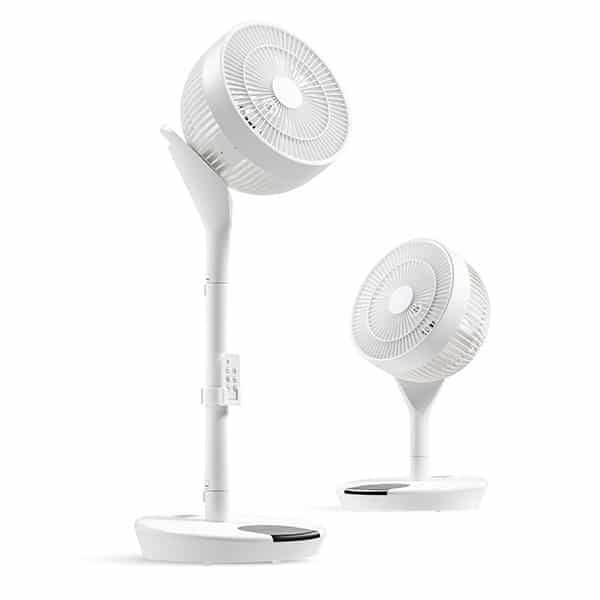 Household + Home Electrics
360 Degree Stand Fan
IRIS USA, Inc.
Description
Experience unparalleled air circulation in any room with the WOOZOO Oscillation fan, which features 360° vertical and 90° horizontal oscillation, ensuring full room coverage and better air circulation throughout the area. Whether placed by a window or entrance, you can regulate air quality by facing the fan outside to air out the room or inside to pull fresh air in. The remote easily controls the fan's power, mode, speed and timer settings. The timer function allows setting the fan to start or stop automatically within 30 minutes to 8 hours.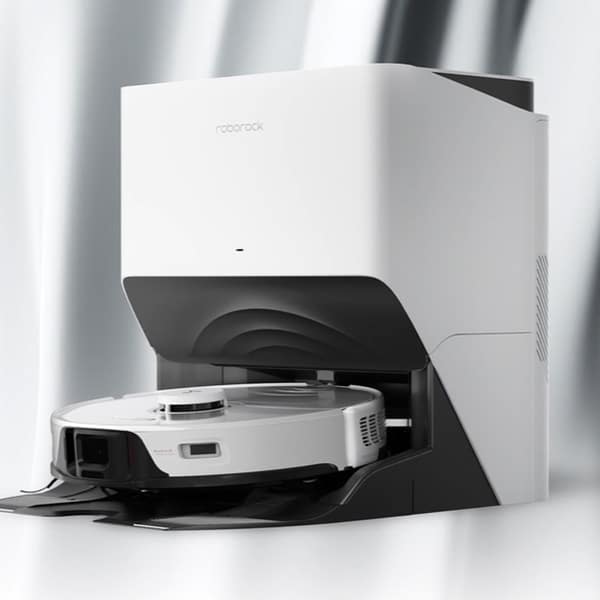 Household + Home Electrics
S8 Pro Ultra
Roborock (HK) Limited
Description
An impressive, "set and forget" robot vacuum and mop, S8 Pro Ultra is Roborock's latest flagship robotic floor cleaner, featuring a 6-in-1, zero-maintenance cleaning system with the RockDock™ Ultra. The Auto Mop Washing with Drying, Auto Dust Emptying, and Auto Tank Refilling features allow for up to 7 weeks without emptying, and a mopping range of 300 sqm. Featuring Roborock's newly-introduced VibraRise® 2.0 Mopping System, DuoRoller Riser™ Brush that effectively picks up dirt, dust, and debris on carpets and hard floors.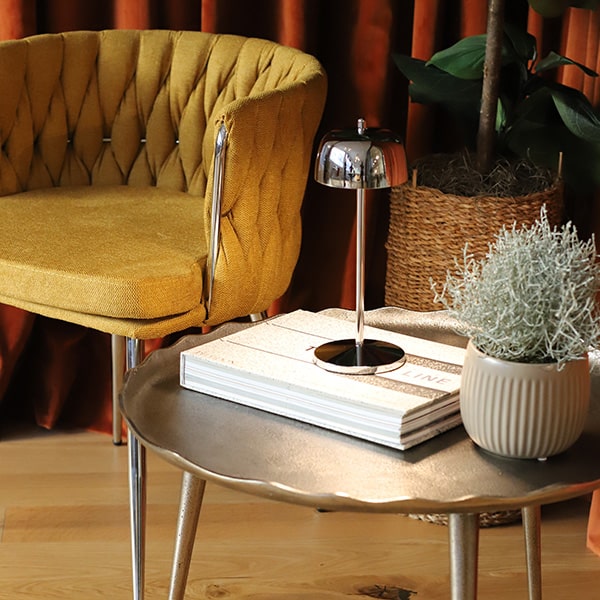 Household + Home Electrics
Theta Lamp
Zafferano America
Description
The latest addition to Zafferano's collection of award-winning cordless lamps, the Theta combines modern design with a retro vibe. Available in 6 colors/finishes, the Theta offers a tunable knob to adjust brightness and color temperature.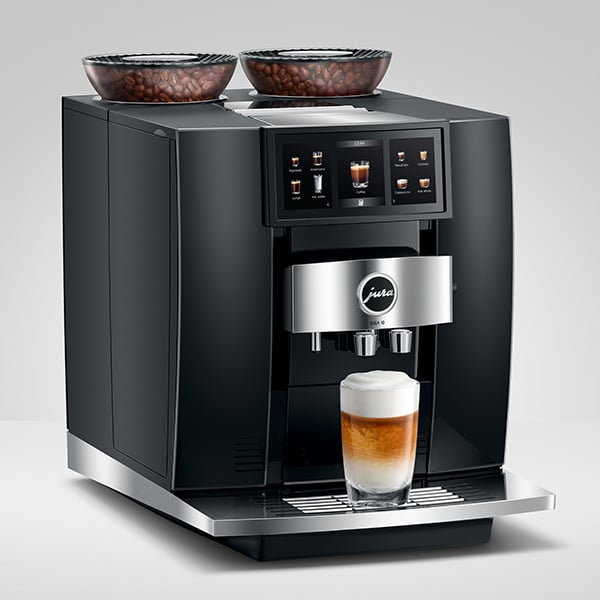 Kitchen Electrics
GIGA 10
JURA Inc.
Description
The GIGA 10 redefines what coffee should be with more choices and customization options. It offers up to 35 hot and cold brew options; features two bean containers, each with its own grinder; the revolutionary Cold Extraction Process; an innovative panorama panel for ease of use; an intuitive operating concept and more. It's easy to navigate through various options by a simple tap and slide to customize the beverage from the percent of beans ground from each bean container, size, intensity, ratio of coffee to milk and more.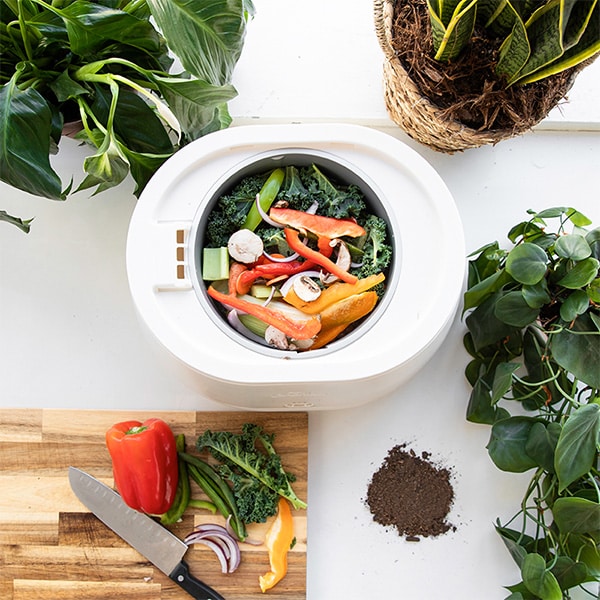 Kitchen Electrics
Smart Waste Appliance
Lomi
Description
Meet the world's first Smart Waste Appliance. Lomi turns your food-waste into nutrient rich earth that can be added to lawn, garden and indoor plants for improved plant-health and greater yield. Say goodbye to garbage and hello to a cleaner, healthier life with Lomi.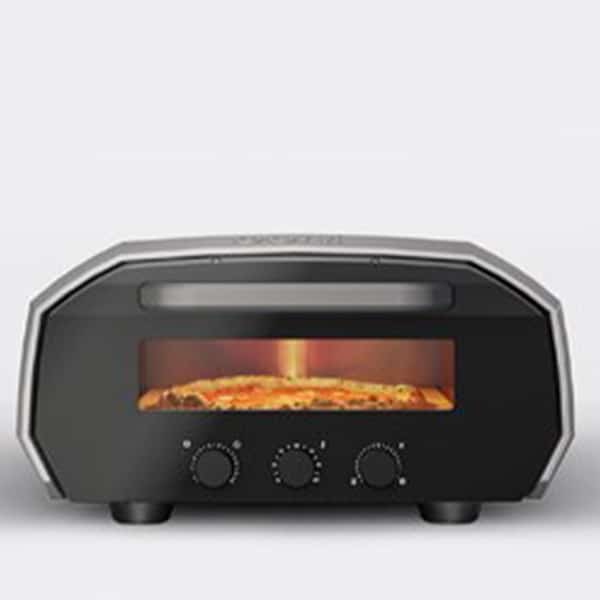 Kitchen Electrics
Dash Digital Turbo Hand Mixer
StoreBound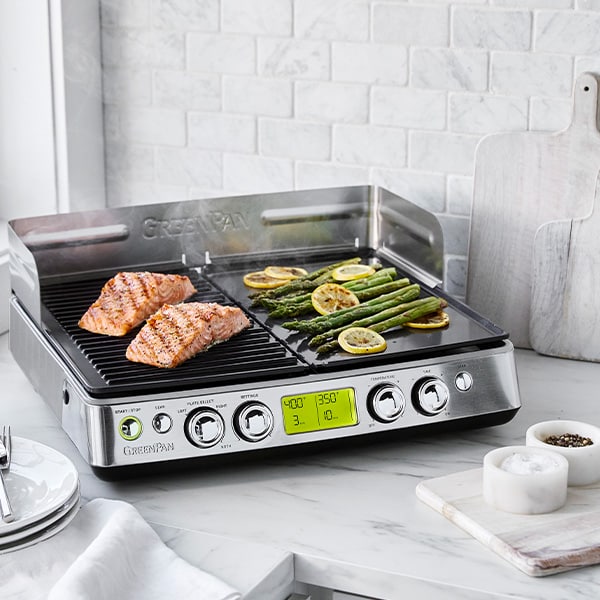 Kitchen Electrics
GreenPan Premiere XL Smoke-Less Grill & Griddle
The Cookware Company
Description
Designed to reduce smoke during indoor grilling sessions, the XL Smoke-Less Grill & Griddle lets you grill beef, poultry and fish without worry. The expansive cooking surface offers space to cook multiple ingredients at once, full family spreads and so much more. A full griddle, a full grill or a versatile mix—whatever your meal demands.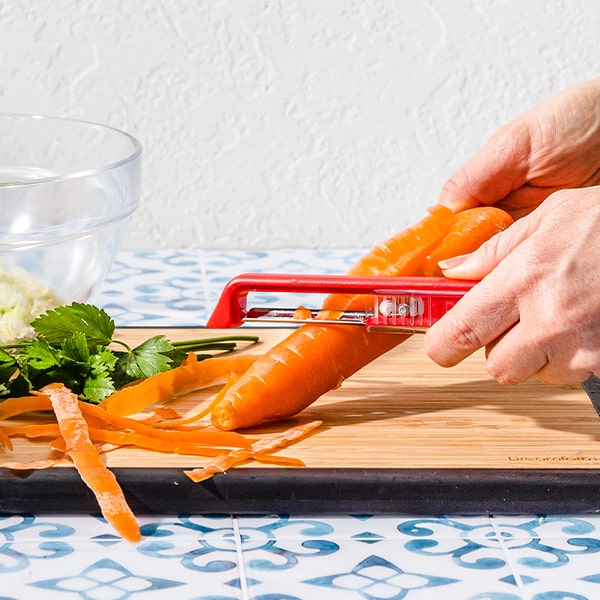 Kitchen Hand Tools + Cutlery
Description
Sharple is a swivel peeler with an in-built ceramic sharpener that hones and sharpens its blade every time the protective cover is opened or closed. Sharple's razor-sharp Japanese stainless steel blade is designed to last a lifetime, swivels to minimize waste and will never rust in the dishwasher. Its clever handle profile provides maximum control for both left and right-handed users, and features generous drainage channels to ensure ease of cleaning and drying.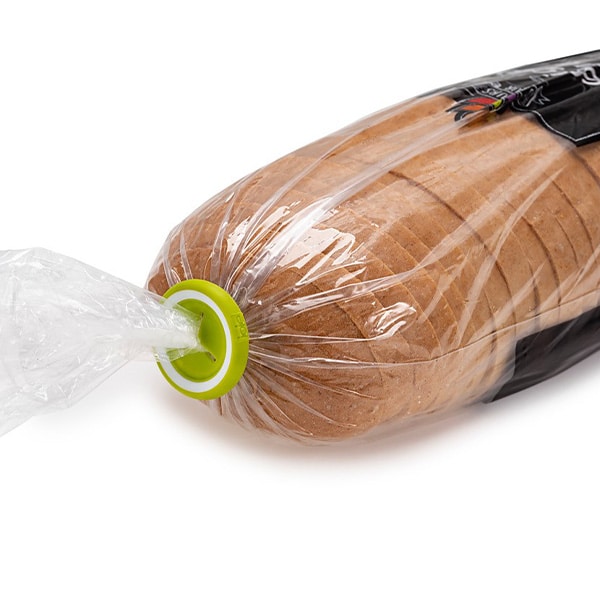 Kitchen Hand Tools + Cutlery
Bag Preservers
Evriholder Products
Description
The Bag Preserver is a device used to hold plastic bags closed. Its durable plastic construction with non-slip mouth seals in the contents of bags. Our reusable bag clip utilizes the flexible nature of TPR to ensure that most bags can feed through. Simply twist plastic bags and slide clip through to secure. Perfect for sealing bread bags, rice, nuts, dried fruit, frozen food bags and more. Comes in a pack of 6.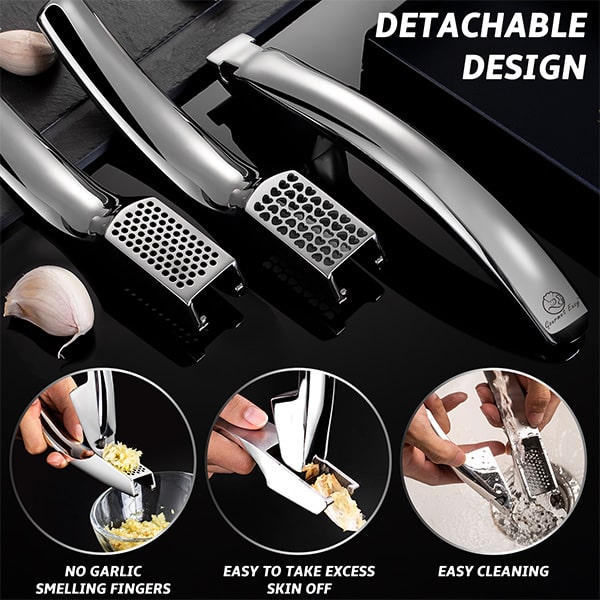 Kitchen Hand Tools + Cutlery
Fine and Coarse Garlic Press
Gourmet Easy
Description
The garlic press reinvented! Designed in Australia by a home chef who was dis-satisfied with all of the other garlic presses on the market! The Gourmet Easy garlic press is truly unique. It offers two garlic presses in one product as its ergonomic, patented design allows the choice of both fine or coarse garlic mince depending on the dish! Fine mince for garlic bread, dips and salad dressings. Coarse mince for casseroles, stir fry's and pasta. With no attached hinge, the stainless steel garlic press is easier to clean. Plus, unlike other garlic presses, there is no need to peel the garlic before crushing!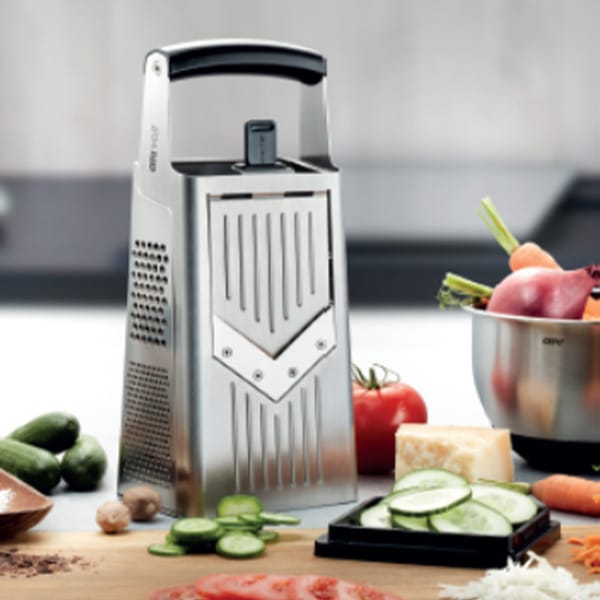 Kitchen Hand Tools + Cutlery
GEFU Four Way Grater VCUT with adjustable slice
Gourmet Kitchen Works
Description
The extra-sharp 7-in-1 kitchen gadget features an adjustable V-blade and can be used for anything needing to be precisely, comfortably and securely chopped, sliced or grated. The V blade adjusts to slice 1.5 mm, 2.5 mm or 3.5 mm thick and is replaceable. In addition to the adjustable V blade, the GEFU V-CUT grater features a rough grating surface for raw foods, an innovative 2-way (double) grater for tender flakes, a fine grater for parmesan and chocolate and very fine grater for lemon zest or nutmeg.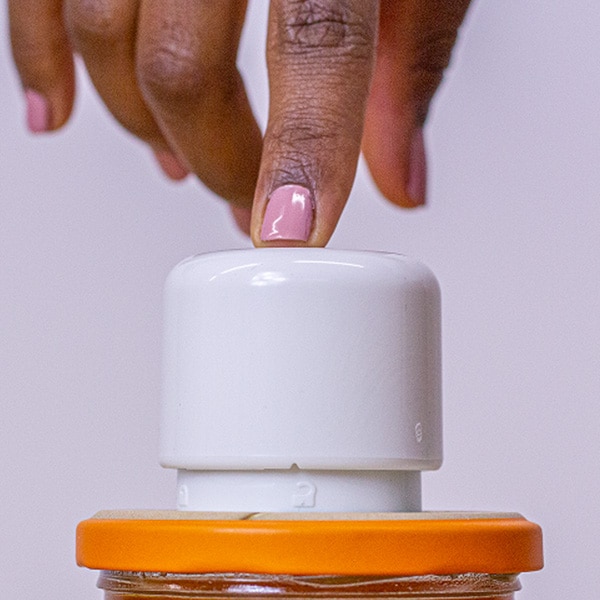 Kitchen Hand Tools + Cutlery
POPit Jar Opener
Pro4uk
Description
POPit Jar Opener - the safe, easy way to open any size jar.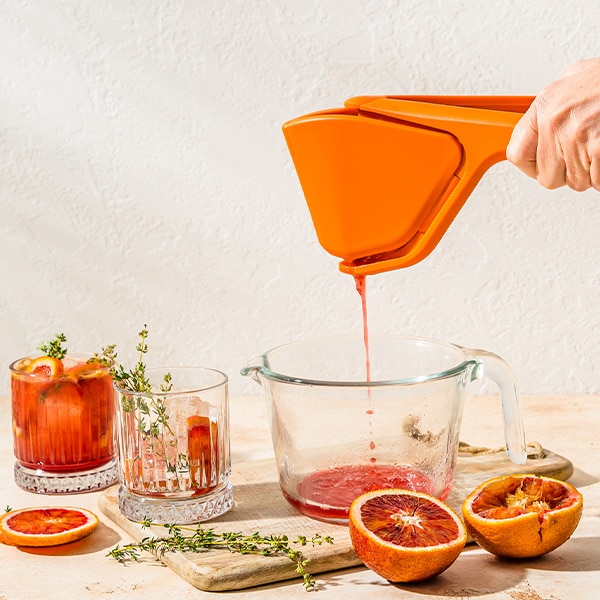 Description
Fluicer is an easy squeeze citrus juicer that folds completely flat for space-saving storage with no bulky humps or bumps to try to fit into a drawer. Its unique folding action squeezes fruit from the outside and from the inside out for maximum juice extraction. Fluicer's long handles create additional leverage and use larger muscles in your arms for effortless juicing. Its integrated seed catcher strains juice and creates a funnel to direct juice flow.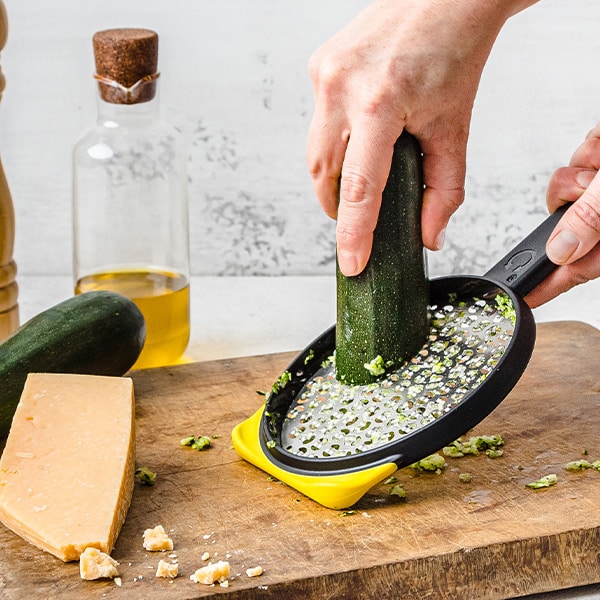 Kitchenware
Ograte
Dreamfarm
Description
Ograte is a two-sided speed grater. The bottom side blades grate in a circular motion for speed grating foods like carrot and zucchini, and includes a guide rim for easy grating in either direction while top side blades grate in both an up and down motion for efficient grating on a large plane for foods like cheese. The safety cover snaps on to protect both sides of the blades for worry-free storage in a drawer.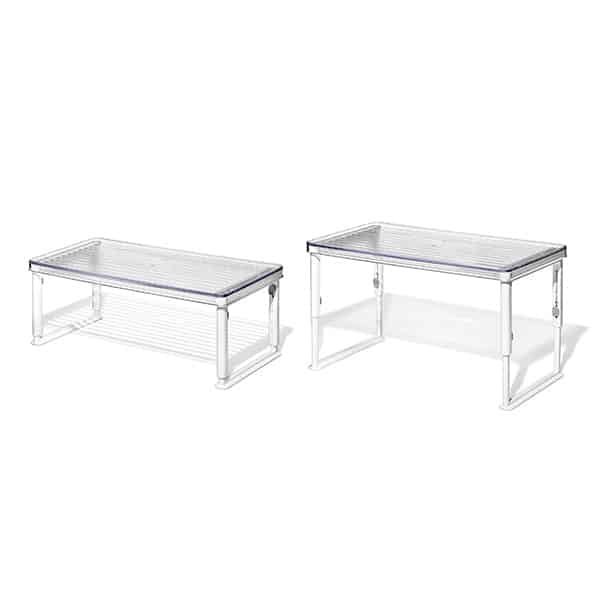 Kitchenware
Good Grips 8-Piece Refrigerator Organization Set
OXO
Description
OXO enters the refrigerator organization category with a modular system of fridge organization products designed to be used independently or in combination to better organize the refrigerator, maximizing visibility and accessibility of food and drink. The modular system keeps produce, beverages, condiments, leftovers and more tidy and well-organized. Bin and tray sizes large and small provide options for every home and fridge variety. The adjustable bins, shelves and drawers offer tool-free set-up and installation.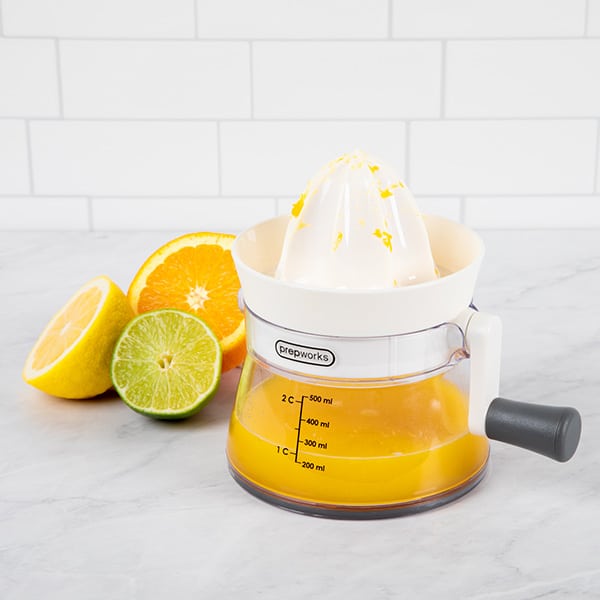 Kitchenware
Prepworks Valencia EZ Juice
Progressive International Corp.
Description
Enjoying fresh-squeezed juice has never been easier. The Prepworks Valencia EZ works best for oranges, lemons and limes and can hold up to two cups of fresh-squeezed juice identified by measurement markings on the side. The juicing point includes ridges to eliminate the pulp and a base grate to catch it before it makes its way into the cup of juice. The juicer also has a built-in spout to make pouring easy. Simply remove the crank, pour into a glass or large pitcher and enjoy.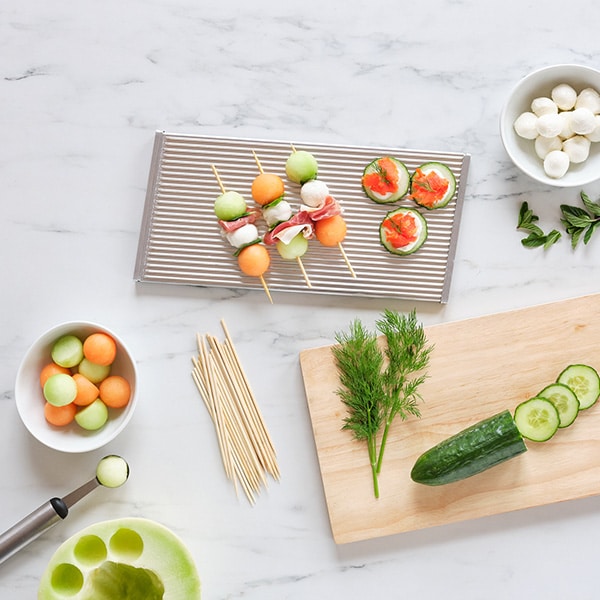 Kitchenware
ChillTHAT Platter
That Inventions
Description
ChillTHAT! Platter keeps food deliciously chilled for up to 60 minutes. Simply set it in the freezer for 4 hours, remove it from the freezer and use it to serve up your next dish. Channels on the platter create a mini atmospheric boundary layer where the cold air pools to keep foods chilled without getting in contact with the cold plate's surface. Condensation is drained away to the stylish wooden catch tray below. The reversible catch tray also serves as a charcuterie board.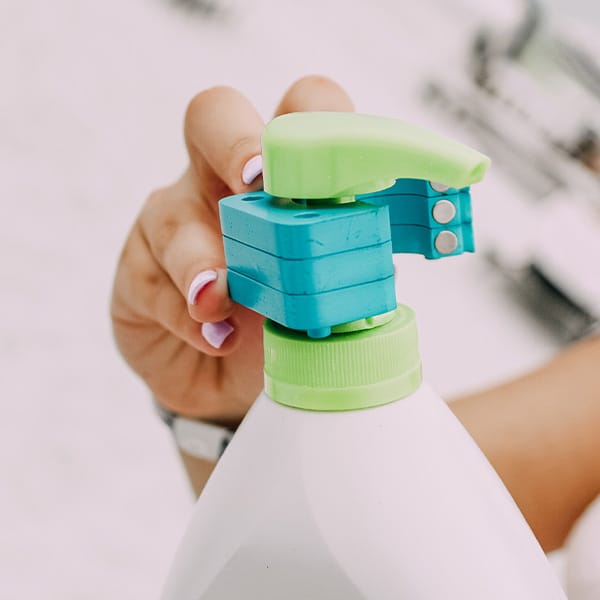 Luggage, Travel Goods + Accessories
DripLock
DripLock
Description
DripLock is a stackable device that prevents pump-type bottles from spilling in your travel bag. All you have to do is stack your DripLocks to the appropriate height of the shaft, wrapping it around the stem/shaft of the pump and now the pump can't press down. The patent-pending design allows for DripLock to work on all pump-type bottles protecting your belongings. Each pack including a 5-stack of DripLocks and a travel pouch.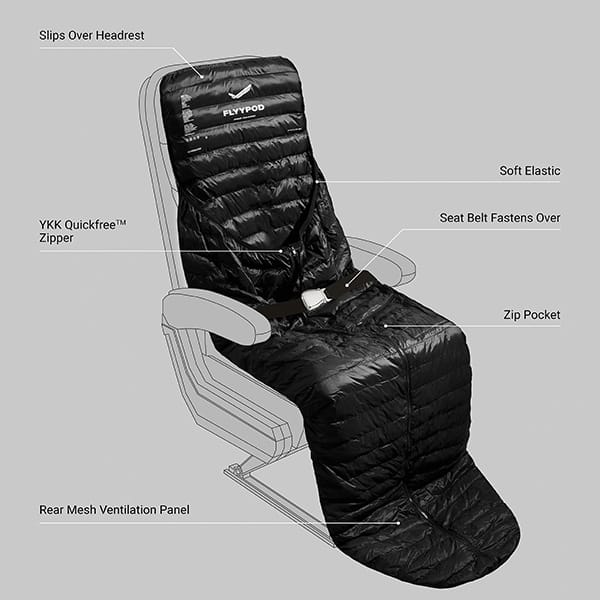 Luggage, Travel Goods + Accessories
SLEEP POD
FLYYPOD®
Description
Comfort meets style with the world's first sleeping bag created specifically for air travel. Crafted from 100% recycled nylon and lightly filled with Thermolite® recycled down alternative, it fits over the headrest of the seat and extends all the way to the floor. Designed to roll into itself, the FLYYPOD® can be worn as a hands-free, cross-body bag or it can be slipped over the handle of a carry-on case.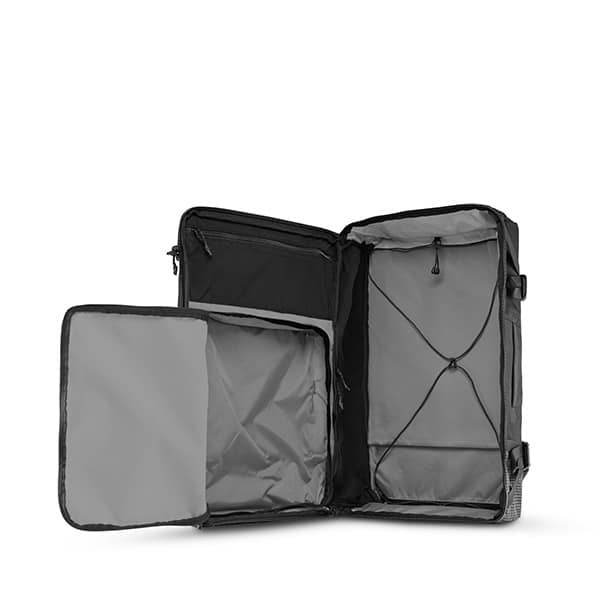 Luggage, Travel Goods + Accessories
Globerider45 Travel Pack
Matador
Description
The GlobeRider45 is engineered inside and out to be the ultimate primary backpack for the world traveler. It has 45 liters of space, versatile internal organization and efficient clamshell access that lets you pack it all in, while the external access admin pocket and laptop sleeve keep your essentials accessible. GlobeRider45 is built to meet maximum carry-on size for most airlines, or stow away the shoulder straps and hip belt to check it through.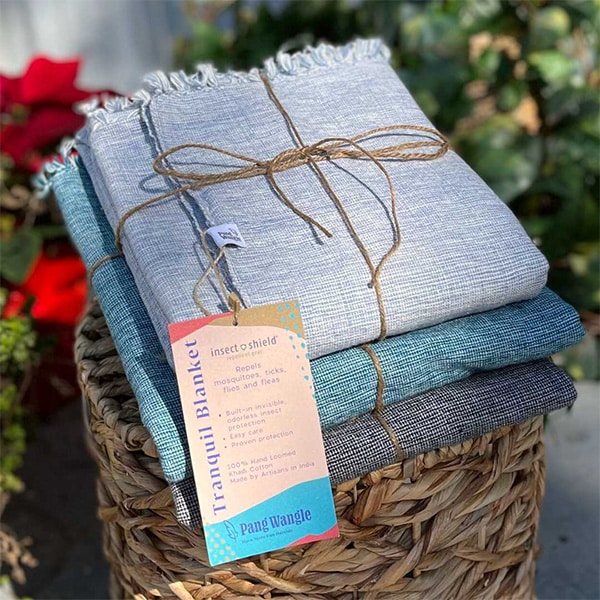 Luggage, Travel Goods + Accessories
Bug Repellent Tranquil Blanket with Insect Shield® Repellent Technology
Pang Wangle
Description
Introducing the softest, most versatile outdoor & travel blanket. This 70" x 52" handmade outdoor throw contains odorless and safe Insect Shield® technology. Relax on the patio, sip wine on the porch, nap in a hammock, spend a day at the beach, enjoy a peaceful picnic, go camping, glamping or stargazing. Put away the bug spray and enjoy your time outside, bite-free. No special care or storage required - just throw it in the wash!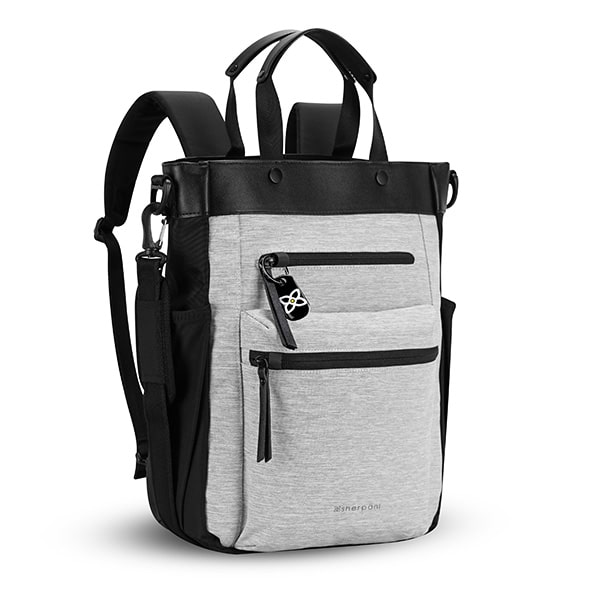 Luggage, Travel Goods + Accessories
Description
Traveling just got easier in this ultimate travel bag. With three ways to wear (crossbody, backpack or tote), the Soleil AT was made to travel. Made of 100% recycled mélange & ballistic nylon, is water resistant, vegan and offers RFID protection. Anti-theft features include anti-slash mesh at the bottom of the bag, main zipper cliplock, exterior zipper tunnel lock, chair lock loop, cut-proof strap and 12 pockets. Holds laptops up to 15" and fits suitcase handles up to 7" wide.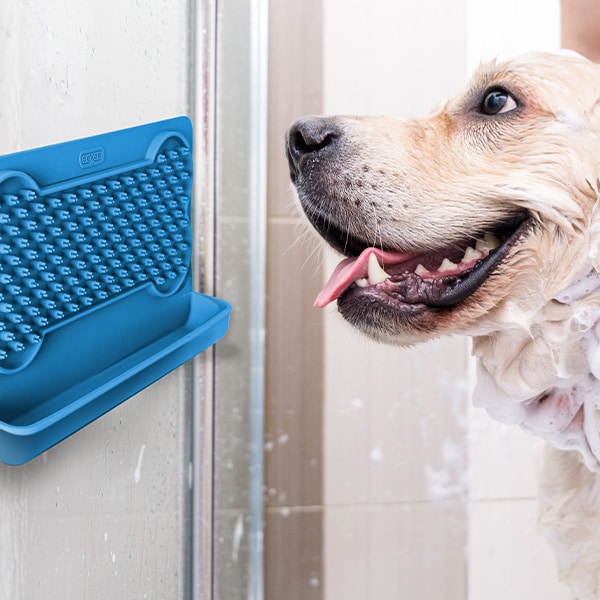 Pet Products
Snack & Distract Licking Mat
Dexas International, Ltd.
Description
Sometimes you just need your dog to chill out and relax, particularly during grooming or bathing. The Snack & Distract licking mat provides a challenging pattern of small, soft bristles with "tri-nibs" that provide extra stimulation to ease a dog's anxiety or boredom. At the same time, you can provide a healthy and long-lasting snack to keep them occupied, like peanut butter, yogurt or dog food. A catch tray catches all drips or spills!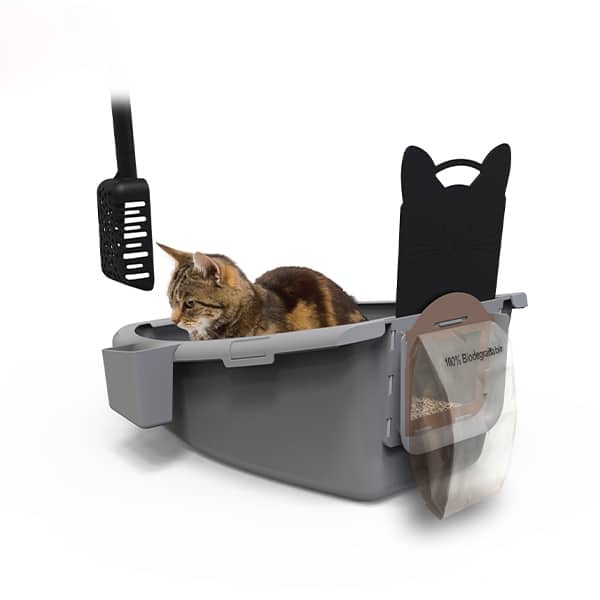 Pet Products
SimplyCare Litterbox
License-Way
Description
The SimplyCare litter box and its accessories offer an effortless, quick and easy cleaning method. With the help of its specially designed long handle scooper (shovel), dorsal efforts are not only minimized but also the user is kept at a distance from the typical unpleasant odors. SimplyCare has an integrated structure designed to insert a waste bag in order to discard the soiled contents of your litter in four easy steps.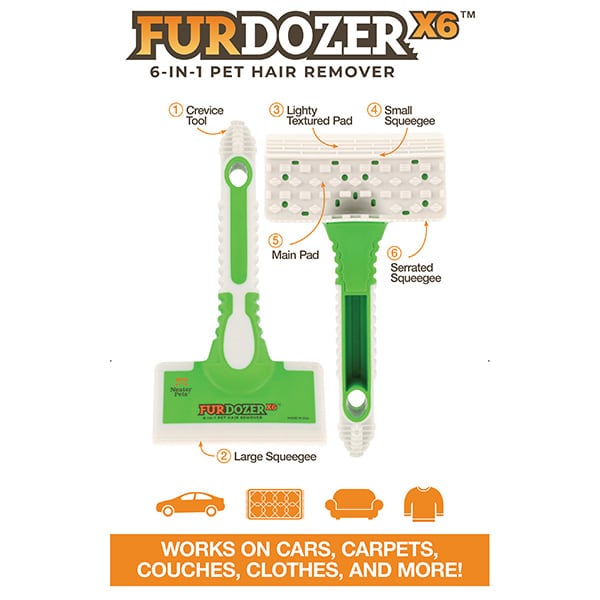 Pet Products
FurDozer X6 Pet Hair Remover
Neater Pet Brands
Description
The FurDozer X6 combines a revolutionary multi-tool design with hi-tech materials to remove pet hair, lint or debris and works on all surfaces including carpets, cars, couches, clothes and more! Our patent-pending design loosens and grabs embedded fur making it easier to collect and remove without causing damage. No need to buy multiple tools for different surfaces, the FurDozer does it all with 3 different squeegee blades, 2 textured pads plus its secret weapon, the Crevice Tool for cleaning in between tight spaces the vacuum can't reach.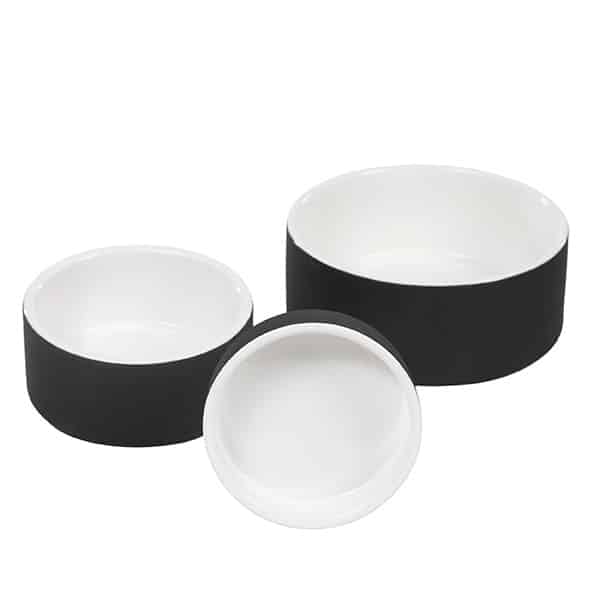 Pet Products
Cool Bowl
Paikka
Description
Keep water fresh and cool for a prolonged period of time. PAIKKA Cool Bowls are made of cooling ceramics, using a patented production method. Soak the bowl under water for 45 seconds to activate the cooling effect. This helps to keep the water and food fresh and also to reduce bacterial growth. Cooling bowls are also a great help when you need to defrost raw food in a controlled manner.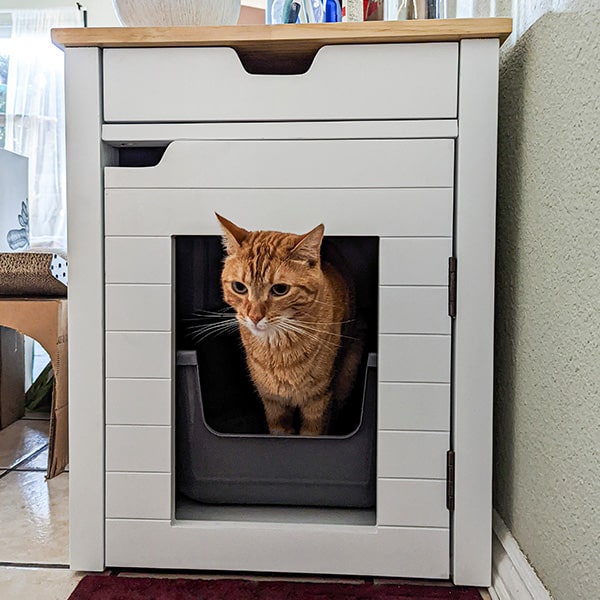 Pet Products
20 Litter Box Enclosure End Table w Drawer
Trinity
Description
This easy-to-assemble litter box enclosure, with a 100-lb weight capacity and its natural color pine wood top, MDF frame and bottom panel gives your cat the stylish privacy they deserve. The front gate, with a kitty entry cutout, has the flexibility to be installed from the left or right and ensures easy scooping and litter changes. The frame bottom protects your flooring from leaks and messes. The sliding drawer's 10-lb weight capacity can tuck away a plethora of cat toys and treats.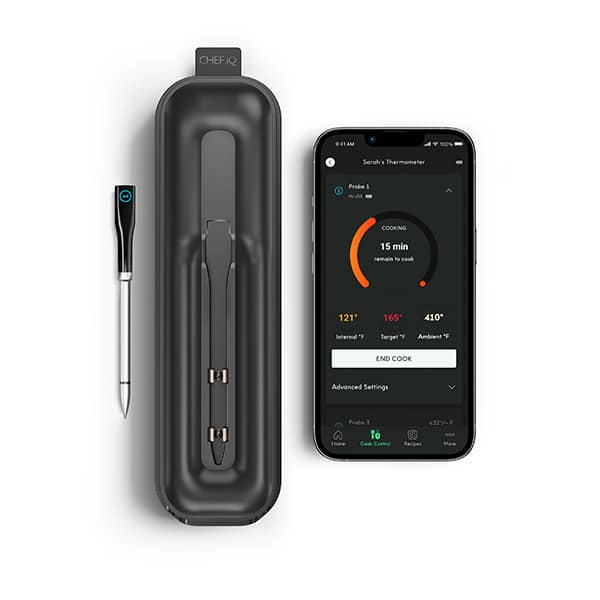 Smart Home Products
CHEF iQ Smart Thermometer™
Chefman
Description
The CHEF iQ® Smart Thermometer™ is the world's smartest and thinnest wireless meat thermometer. With the advanced dual-heat sensors in the probe, you'll always know the precise temperature of your food so you can achieve restaurant-quality results every time. Using the CHEF iQ 3.0 App on your smartphone or tablet, the Smart Hub's built-in speaker will update you with live voice alerts and mobile notifications, ensuring you never overcook or undercook your food again.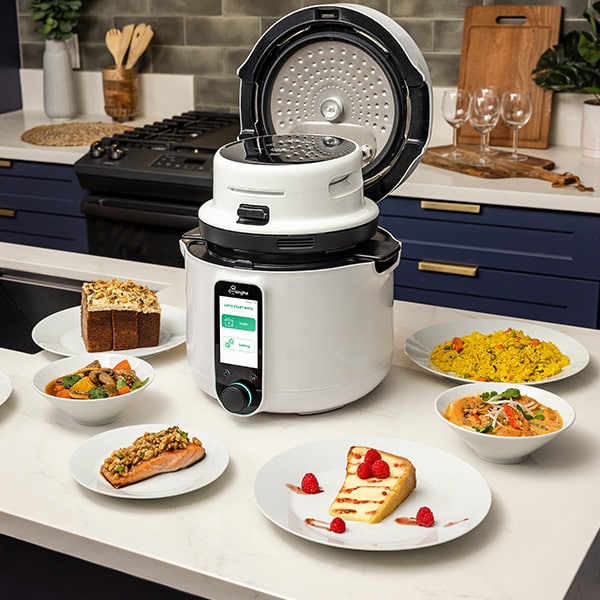 Smart Home Products
Pronto and Alto
CookingPal Ltd.
Description
Pronto, an intelligent, 8-in-1 pressure cooker, is the first pressure cooker to feature a fixed-hinged lid, an auto pressure release system and an Air Fryer attachment. Functions include pressure cooking, sauteing, slow cooking, steaming, fermenting, sanitizing, keeping warming, weighing through an integrated scale and air frying with the addition of the first smart air fryer attachment, Alto. While a highly sophisticated appliance in its own right, Pronto becomes even more powerful when connected to the CookingPal Smart Kitchen Hub.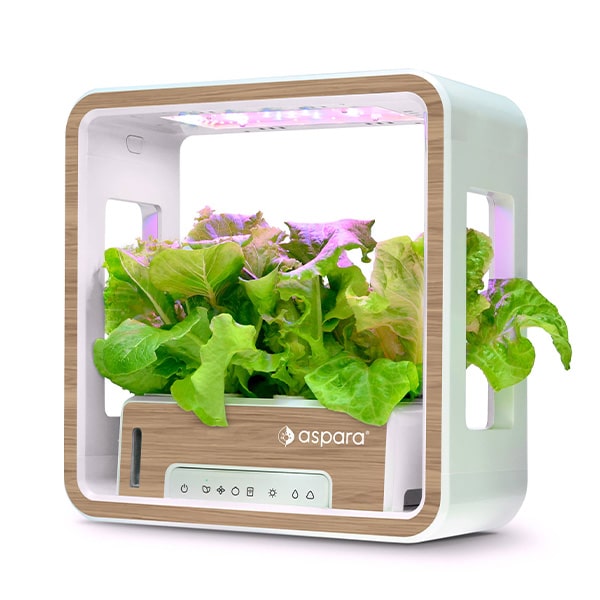 Smart Home Products
aspara® Stylist Lite Smart Grower – Art Series
Growgreen Limited
Description
aspara® is a hydroponic smart grower created by agriculture and electronics professionals of Growgreen, a company developing smart indoor planting systems for homes and promoting healthy lifestyles in the community. Breaking away from traditional arts and designs, the new aspara® Smart Grower Stylist Art series debuted last summer. Available in many fashionable designs, the set comes with a seed kit that includes various veggies, herbs, fruits and edible flowers. Integrate into your modern home with a personal touch.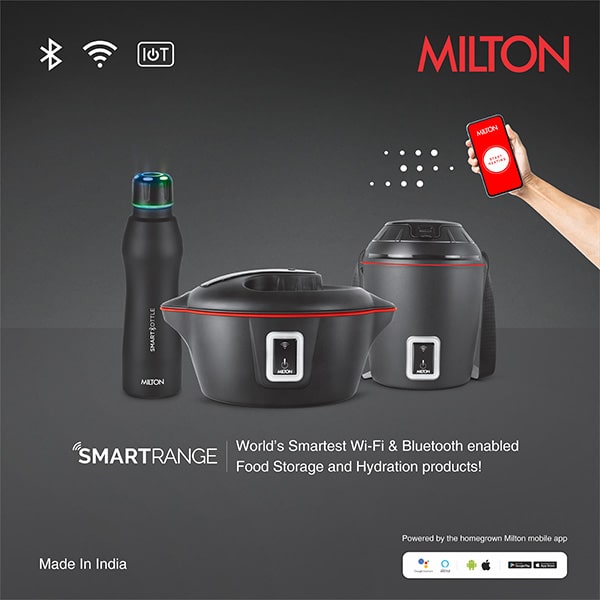 Smart Home Products
Milton Smart Range
Hamilton Housewares P. Ltd
Description
This state-of-the-art Hot Pot (6-Cup & 10-Cup sizes) & Lunch Box (3 x 1.40 cup tiers) allows you to warm your food through a user-friendly homegrown smartphone app from wherever you are irrespective of the distance. Just plug-in, connect the hot pot to a Wi-Fi network and let the app do the rest of the work in just 30 minutes. Schedule your device to heat your food at a time suited to you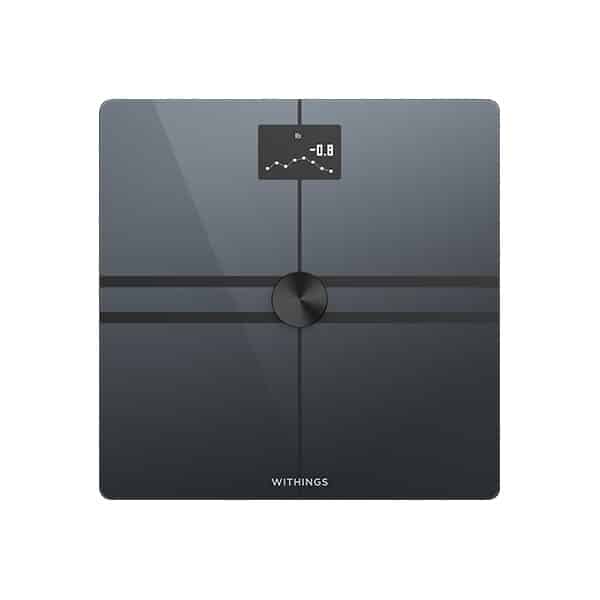 Description
Body Comp not only performs like a traditional scale measuring weight and body composition, but it can also identify changes in your overall cardiovascular health and monitor your heart and blood vessels thanks to 3 key metrics: Vascular Age, Standing Heart Rate and Visceral Fat. Body Comp can also provide an Electrodermal Activity Score by measuring skin response via sweat gland stimulation in your feet. These vital metrics are automatically sent to the Withings app for ease of use and long-term health tracking. Sustainable Products
Bo Trash Can Hi, 1.8 Gallon
Brabantia USA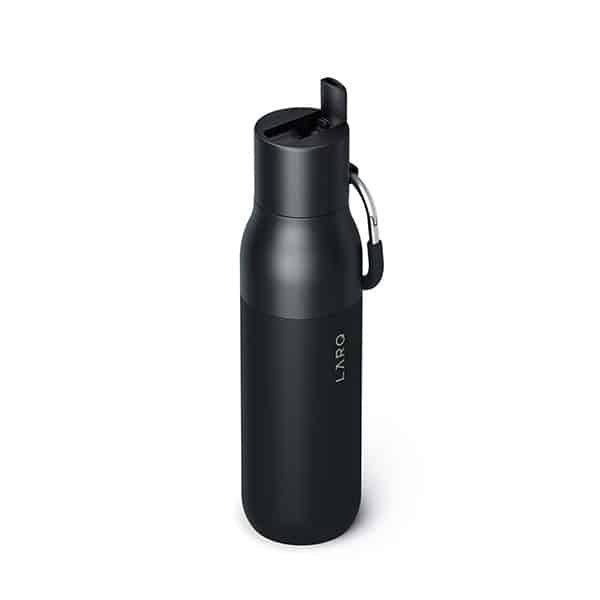 Sustainable Products
LARQ Bottle Filtered
LARQ, Inc.
Description
The LARQ Bottle Filtered provides citizens globally with clean drinking water, free from harmful pollutants, in an effort to lower dependency on single-use plastic. Leveraging Nano Zero technology, it removes toxins in your tap water, including lead, heavy metals, chlorine, and other harmful particulates, achieving NSF/ANSI 42, 53 & 401 standards.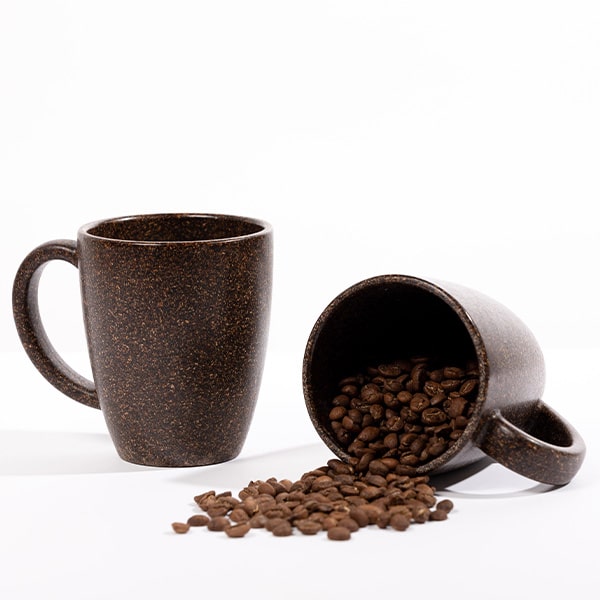 Sustainable Products
Sustainable Coffee Mug
Loopy Products
Description
The Loopy Products sustainable coffee mug is a first of its kind—made with the waste created by coffee bean processing. Coffee is grown in a fruit, but we only want the little bean inside to make our cup of joe, leaving 30-50% of the coffee fruit as waste by volume. The 8-oz mug features a sleek, modern design and is made with a resin matrix composite that contains coffee hulls left from coffee bean processing.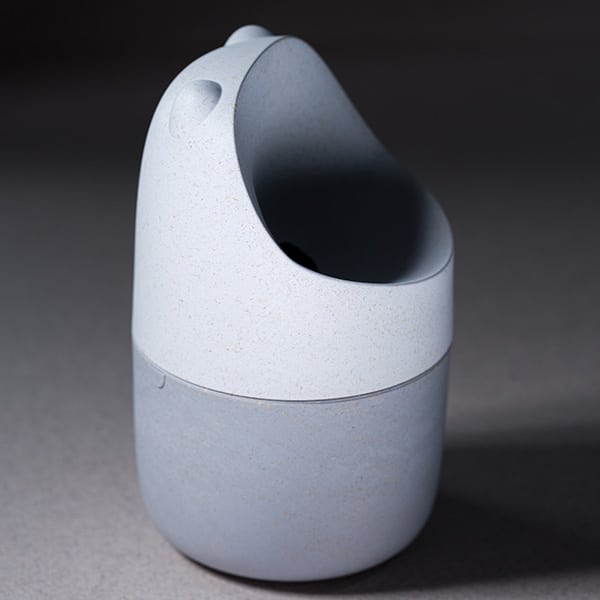 Sustainable Products
KONNA Fly Trap
Magisso North America
Description
KONNA (a frog in Finnish) is a small thing that can make a big difference. KONNA is designed to attract and catch fruit flies in an aesthetically pleasing and eco-friendly way. Feed KONNA with your own fruit fly bait liquid. Place KONNA on your kitchen counter or close to fruit bowl or houseplants. Fruit flies eaten by KONNA are stuck and won't get out. KONNA comes in 3 different colors and is dishwasher-safe so it's super easy to clean.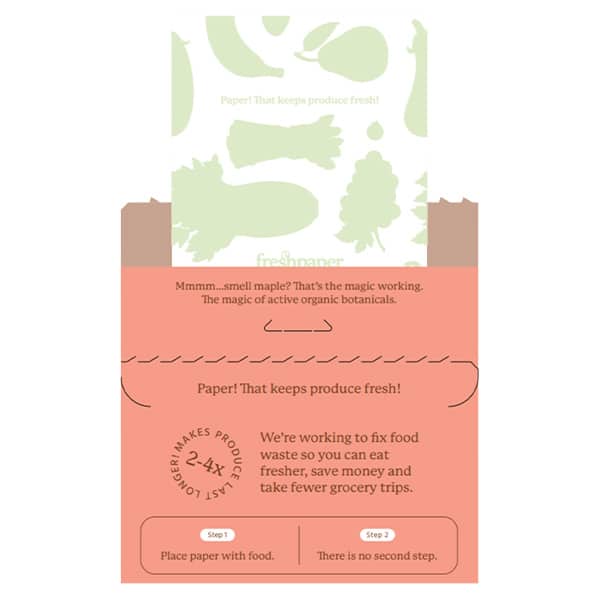 Sustainable Products
FRESHPAPER Pick-A-Size Produce Saver Sheets
The FRESHGLOW Co.
Description
"Pick-A-Size" FreshPaper for Produce is a new innovation packaged in a new 100% compostable paperboard sleeve.  The only patented, completely natural and organic food-saver on the market is now 32% larger and comes in perforated sheets that tear off into the most popular and requested sizes: extra large for pantries, large for fruit bowls or fridge drawers, medium squares perfect for berry cartons & bags of salad and small strips for fresh herbs.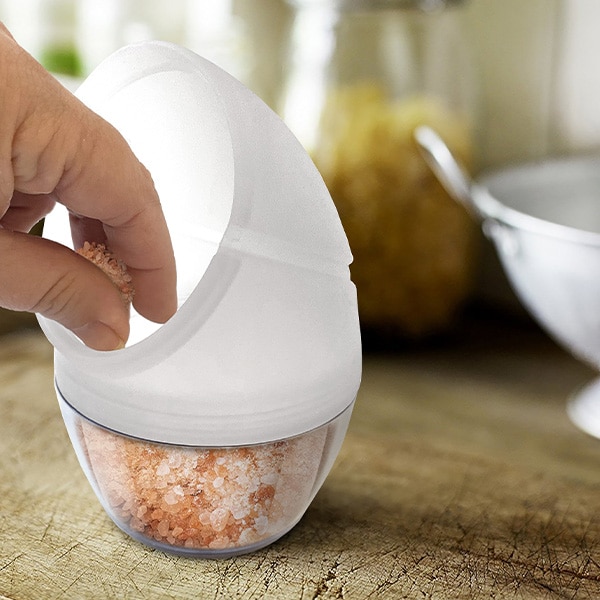 Tabletop
ZIP LIP SALT PIG
Freshlink Product Development, LLC dba PREPARA
Description
The Prepara zip lip salt pig is a handy tabletop kitchen helper. It keeps valuable contents free of moisture and sealed in a spill proof, easy to access container until ready to use. High-grade, food quality "origami" silicone lid shuts and opens with a one finger "pop." Lid can be further closed by "zipping" the lips together for moisture and spill resistance. The 10-oz clear body is dishwasher safe and easy to care for.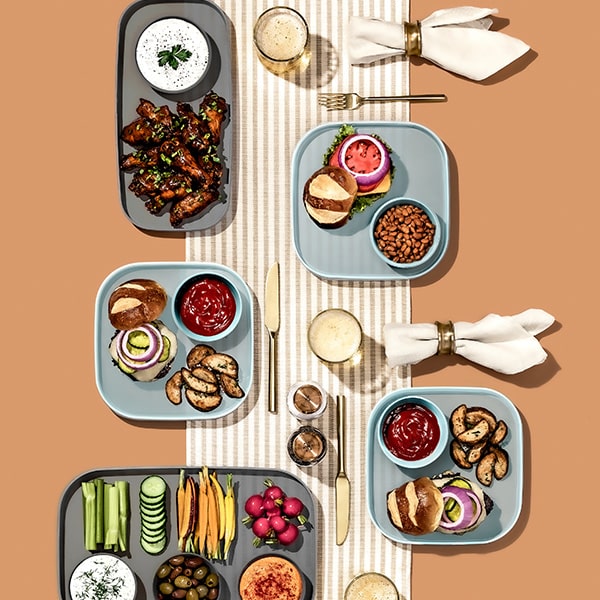 Tabletop
Dipware Appetizer Tray
madesmart
Description
The Dipware Appetizer Tray is the perfect serving companion for your next gathering. The tray helps display the food you're serving while the attachable bowl keeps the sauce or other food items separate. Plate your appetizer and serve with peace of mind - knowing everything has its place. And when the party's done, you can simply toss in the dishwasher and then stack the trays and collapse the bowls to save space when storing.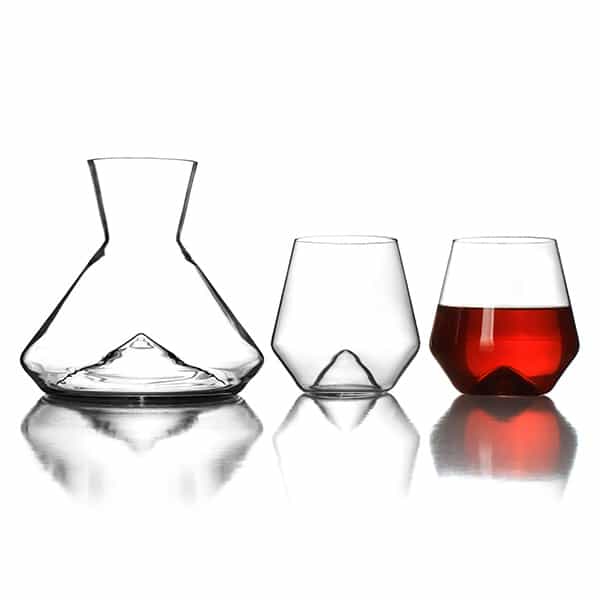 Tabletop
Monti-Mini Decanter + Monti-Rosso
Sempli
Description
These ultra clear, lead-free crystal wine glasses and decanter have a design that'll steal the show at your next dinner party. While pouring, the wine falls on top of the peak of the Monti-Mini Decanter and aerates in a beautiful cascade down the mountain. Holding up to a full standard 750ml bottle of wine, the decanter and its glass center peak showcases the inspiration of the Italian Alps. Designed perfectly for red wine, Monti-Rosso comfortably holds a standard 5-oz pour, which measures just above the waist of each glass, but easily holds up to 12-oz if filled.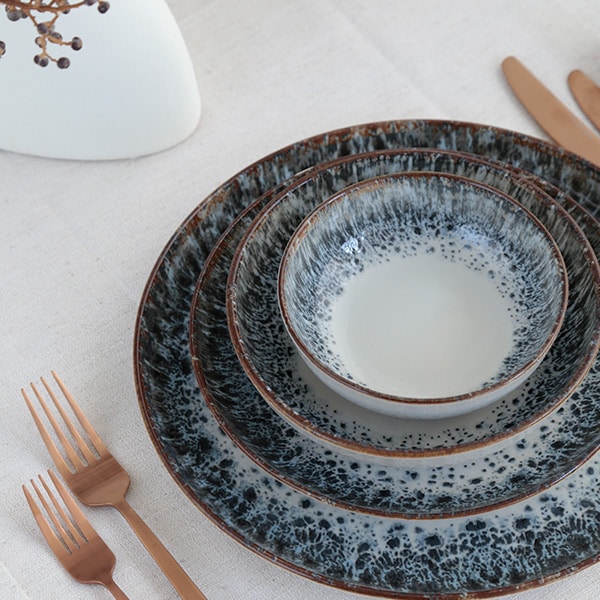 Tabletop
Re-Gen Ontario collection
United Sales & Marketing Inc.
Description
Porland has created a series of fully recycled dinnerware collections called Re-Gen, a process that regenerates post-production waste, broken pieces and shards of porcelain into new porcelain. The waste is collected and funneled back into production, turned to dust using new techniques and refashioned into brand new raw materials. The striking and sophisticated Ontario collection is dishwasher, microwave, freezer, and oven safe to 450°F. The collection is available in small sets and as open stock.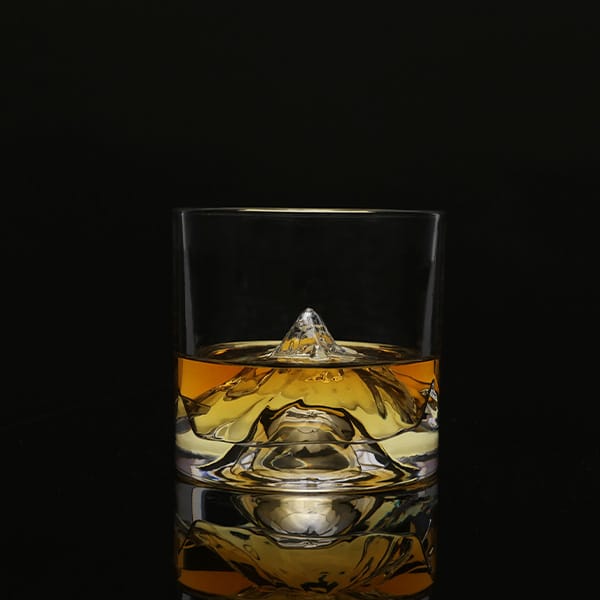 Tabletop
The Peaks Glass Set of 4
VIVA Scandinavia
Description
Crafted using X1 Crystalline, weighing in at 1-lb each, the Peaks Glass is the only true precision glass sculpture of iconic mountains in a Crystal glass. The set includes one of each four iconic mountains - Denali, Mont Blanc, K2 and Mt. Fuji. The Patented Chill-Charge System™ chills down your drink in just 18 seconds. Quickly release whiskey aromas by swirling the spirits gently around the faces of the Peaks.
Finalists are selected by a panel of retail buyers, including representatives from Ace Hardware, Artichoke, Bed Bath & Beyond, The Cook's Warehouse, Event Network, HTI Buying Group, Lekka Retail Concepts, Leon & Lulu, National Building Museum, Pampered Chef, Quality Products and Toque Blanche. Their selections are based on the following criteria:
Innovation
Product presents an original concept, employs new technology or materials or offers unique functionality or benefits compared to existing products.
Appearance
Product appearance differentiates an appealing alternative to existing products in form, color, texture or material.
User Benefits
Product demonstrates enhanced functionality and additional user comfort, safety or convenience over existing products.
Ecological Responsibility
Product is distinguished because of the materials or processes used in production, distribution or packaging, because of its impact on user behavior for conserving natural resources, or because of its contribution to improving social conditions.
Market Impact & Positioning
Product offers unique price/value alternative in its market positioning.
Join Us In Chicago
Discover The Next Industry Game-Changer at The Inspired Home Show 2024
Register Today