by Michelle Hespe
We look behind the scenes of PROMENU in Ukraine – a store that has always placed a firm focus on the emotional journey of its loyal customers.
Anyone who has worked in the retail industry understands that retailing is not just about selling a product to someone. It is about understanding the customer and giving them what they need, and possibly even what they don't know that they want.
gia Global Honoree PROMENU – a retailer of homewares and tableware ­– took this notion to the next level by establishing an educational program in conjunction with psychologists that assists staff in professionally profiling customers. Profiling helps them to better understand personality types, behaviors, motivators and essentially, what a person wants or needs. It's the core of what PROMENU (which can be read as Pro Menu – aka professional menu) does.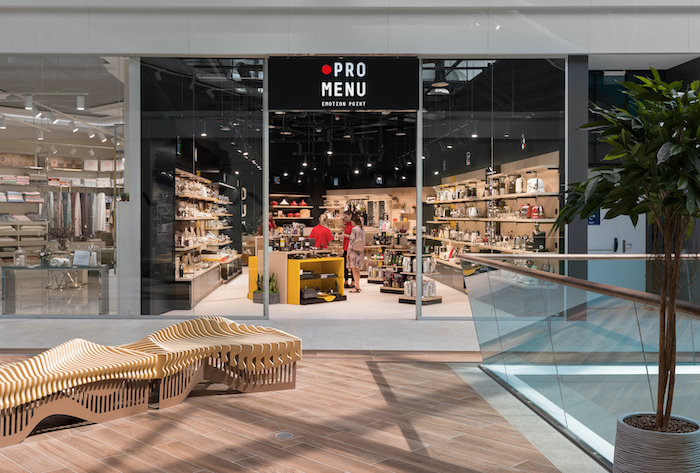 "We do not sell. We help to buy," says Oleg Mykhaylenko, owner and CEO of MIRS Corporation, where the PROMENU is a part of. "The main idea is not to sell the goods, but to ensure that the consumer remains satisfied with the result of their purchase."
Oleg explains another of the company's grounding philosophies – based upon the idea that service is the "what" and innovation is the "how." "With the help of the 'what,' we achieve our goals. That's the secret," he says. "Then we receive the loyalty and trust of our customers, and success to us is a satisfied consumer. Successful retailing is when you are giving to the consumer a little bit more than they expect."
Oleg lives and breathes these philosophies, and he is so in love with his job that he considers his work to be his hobby. "I don't go to work really," he says. "I live this every day and I do not even expect weekends! And I am also sure that for every employee of PROMENU, the work they do also is a special part of their lives."
MIRS started 28 years ago as a wholesaler of the best European brands in home appliance. "We were distributors, so obviously we needed to find customers to enable distribution," says Oleg. "When we studied the entire market here, we realized that no-one was supplying the best products directly to customers, and so we decided to forget about distribution and open our own retail stores."
The company then expanded its range into the cooking and serving sector to show Ukrainian consumers (who, at the time, were largely accustomed to using basic, traditional implements such as aluminum pots and enamel pans) what could be achieved through using top international tableware and cooking brands.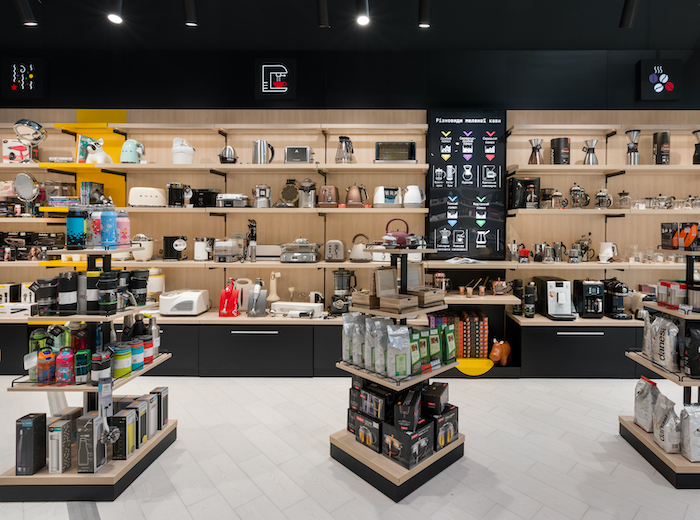 At that stage it became clear that our own retail shops required two different store formats – the first devoted to gifts and serving others in the home, and the second focused on cooking and household chores.
"The evolution of these two formats led us to the branding of our two distinct retail chains – PROMENU as the store with the best goods for the kitchen, gadgets and household chores, and the second one, 12 PERSONS, stocking gifts and goods for serving for those with refined tastes," explains Oleg.
After several iterations, the team came to the conclusion that PROMENU shouldn't be only about the kitchen and gadgets, but also about solutions to various household chores in the easiest (and even fun) way. "We decided that ultimately, the brand should be about creating a mood and atmosphere in the home that made families and loved ones feel good," he said.
The main team that developed the concept and then the stores in the beginning is still with the company, living through its many stages of creation, growth and evolution.
"At PROMENU there is a constant process of the generation and implementation of innovative ideas," Oleg says. "And I'm sure that there are only a few others who can replicate this approach, taking into account the unbroken decades of experience, unique knowledge in these specialized areas and the absolute readiness for change. Everyone in the PROMENU management team and our store employees become a part of this culture and then the magic happens – which our customers feel and believe. This is why they stay with us."
Another of the company's innovative approaches is called "Emotion Point" – which is a concept based upon the research of a consumer's journey and the ability for staff to shape the mood of the client, and in doing so, ensuring that they return for that same feel-good experience, regardless of what kind of product they needed or wanted to buy.
"We've built our stores and services by identifying the true needs of our customers," explains Oleg. "We have managed to achieve a feeling of comfort for our clients by asking them what is personally important to them, then we aim to fulfill their desires by creating offers for them and ultimately helping them to make choices that make them happy. We always convey the message to our customers that the main thing they need to achieve is a good mood, and that's whether you're preparing dinner for your beloved family as a chef in a Michelin-starred restaurant or doing household chores."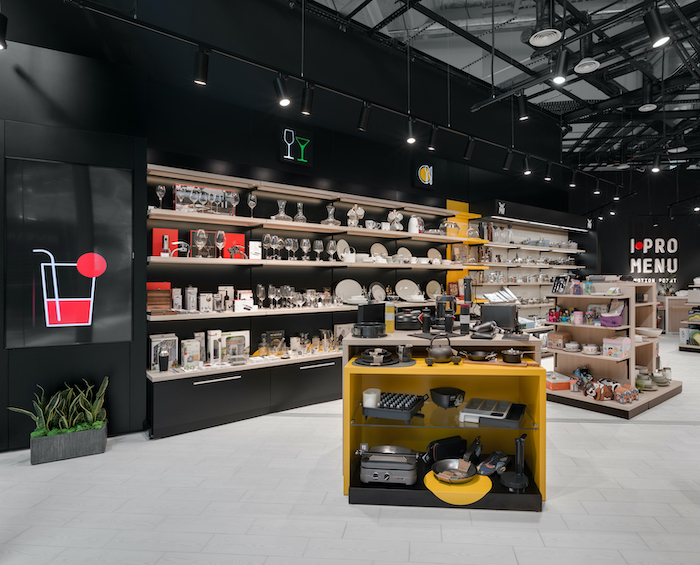 Oleg thinks it would be difficult for another company to replicate or even come close to what PROMENU does. He says with extreme pride: "I don't know of another omni-channel store with 100–150 square meters of products selected from more than 100 of best brands, including tableware and household goods, that also comes with an emotional envelope – where communication and a unique system of working with clients based on their needs and desires is also offered."
He's right. This certainty that everyone at PROMENU has – of their store being unique and eternally innovative – led to the Ukrainian retailer being voted as one of the six best retailers in the world for 2020. And despite the gia awards being online this year due to COVID-19, this did not dampen anyone's spirits. In fact, it raised them as everyone was able to be present rather than a few select people travelling to Chicago for the awards.
"The sensations were real – a big splash of emotions and absolute joy!" says Oleg when PROMENU was announced as one of six gia Global Honorees. "The organizers did such a great job, and the atmosphere of solemnity was conveyed so well. Strangely enough, thanks to the online broadcast, the whole team had the opportunity to get the whole range of emotions from winning at the same time! It was amazing."
For Oleg personally, and for the entire PROMENU team, he says that their gia win was a "WOW inspiration moment." It was also worldwide recognition for Ukrainian retail for the first time in the 21-year history of the gia awards.
"This means we cannot remain in the zone where we are now," says Oleg with unbridled excitement. "The belief, the recognition that we do the right things in the best way, is pushing us forward to become even better. Especially during times like this, when there is a lack of great expectations around, this is an opportunity to achieve much more on this amazing wave!"
To learn more about PROMENU, visit www.promenu.ua.
—
Sponsored and organized by The Inspired Home Show and the International Housewares Association (IHA), gia (IHA Global Innovation Awards) is the world's leading awards program honoring overall excellence, business innovation and creative merchandising in homegoods retailing. For more information about the gia retail program, the co-sponsors, or participating in gia, contact Piritta Törrö at piritta.torro@inspiredconnection.fi. Additional information on gia is also available online at TheInspiredHomeShow.com/Explore/Awards/gia-Excellence-in-Retailing.
 For more information about The Inspired Home Show and to pre-register for the 2021 Show, taking place in Chicago on 13-16 March 2021, please visit TheInspiredHomeShow.com.