Inspired Case Study:
Gleener
Kim Cole had a dilemma. In January of 2022, The Inspired Home Show was fast approaching and time was running out for the CEO of Montreal-based Gleener to make the call on whether to participate.
The stakes were high either way—after two years of Show cancellations and with cumulative Zoom fatigue setting in, the ability to meet face-to-face with retailers again was sorely needed from both a business momentum and an employee morale standpoint.
But the Omicron variant was still on the rise and Canadian regulations meant that if anyone on her team were to fall ill while in Chicago, they would be stuck in the U.S., unable to return home.
Gleener was contracted for a 20' x 20' space in the Discover|design Expo—the same size they had been exhibiting in since 2017. The booth that they traditionally used was a rental, and the early-bird deadline to commit to that booth was upon them.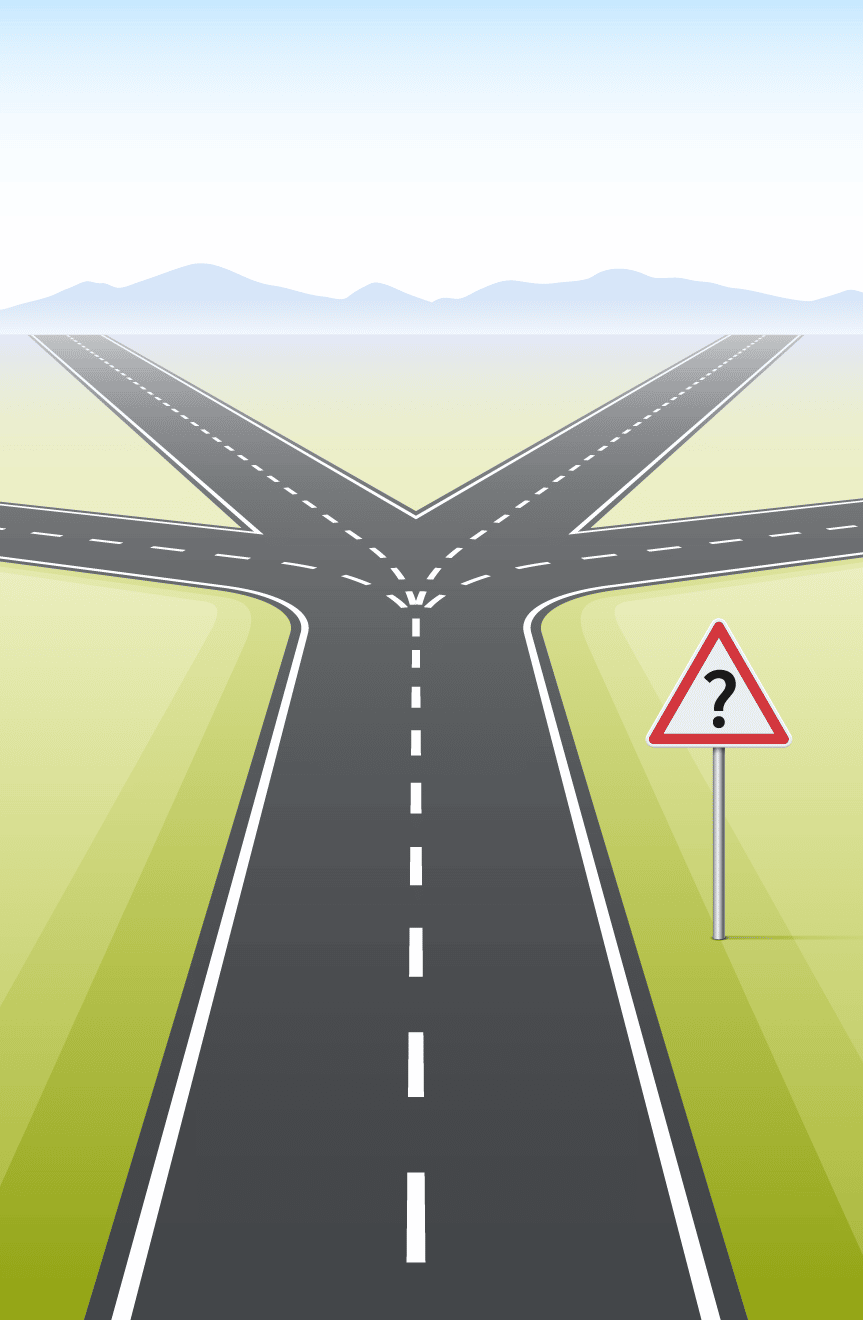 That early-bird deadline was no joke—the cost to rent, transport and build the booth would be about $42,000 until January 31st. After that, it went up to more than $60,000—and the EAC would not be able to guarantee the labor to complete the booth on-site.
Kim knew in her heart that she wanted to exhibit at the Show. Solidarity with IHA (Kim is a member of the IHA Board of Directors) and with the industry is part of her DNA. And she kept thinking to herself "Out of sight is out of mind." If Gleener wasn't there, and if even one of their customers decided to work with someone else because of their absence, it would haunt Kim forever.
But saving one customer at a budget of $42,000-$60,000 (not including expenses for travel, hotel, etc.) wasn't a responsible path forward. Kim assembled her team and presented them with a challenge: How do we show up in a way that honors our brand while massively reducing our costs?
It didn't take long for Melanie Green, Gleener's director of marketing, to realize that after two years without trade shows, there were likely many companies looking to offload booth structures. After a quick Google search, Mel found herself browsing usedbooths.com. Noting the significantly reduced costs incurred with a used booth, she encouraged others on the team to start scouring the internet to find the right one.
Less than a week later an email came across from Kim: "I FOUND IT!"
"It" was a 20' x 20' listed on KIJIJI.ca (sometimes called the "Craig's List of Canada"). It was located in Toronto and crafted from sturdy but eco-friendly materials with a trellis overhead—listed at CA$3,000 (about $2,200 U.S.). It seemed too good to be true.
Ongoing COVID restrictions made traveling even within Canada difficult, and time was of the essence. Kim called up a friend from another housewares company located in Toronto and asked him to go evaluate it on her behalf. When he was satisfied, the purchase was made, but there was no time to ship to Montreal and then to Chicago—so now it was time to break the news to the designer.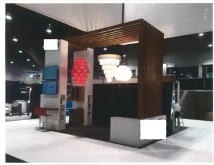 The booth that Gleener bought—and the best photo they had from which to design.
Lauren Bagshaw was just five months into her job at Gleener and had never designed a booth before. Imagine her reaction upon hearing:

The booth that was purchased was being shipped directly to Chicago from Toronto, so the only guidelines for graphics and décor were dimensions and low-res photos of the booth provided by the previous owner.
Graphics and décor would have to be designed, printed and sent directly to Chicago to meet up with the booth without ever being tested on the structure ahead of time.
Everything had to be printed and arrive in Chicago in three weeks.
Lauren rolled up her sleeves and got to work. She pulled colors and patterns together. She ideated places to hold product and add flourishes—and she tied it all together into Gleener's unique brand of personality, freshness and organic fun.
Throughout all of this, Kim remained in close contact with Sean Daly, vice president of member & buyer relations at IHA, who assured her that all of his conversations with retailers were positive—both majors and independents. They were coming to the Show. And after two years without face-to-face events, they were coming to buy.
The team got to McCormick Place ready for things to go wrong—and did things ever go wrong!

There were no instructions for building the structure included with the booth. All they had were pictures and pieces—no plans.
There was a storage closet in the structure that was locked—and no keys were included.
One of the walls had visible holes.
Mel, previously recognizing the myriad of things that could go wrong with a structure and graphics being delivered sight-unseen, had already decided that she would be present for the entire booth build. These challenges further solidified her determination to stay on-hand to make sure that the crew assigned to their build had her assistance in working to overcome these issues. What Mel didn't realize until the build began was that as an exhibitor, she could act as supervisor for the labor crew – as long as she was able to commit to staying with the booth during the build. This saved costs both on man hours for a hired supervisor as well as allowing Mel to audit and dictate how many people would work on the booth on various activities at any given time.
In this role, Mel oversaw the activities of the labor crew working to piece the puzzle of their booth together without plans. She granted permission to break the lock on the storage closet, and she called on Lauren to work her magic on the wall that had holes. Another labor supervisor not so personally invested in the success of this particular booth might not have persevered. But Mel did. And so did the team.
The next three days were full of problem solving. Mel, Lauren and Evelyn Brunet, Director of Sales, got to work however they could – helping build, patching holes, stapling duct tape underneath a couch to make sure the fabric stayed in place.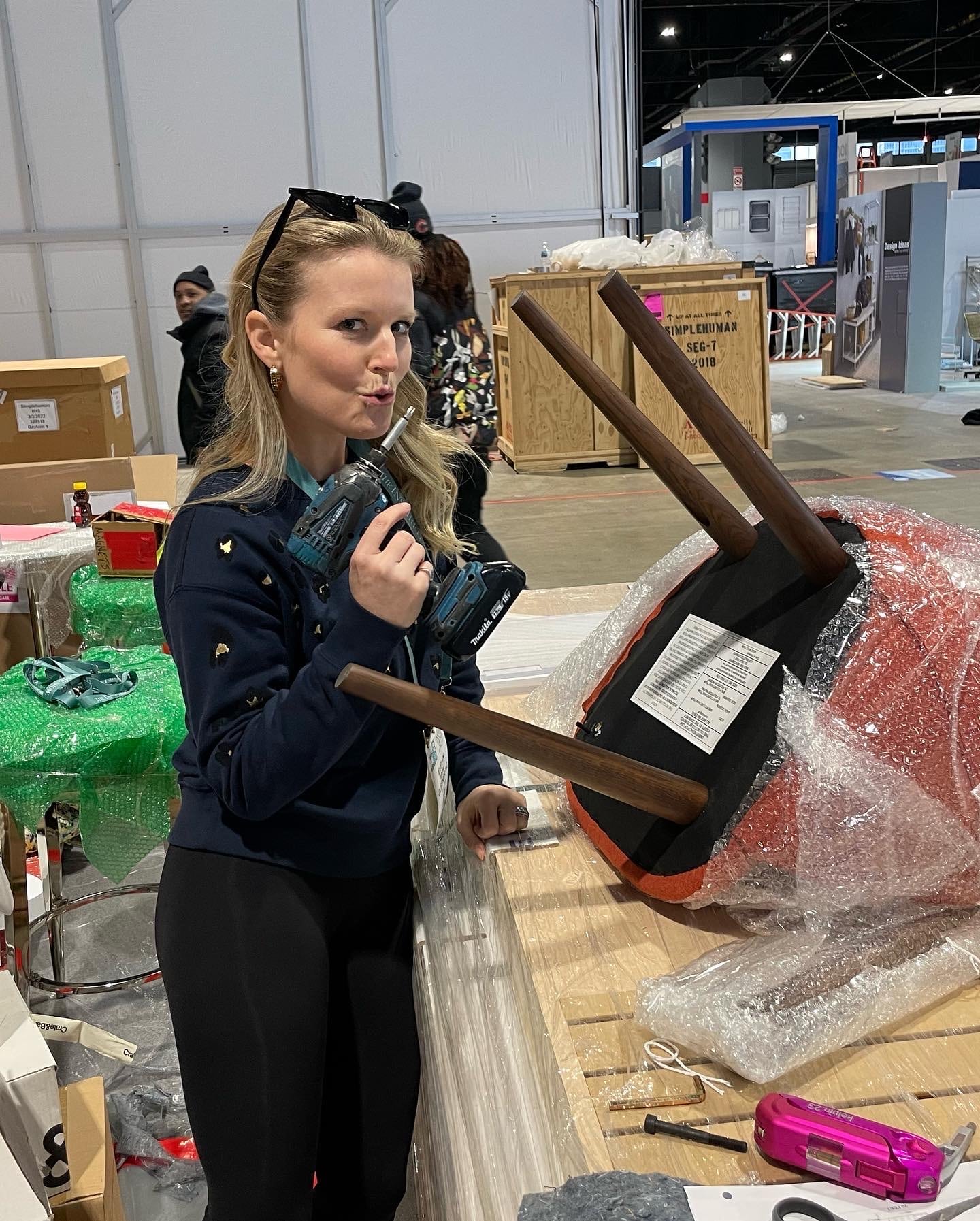 Evelyn takes advantage of the Chicago labor rules allowing exhibitors to participate in their own booth build.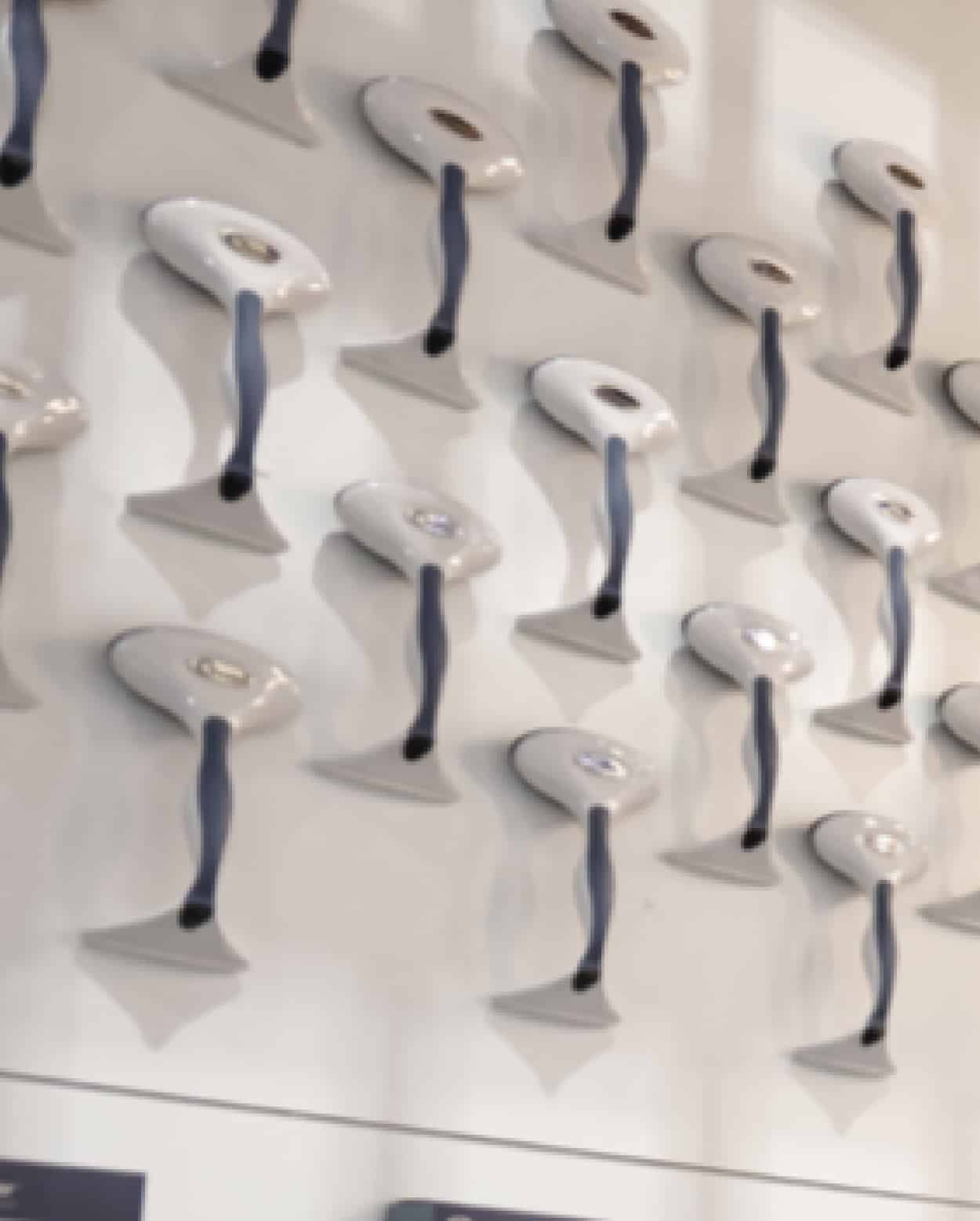 Lauren's solve for the holes in the wall—create décor out of product.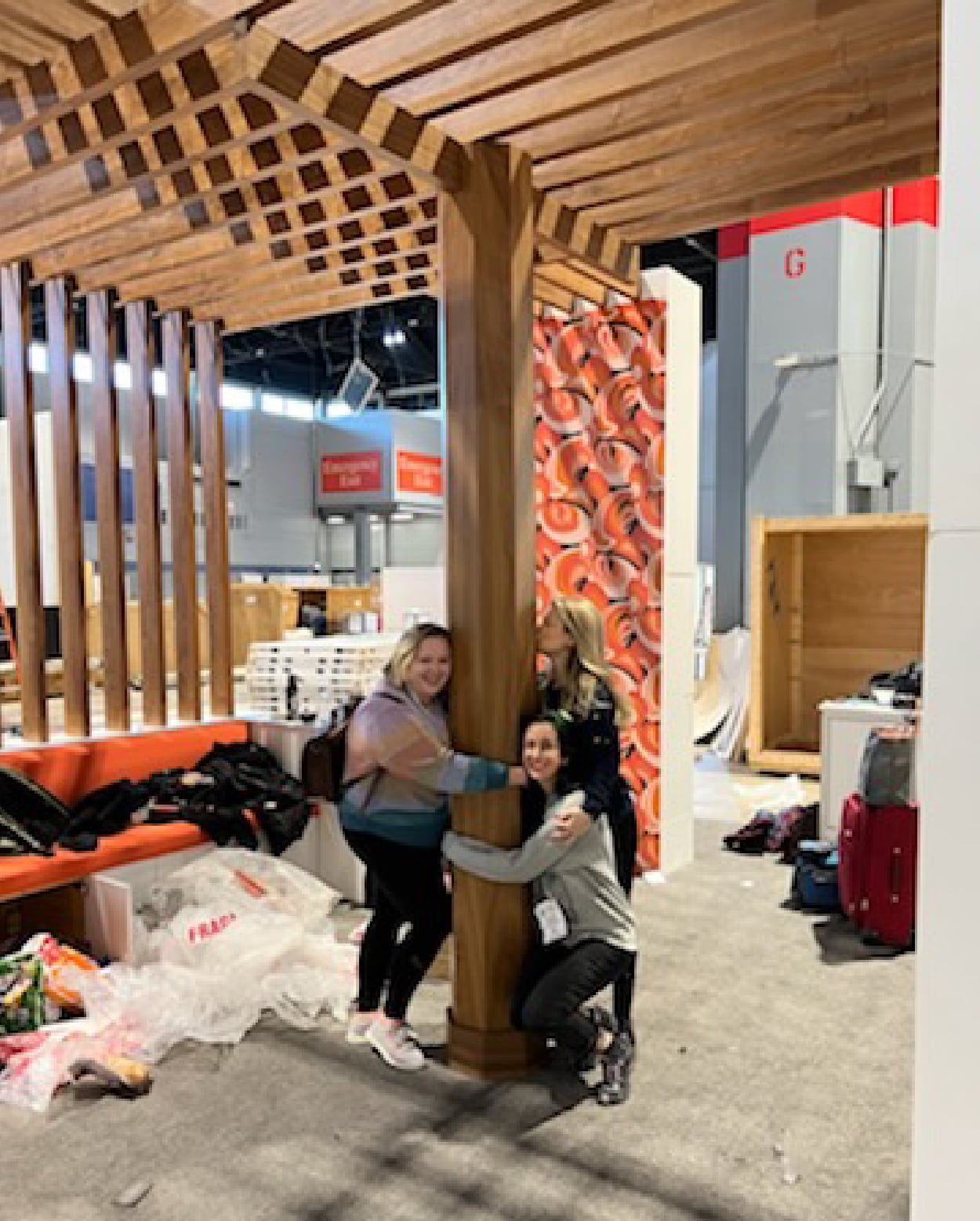 Mel, Lauren and Evelyn falling in love with their new booth as it comes together.
When The Inspired Home Show opened on March 5, 2022, Gleener was ready. It had been a long few days with late nights and early mornings, but the booth looked outstanding and the team knew it. Their pride in what they had pulled together against all odds energized the team more than ever—and they put that energy into their interactions with attendees.
Kim's faith was rewarded; Sean's reassurances that buyers were engaged turned out to be prescient. Retailers came—in droves. They were there to make deals and to buy. And Gleener was able to meet with them at a fraction of the cost of previous Shows.
When asked how the Show went for Gleener in 2022, Kim Cole had one word: "Electric!" The combination of meaningful face-to-face interactions with decision-makers, coupled with the knowledge of how much money they had saved with this new approach, created energy and motivation in the team that will carry forward beyond 2022.
And now knowing the challenges and hurdles that needed to be overcome, would she do it all over again? Absolutely!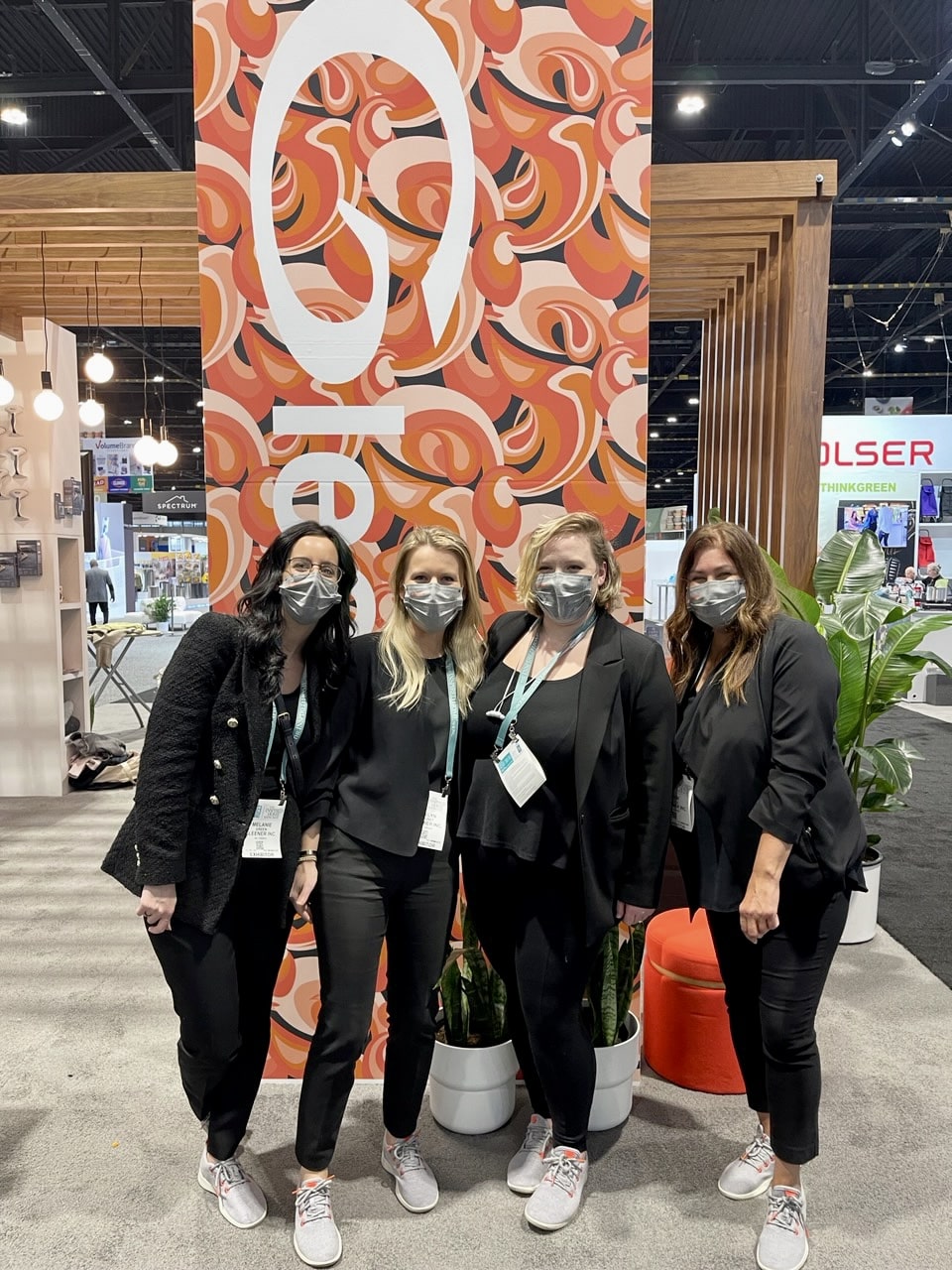 The Dream Team (from left to right):
Melanie Green, Director of Marketing
Evelyn, Director of Sales
Lauren, Graphic Designer
Kim Cole, CEO
The risks were great. The rewards were greater.
Anticipated Costs for 2022 Exhibition—$52,500 – $70,500

$42,000 before January 31st / $60,000 after January 31st
All-in for rental structure, graphics, drayage, carpet and labor

$2,000 displays, décor, floral
$1,000 demos, giveaways
$7,500 travel, hotel and staff expenses
Actual Costs for 2022 Exhibition – $30,970

$2,200 booth purchase
$6,400 drayage
$9,070 labor
$1,800 utilities
$3,000 graphics, displays, signage, carpet, floral and décor
$1,000 demos, giveaways
$7,500 travel, hotel and staff expenses

**Savings of between $21,530 and $39,530—OR between 41% – 56% in Year One
Get Ready for The Inspired Home Show 2023!
March 4-7, 2023