IHA gets acquainted with Carter Malcolm, co-founder of Constructive Eating, creators of fun and functional children's tableware. A returning exhibitor, Constructive Eating offers products that are favorites with families and the retail buyers who will visit their booth N8735 in Discover Design at The Inspired Home Show 2020 in Discover Design.
Carter, tell us about how your company started.
My wife, Jackie Malcolm, and I cofounded Constructive Eating in 2009. Jackie now serves as president. While raising our three children, we found that one of our sons was a very picky eater and we struggled with getting him to eat anything healthy. Our son also loved construction equipment, which gave us the idea for the Construction Line. We saw that making mealtime more fun for our kids engaged them and encouraged them to eat different foods. Many of our friends also contended with picky eaters and there didn't seem to be any good quality products that helped solve this problem. I saw not only an opportunity for our products, but a need for them. Thanks to my engineering degree from the University of Michigan, I designed the Construction Line and began production in the basement of our home. The products were an instant success! I continued to grow the company out of our basement until I finally bought an office space in 2014. We now have four full-time employees and about 20 part-time production staff. We appeared at our first trade show in 2008, and we came to Chicago for our first Housewares Show in 2012.
Where is your company based? Is your creativity influenced by your local landscape?
Constructive Eating is based in Ann Arbor, Mich. We have a small office space about 15 minutes outside of downtown Ann Arbor with six offices for upper management and large rooms for production workers. Michigan is a beautiful state. Living surrounded by nature helps fuel our creativity and balance our work with our home lives. We love the community and especially love how supportive small/local businesses are of each other.
Was there a pivotal event or product that propelled the early success of your business?
In the beginning, we tried to figure out how to display our products in stores. First we designed a cardboard display unit similar to a lollipop stand to hold individual utensils. However, this design was poorly received by our retailers. Instead of trying to push this display, we took the time and extra expense to design an entirely new store display that used a foam ball and a two-quart bucket. The foam ball sits on top of the bucket and the utensils stand out of the foam, making it easy for customers to grab a utensil as they check out. The point-of-purchase display was a huge hit with our retailers—it encouraged retailers to carry our products and continues to be a popular presentation years later.
Where do you find inspiration when designing new products?
We embrace the iconic, long-term passions of young children for our designs. We also aim to make the lives of parents easier by incorporating helpful features. And we shifted to more gender-inclusive designs in order to minimize gender stereotyping among young children. Since our products are used by young children and come in contact with their food, we always keep durability and safety in mind. A brand that seems to have the same approach is Tonka Trucks.
How do you choose which idea to take forward to develop?
We start by looking at industry and parenting trends. For example, promoting healthy eating has been a big push in the parenting world, so we try to make sure our products help this cause instead of hindering it. We then build prototypes using a 3D printer so we can see what the products will look like and can physically hold them in our hands. Then we make any necessary changes. Lastly, we always make sure to get feedback on our products before we launch them. We send samples to our representatives around the country as well as some of our long-term retailers and ask for comments—positive and negative. This ensures we are on track with the industry and gather opinions from trusted and well-informed resources.
What makes your products distinctive?
The combination of fun and functionality is truly what distinguishes our products from those of our competitors. While our competitors typically treat their design/fun elements as decorative features, we marry those features with the functionality of our designs. For example, we designed the prongs of our fork lift to be the tines of our fork. By doing this, when young children play with our utensils they end up with food on the functional element. In order to keep "playing," they will eat the food, and in the distance, parents smile.
How do you identify the key user audience for your products?'
Since our products are all designed for young children who are learning to eat, it is very clear to us that our main audience comprises the parents and grandparents of young children.  We can verify this assumption and further identify which types of parents are interacting most with our products through Facebook advertisements and Instagram activity. We love to see people tagging us in their photos and videos on social media because it helps us understand what types of households and children are enjoying our products.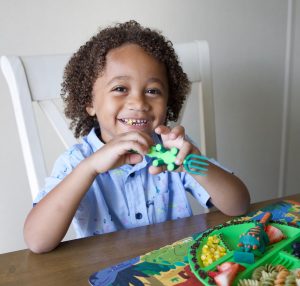 How do you use social media?
Since we are a small company with a small budget, we do most of our marketing on social media. Over the past few years we have built our Instagram and Facebook presence. We do most of our advertising on Facebook, and collaborate with influencers on Instagram. We love posting fun photos and videos of our products in action on Instagram, and we especially love featuring children who enjoy using our products on our page. We have enhanced our Instagram page a lot over the last year and are rapidly approaching 10,000 followers. However, we try not to focus solely on the number of followers we have or likes we get on our photos. Our main objective with Instagram is to build our brand awareness and to reach new customers who have never seen our products before. We have found that once people see or use our products they instantly fall in love! This is why working with collaborators on social media is such a great outlet for us.
Where are your products manufactured?
All of our products and packaging materials, except for the Construction plush, are manufactured in the United States—in the Midwest!
How do you see design's importance in our industry?
Creating an appealing aesthetic is always important. As media drives our visual society, designs that focus on being aesthetically pleasing as well as functional will be industry leaders. Designing packaging and products that continuously move toward increased environmental sustainability will also grow more important in the coming years. We always make sure that whenever we use plastic or paper, the materials are recyclable.
Can you give us a preview of what you will be showing in your booth in Discover Design?
We just launched our new Dino product line in 2019. The name says it all – dinosaur-shaped utensils with matching dinosaur-themed plate and placemat. We hope this line will appeal to all genders and are excited to give dinosaur-crazed children a new and exciting way to express their love for dinosaurs.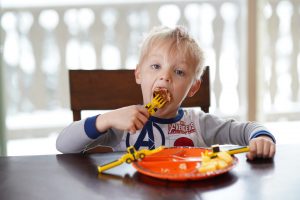 Thank you, Carter, for sharing your inspirations and practices in how you built your successful business. We look forward to smiling with your charming mealtime tools at booth N8735 in Discover Design at The Inspired Home Show in March.  Maybe we'll find Tyrannosaurus Rex or Pterodactyl friends there too! Learn more about Constructive Eating products by visiting https://constructiveeating.com/
Discover Design is the premier destination at The Inspired Home Show for trend spotters who make design their priority. Retailers looking for the unique will find nearly 150 design leaders in Discover Design located at the front of the North Hall. The Discover Design Gallery in the Grand Concourse Lobby will premier an exciting new format to display select exhibitor products.
Anchored by popular brands such as JosephJoseph, Kikkerland and Charles Viancin, Discover Design welcomes new exhibitors, including Klean Kanteen and ashortwalk ltd., and introduces 12 emerging companies in the Design Debut incubator. Additional fresh offerings from veteran design-focused exhibitors such as French Bull and Dreamfarm will also inspire your choices for the coming year. Find more information on Discover Design exhibitors online.