We chat with gia Expert Juror Henrik Peter Reisby Nielsen about how to create a successful online store, and why you should now think of your brick and mortar store and your online store as one thing.
by Michelle Hespe
Henrik, in solidarity with many other retail experts around the world, believes that the brick and mortar store is still king. However, today's savvy retailers need to ensure that their physical store and online shop work seamlessly, and in unison, with technology. And just as retailers need to create an enticing destination and experience that draws people to their physical store, they also need to offer an amazing experience online because the majority of consumers today live life (and shop) through their devices.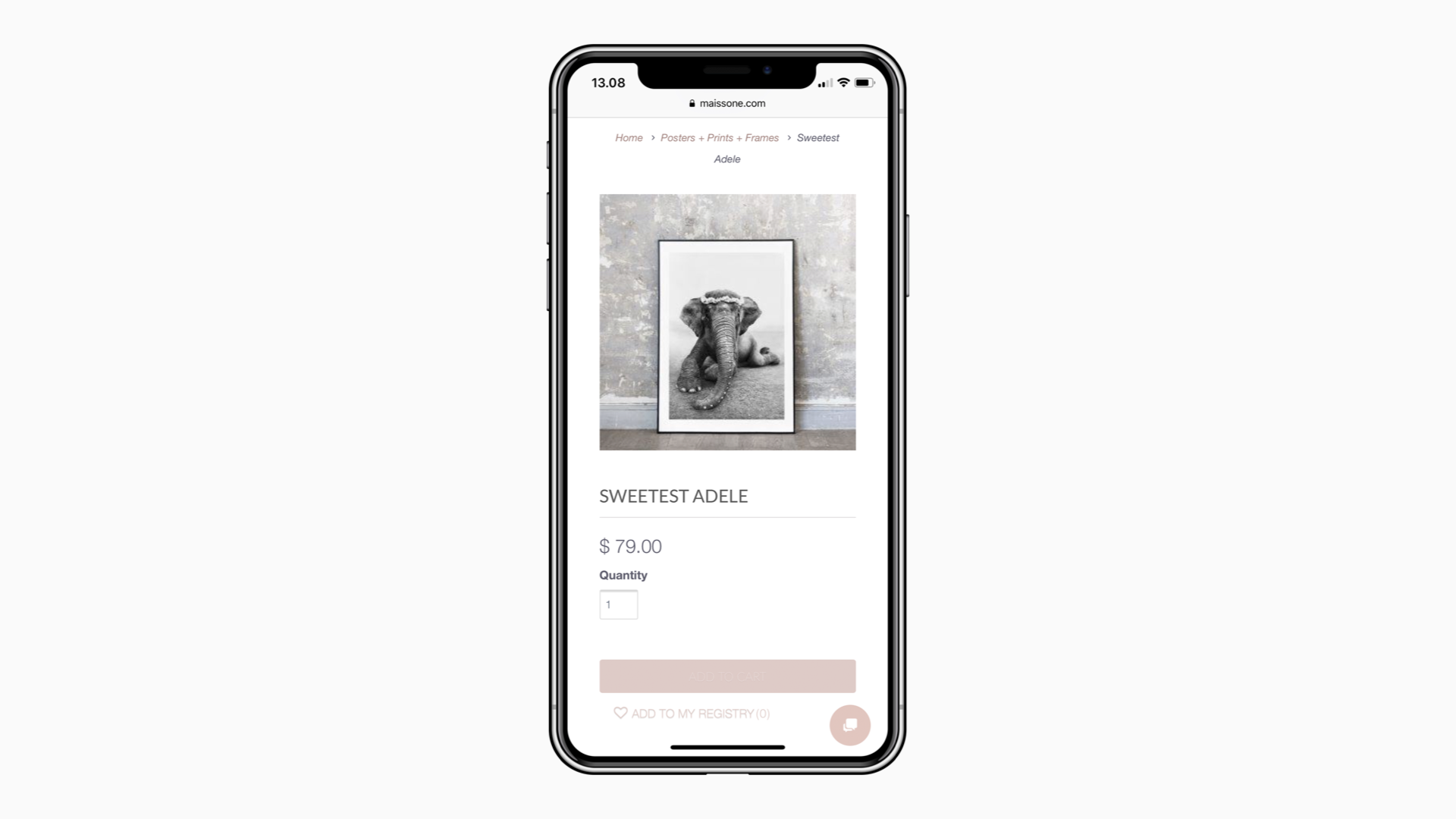 Henrik emphasizes that retailers have to stir emotions in people and make them feel special, while giving them an experience that they want to share with others. This can be done in a brick and mortar store and online. And the more technology develops, the more emotions can be stirred online.
As an example, Henrik uses Jumbled, a 2019 gia winner from Australia. This store proves that retailers can be just as "touchy feely" with their customers online as they are in their physical store. Jumbled implemented a regular giveaway for loyal customers, sending them exclusive artworks that they can print. Customers end up collecting the pieces of art and thus look forward to receiving the Jumbled newsletters.
A gift from the store is like receiving a present in the mail – and Jumbled's staff has grown to really know their customers (through data collection and spending time with customers on social media and in person) so they also understands what kind of art customers are likely to cherish.
The online store is also just as friendly and as upbeat as the physical one. For instance, the store's current message to sign-up for its newsletter reads: "Join the JUMBLED gang! We only send REALLY cool emails and you'll automatically receive a FREE downloadable Anna Cole print!"
Henrik is always telling his retail clients that they need to "keep it real" and "be personal" on their website and in-store. "Take the OPUS store in Australia for instance. Before Valentine's Day they put a cute sign outside their store saying: 'You are the gin to my tonic.' And then they let people know that they would be open late in case their customers had forgotten to buy their loved one something special. It's a cute message that makes people smile, and it also encourages people to purchase products," he says.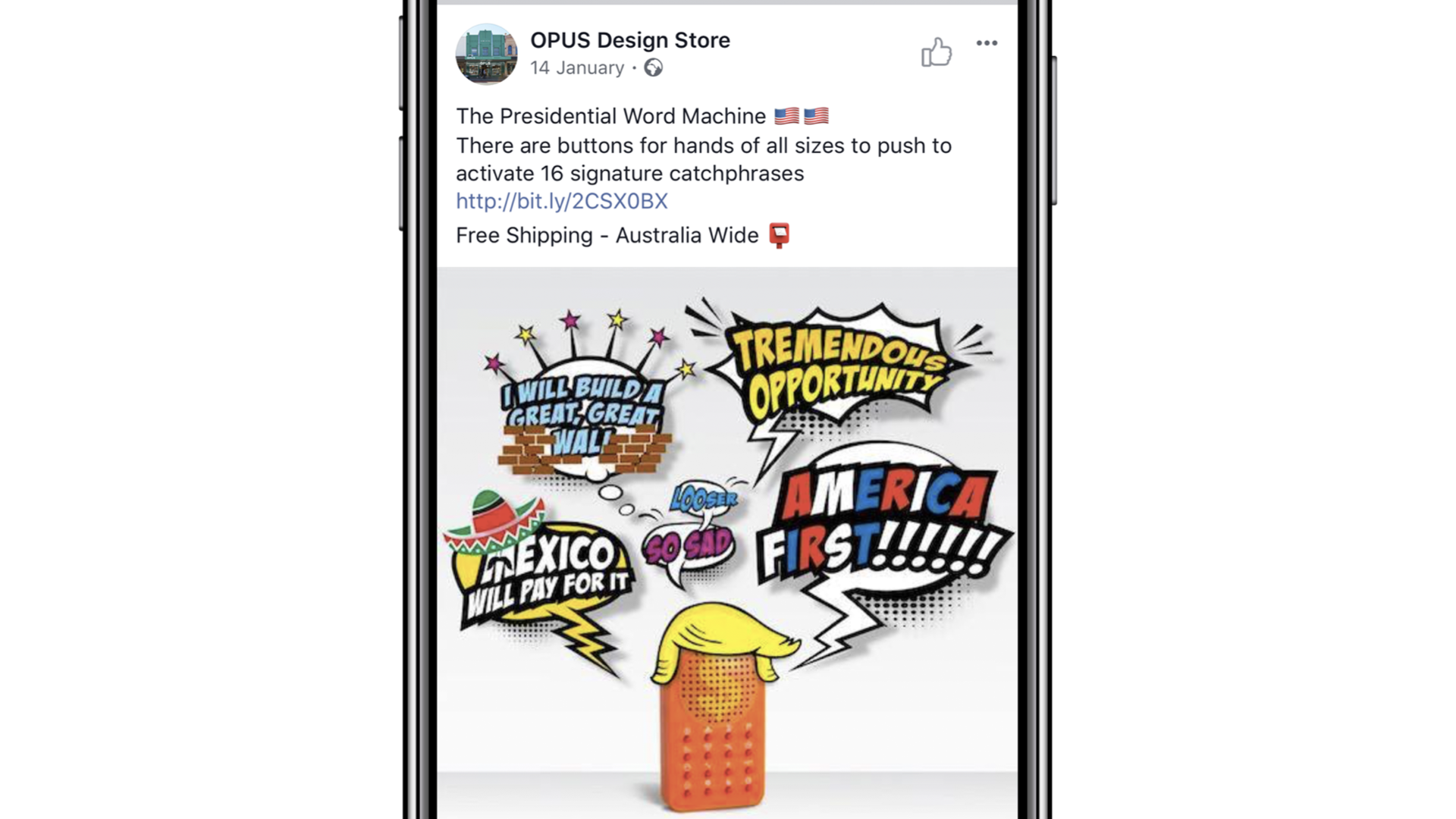 This fun/chatty approach is reflected in the online store – fun products are arranged in lovely environments with cool messages on the products. The home page currently features a tote bag with a cheeky message: "Don't touch my stuff, or my face, or my hair." It's sends a fun, young message that ties in with the OPUS branding.
Henrik admits that retailers can never beat Amazon on price, so their differentiating factor has to be the service, experience and the environment they are offering customers. And this is true online as well. Make your online store personal and ensure that someone is always there to answer inquiries and respond, online and on social. "Remember that technology is simply another tool to provide a more personalized service," he says. "And today, people's Instagram and their Messenger is like their phone – it's how they communicate, so you need to as well."
Henrik emphasizes that you also need to have a highly responsive website. "You can't afford to be left behind or your customers get stolen by your competitors," he says. "Sixty percent of those who visit your online store will not go back if you do a bad job, and 40% will go to a competitor. So your online store needs to be quick to get around, and easy for anyone to use, especially when they are on their phones and on the move, as they are doing other things and can easily be distracted."
Ease Is the Name of the Game
Today people want the process of purchasing products to be as quick and simple as possible because that's what they are accustomed to online. "They search for a product, find one in stock nearby so they can order it and have it delivered to their office or their home," Henrik says. "So, you also need to offer a click and collect option and be able to ship products immediately. Make it easy for someone and they will come to you."
Henrik offers examples of previous gia winners who have created successful online stores.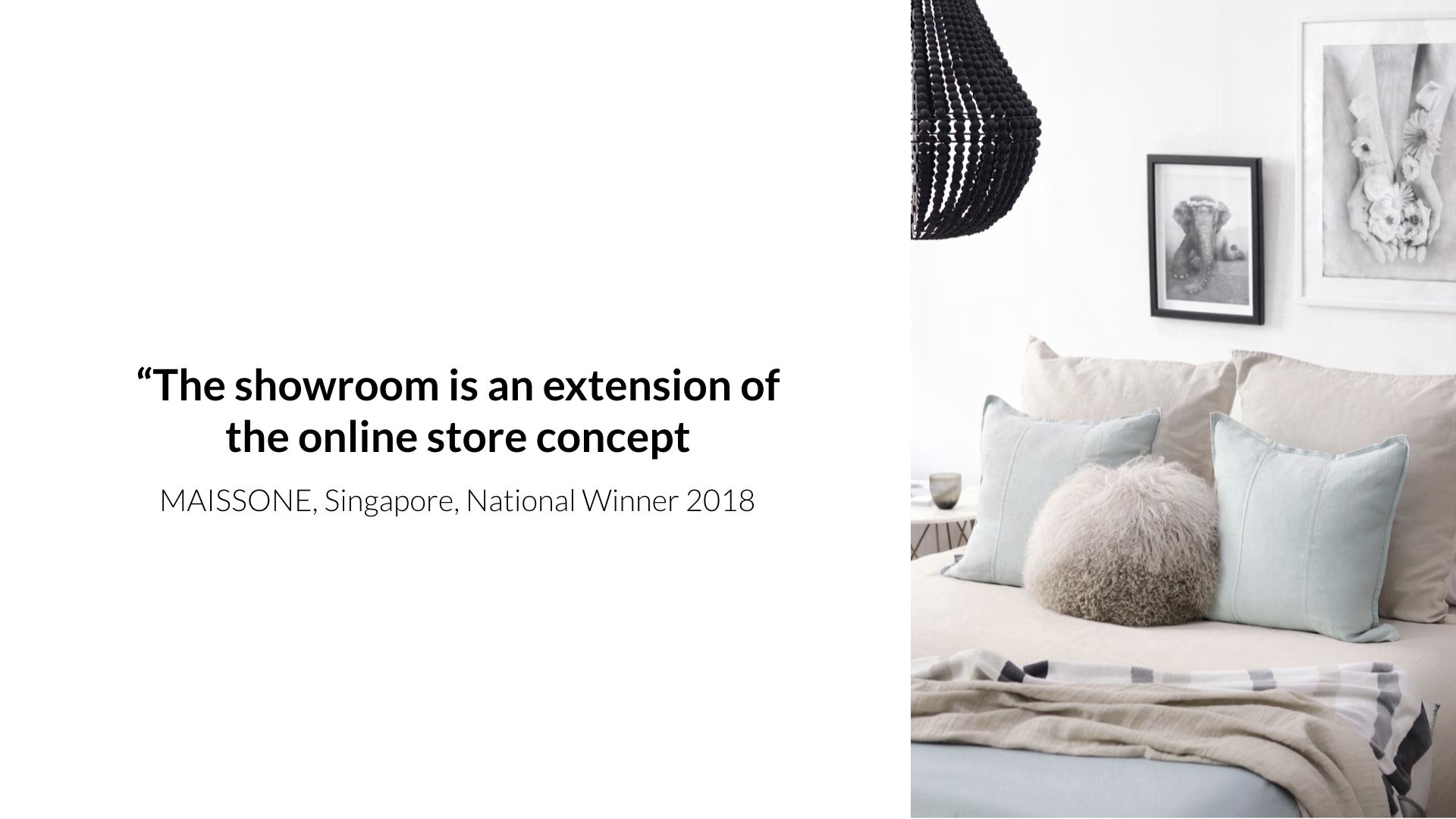 "Maissone, based in Singapore, delivers the same atmosphere online as in their brick and mortar store," he says. "It's an oasis of calm, and the style is clean, fresh and engaging. It's modern, chic, welcoming and homely. It makes you want to spend time – in the store and online browsing.
"OPUS in Australia is a great example of how to sell products well via social media platforms," Henrik says. "Their Instagram site promotes new products and those on sale, but with beautiful, cool, engaging images rather than salesy ones."
Henrik also points out that 9Design from Poland includes a virtual reality tour online to understand the physical store, encouraging people to explore both.
Collaborations are another great way for retailers to merge their product offering online and in the store. Henrik mentions a store in Italy, Quality Living, where a real estate company and a furniture store have joined forces so you can purchase a home and decorate it in the same place, online or in the store. "It seamlessly merges tech with personal service and is also easy for the customer," he says. "They can come in and look around, but really, they can do everything online too."
Henrik firmly believes that AR is one of the biggest disruptors in retail today, and those who understand it will survive.
"Digital natives expect tech. They can hold their phone up to a product in a store window, their app recognizes it and they can be informed of a better deal somewhere else. Why then, would they then go into that store? They would only enter if the store offers a more exciting experience," Henrik says. "There is so much that you can do to get a customer into your store and keep them there – surprise them, entertain them and touch their emotions. However, also remember that you need to promote what you are doing through your online store, as it might be their first point of contact. So many people, so many shoppers, live their lives online."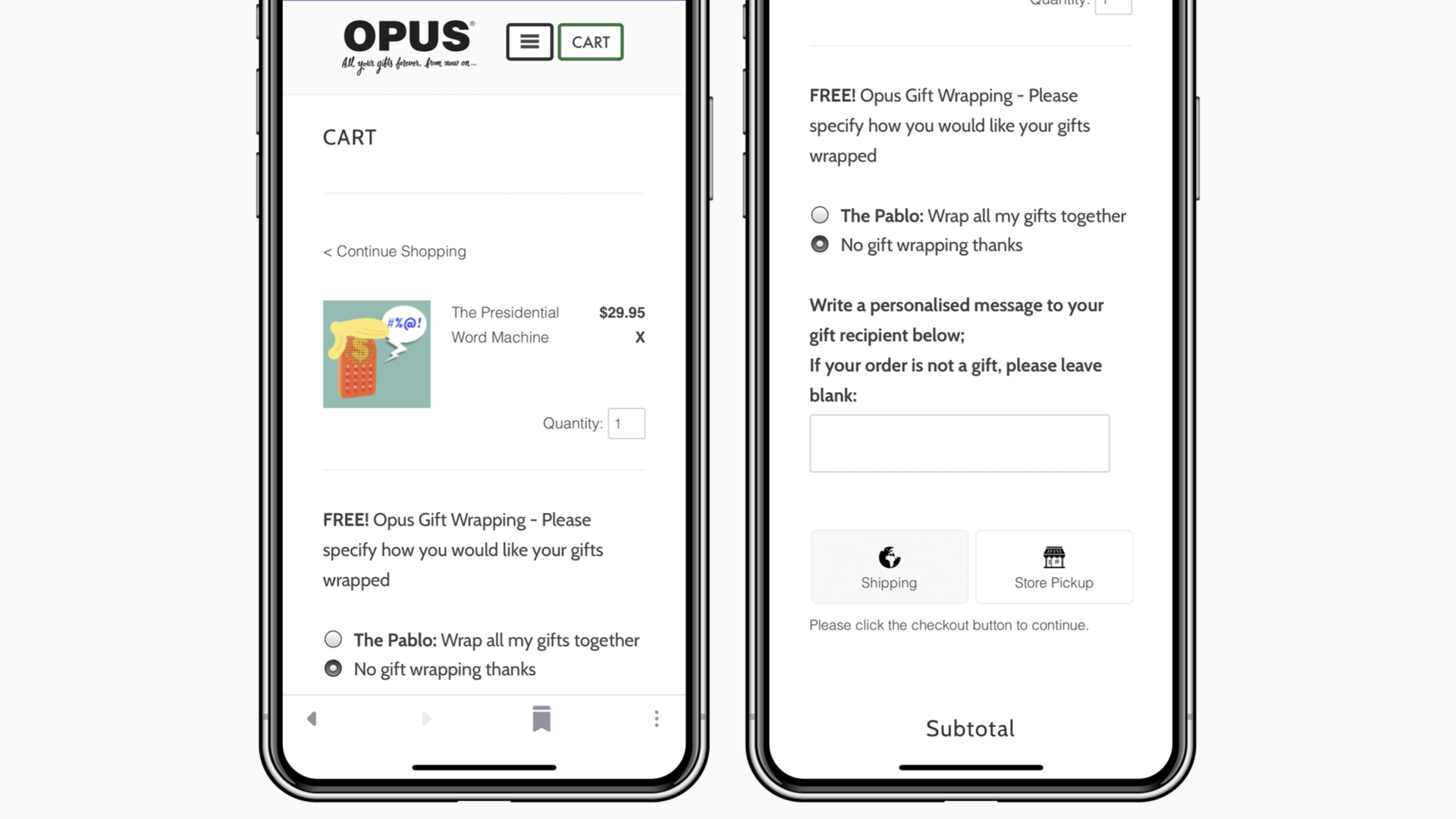 With AR, a retailer can offer services to customers (online and in a physical store) such as placing virtual objects into their home to see how they look, or they could create a virtual table setting to test out colors and patterns of plates and cutlery with tablecloths. Customers can gather in-store information on their phone, information that they might not be able to get from a sales executive on the shop floor (such as "how many bad reviews does this get?"). They can scan a product and bring up product information, pricing and reviews from other customers. In fashion, virtually try on 3D products or create a virtual fitting room, which is great for busy periods where there is a queue – customers simply stand in front of the camera and see how an item of clothing looks. AR basically builds brand awareness in unique and inspiring ways.
Henrik's bottom line is that if a retailer or a brand is doing an excellent job, the customer will stay with them. But retailers need to understand that the online store is not just an extension of the physical store.
"It's no longer about having an online store and a physical shop – think of it as one store," he says. "And remember that it's not easy to steal a customer from someone doing a great job, so make things personal, interact and keep innovating."