by Michelle Hespe
Federico Baigun loves to bring joy into his customers' lives – and in everything he does as the CEO of the shopping bazaar Reina Batata, this simple premise shines brightly through.
When asked what he loves about his job, Federico Baigun, CEO of Argentinian landmark retailer Reina Batata, proffers a quote by Chinese philosopher Confucius: "Choose a job that you like and you will not have to work a single day of your life."
"My partner, Maru (co-founder of Reina Batata) and I are passionate about what we do, and I think that is the key to life," Federico says. "If you love what you do, this is obvious in the results of your work."
Exceptional results have certainly been achieved at Reina Batata – after opening the doors of its first store 17 years ago there are now 25 outlets across the country selling kitchen appliances, glassware, home décor, linens, gifts and much more. "From the very beginning we worked hard to fulfill our dream of revolutionizing the retail market in our country, and to transcend the typical shopping experience," Federico says.
Transforming a nation's idea about what a wonderful shopping experience should be is not an easy goal, but the creative pair put their heads together and zeroed in on the idea of making their store exclusive. Perhaps even, they thought – hidden.
From there, they explored the Speakeasy concept, and that rapidly evolved into one facet of what makes Reina Batata stand out from other retailers today. The extent of the 400 m2 (4300 ft2) flagship store is not noticeable from the outside, but once customers step inside, the space opens up and there is an industrial warehouse feel – with exposed brick walls, double-height ceilings and room to meander about, as you would at a busy bazaar. Old farmhouse furniture, indoor hanging plants and industrial lighting add to the warm bohemian atmosphere, which suits its location in a district that is a must-visit for those who appreciate and love art, design, fashion and cuisine.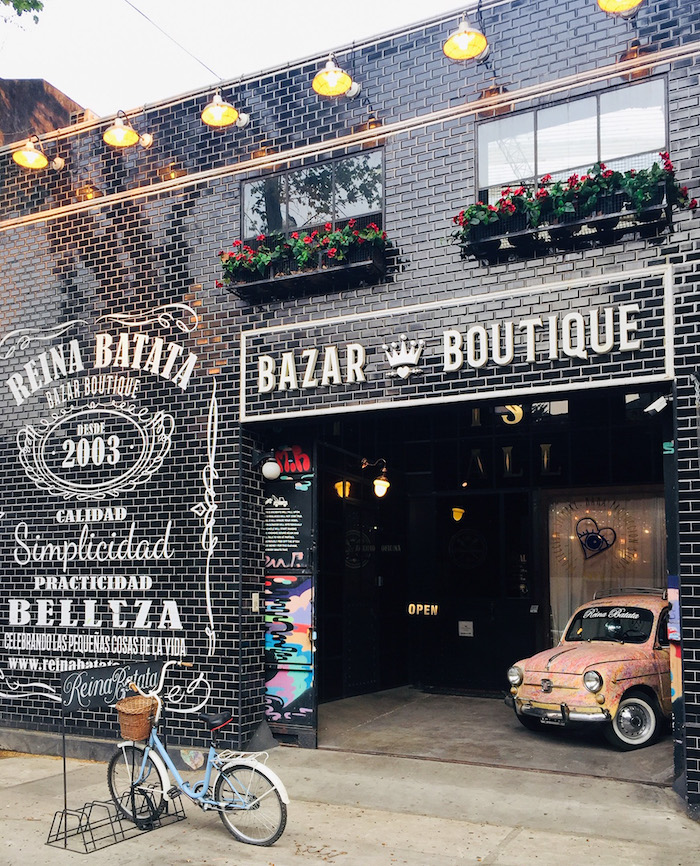 "Our latest store that we set up in Palermo SOHO in Buenos Aires is our flagship store conveying the speakeasy concept," says Federico. "It is hidden behind a semi-open entry hall where we exhibit a classic car painted by a renowned local artist. Upon accessing the exclusive space, visitors are surprised by its immensity as they step into an old general store with origins in the early 20th century – an atmosphere that reminds us and hopefully our customers of their grandparents´ homes. The brain behind these alluring details is my highly creative wife, Maru."
The concept of 'Speakeasy' bars dates back to 1920s and early 1930s in American cities such as New York and Chicago, when the sales and manufacturing of alcohol was outlawed. But the term was used many decades before prohibition times, from when saloon owners would tell their customers to 'speak easy' in order to avoid the detection of authorities.
"The controversial law demonstrated the fact that all laws are born to be broken, and bars began to appear behind closed doors," says Federico. "This idea led us to deciding that we wanted to give our store an exclusive touch, a bit of mystery. And after we opened, as with Speakeasy clubs, news of Reina Batata quickly spread by word-of-mouth and it was the best advertisement we could have created. Soon the public adopted us as their ideal kind of bazaar."
Federico notes that although the company's philosophy and essence of what they do has not changed – and thus the store, despite its size, remains boutique and intimate – the couple have always strived to adapt in line and in time with trends and fashions. Reina Batata has always remained relevant. The gia judges loved the fact that Reina Batata is a modern retail offering and yet it has a "local and global vibe." They also praised the store for embracing its "authentic, eclectic marketplace style with dense merchandising in curated collections."
"We work in tune with the changes of tastes that naturally occur in society without losing our special touch," Federico explains. "For instance, as we grew we saw that online sales were increasing and learned that the public was quick to adopt this new, quick way of purchasing. We worked on that, and today we have a solid, world-class team with exceptional experience on what is now a popular platform everywhere."
Reina Batata is so popular today, that rather than Federico and his staff having to seek out influencers to promote their company, influencers find them because they like to hang out in a welcoming place that is in the heart of an ever-developing hub of art and culture.
"Today, the kitchen is very fashionable and the kitchen is a popular meeting place for influencers," says Federico. "We created a versatile space where workshops and cooking classes are held, and on certain nights we host exclusive dinners behind closed doors. A great milestone for us was a very special dinner that we hosted with Hernan and Renata – a South American couple who we know well, that now live in London. There, they host intimate dinner parties serving plant-based dishes in Cocina Studio – a secret dining space combining a kitchen and creative studio. They are incredibly creative and it was a great success."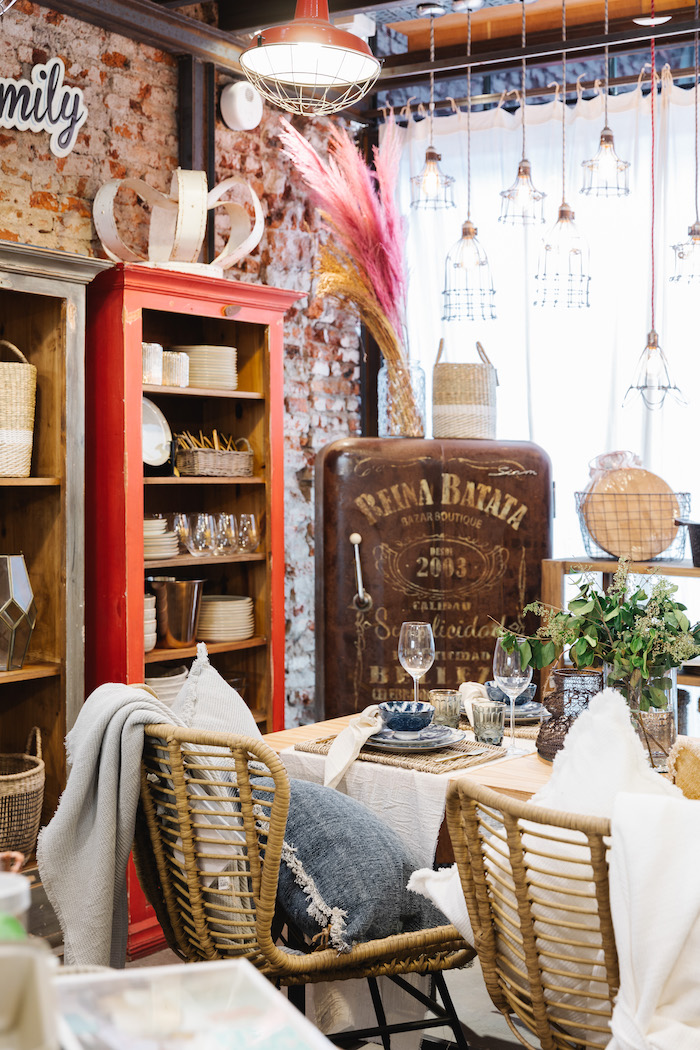 Scent and music both play a large role in Reina Batata's multi-sensory approach to retailing. They have even developed their own scent for the store that is based on a typical Argentinian dessert called "flan with dulce de leche" (otherwise known as crème caramel).
"Sensory marketing is no longer a novelty; it is here to stay and is as important as any action that one makes, and it is an inherent part of a shopping experience," says Federico. "The aroma we have chosen to represent our business transports you to a home kitchen that could be from your childhood where your grandmother cooked, and the music varies depending on the time of day and the mood we want to create. We also spray the store's aroma within goods from online sales so that when clients open their package, they can live the experience just as a local might do while in the store."
This year, when Federico and his team anxiously awaited to hear the announcement of the six Global Honorees at the gia Awards, they too had to live their experience online rather than be present at a gala event in Chicago.
"Becoming a Global Honoree was an honor, a privilege and something that we will be eternally grateful for. The recognition is very important to us – it is like a guiding light, showing us that we are on the right track," says Federico with obvious passion and pride. "The awards ceremony, live-streamed into our own home, created a very special day filled with great joy and emotion. It was particularly special because we were able to share it with our daughters. That night we all dressed up for the Gala dinner and had a beautiful, formal family dinner to celebrate our award and how far we have come."
Behind those speakeasy doors, within a warm realm that smells like a memory from home or from childhood, there's no doubt that Reina Batata will continue to be the welcoming bazaar with heart and soul that its customers love. This is because, ultimately, it is more than just a marketplace – it is an inspiring meeting place for like-minded people to go and explore and discover, together.
—
To learn more about Reina Batata, visit www.reinabatata.com.
Sponsored and organized by The Inspired Home Show and the International Housewares Association (IHA), gia (IHA Global Innovation Awards) is the world's leading awards program honoring overall excellence, business innovation and creative merchandising in homegoods retailing. For more information about the gia retail program, the co-sponsors, or participating in gia, contact Piritta Törrö at piritta.torro@inspiredconnection.fi. Additional information on gia is also available online.
For more information about The Inspired Home Show and to pre-register for the 2021 Show, taking place in Chicago on 13-16 March 2021, please visit TheInspiredHomeShow.com.